headspace


Joondalup
Entrance on Reid Promenade - Suite G8, 126 Grand Boulevard, Joondalup, Western Australia 6027

Phone (08) 9301 8900

Fax (08) 9301 0859
About
headspace Joondalup is a free and confidential service for young people aged 12-25. We can help with mental health, physical and sexual health, alcohol or drug use, and work and study.
How To Get Help
Fill out one of the forms below, call or email us. Family and friends can also contact us. Keep scrolling for more information.
General Referral Early Psychosis Referral
Professionals and other services; a GP mental health plan is not needed to refer. Please note we are not a crisis service.
Hours
Monday:

8:30am - 4:30pm

Tuesday:

8:30am - 4:30pm

Wednesday:

8:30am - 4:30pm

Thursday:

8:30am - 7:00pm

Friday:

8:30am - 4:30pm

Saturday:

9:00am - 5:00pm

Sunday:

Closed
headspace Joondalup is operated by Black Swan Health Ltd. All headspace services are funded by the Australian Government Department of Health and Aged Care. Administration of funding is carried out by the headspace centre's local Primary Health Network, in this case, Perth North (WA Primary Health Alliance Ltd).
Get tips on how to prepare your resume and present for interviews. Find out about local employment opportunities (full time, part-time, or casual).
Workers either on site or linked to the centre who can assist you with any alcohol or other drug concern.
A group of young people who help with events and some decision making at a centre. Ask your centre about getting involved.
Mental health workers – which may include psychologists, psychiatrists, counsellors and other workers – that can help if you're just not feeling yourself.
A headspace early intervention program to improve the lives of young people, and their families, who are affected by psychosis.
Centres have a range of programs and activities for young people. Just ask your centre what they have on. 
"As soon as I sought help, I suddenly realised that my anxiety was very treatable and that I wasn't alone."
- Charlie
More information
If you are 12-25 years old and going through a tough time, you can reach out to headspace no matter how big or small your problem may seem.
STEP 1
Option 1:
You can call us on 9301 8900 from Monday to Friday 8.30-4.30pm (until 7pm on Thursdays), and a headspace staff member will ask you for some basic demographic details and add you to our register of new referrals.
Option 2:
You can email us on info@headspacejoondalup.com.au with your name and contact details so we can email or call you back (let us know if you have a preference). A headspace staff member will contact you to ask you for some basic demographic details and add you to our register of new referrals.
STEP 2
Our Duty Officer will aim to get in touch with you within 72 hours of your initial call or email. This call usually doesn't take more than 15 minutes, and the Duty Officer will:
Chat with you about what you want help with
Explain to you the services we can provide; and
Work with you to develop a plan for how your needs can best be met, including making your first appointment.
STEP 3
The next step is for us to arrange an assessment appointment. This is where one of our Youth Access Clinicians will have a more in-depth conversation with you to work out exactly how we can help, and what the next steps will be.
If appropriate, you may be offered the chance to complete this assessment online if you'd prefer, with our electronic headspace Holistic Assessment Tool (ehHAT). Learn more about the ehHAT on our FAQ sheet here.
ALTERNATIVELY
You can also contact eheadspace, a free online and phone support service for young people aged 12-25. Call 1800 650 890 or visit eheadspace.org.au to have a confidential chat online. They're open every day of the year, from 9 am to 1 am (AEST time).
IN A CRISIS
If you are in crisis please contact emergency services - available 24 hours, 7 days a week:
In an emergency call 000
UNDER 18 CAMHS Crisis Connect - 1800 048 636
OVER 18 Mental Health Emergency Response Line (MHERL) - 1300 555 788
Kids Help Line - 1800 55 1800
Lifeline Australia - 13 11 14
Crisis Care (safety

concerns, family and domestic violence, suicidal ideation and homelessness)

- 08 9223 111
What kinds of issues can headspace help me with?
headspace Joondalup can help with concerns or questions related to general and sexual health, mental health and wellbeing, employment, education and training, and alcohol and other drug concerns. Some common issues include:
Feeling down, stressed, worried or alone
Relationships, sexuality and identity
Problems at home or work
Homework or school issues
Bullying or harassment
Alcohol and drug use
If you are not sure if we can help or not, you can still call or email us to ask. If we don't think our service will be able to meet your specific needs, we will still help you find a more suitable service.
How old do I have to be?
headspace provides services to young people who are at least 12 years old and under 26 years old. We also offer some services for their families.
How much does it cost?
headspace services are free of charge.
Do you have a waiting list?
We try to see people as quickly as possible. Feel free to contact us to ask about our current wait times, as this fluctuates month to month.
Do I need to have an appointment or can I just walk in?
We do welcome walk-in's, although it is best to get in touch with us to make an appointment to ensure you can be seen by a staff member as soon as possible.
Our Duty Officer will aim to call you within 72 hours of your initial call or email. This call usually doesn't take more than 15 minutes, and the Duty Officer will:
Chat with you about what you want help with
Explain to you the services we can provide; and
Work with you to develop a plan for how your needs can best be met, including making your first appointment.
However, please be aware that we have a high volume of enquiries at this time which may increase your call back time. We are not a crisis service, if you are in crisis then please contact crisis services (Suicide Call Back Service: 1300 659 467) or attend your nearest Emergency Department.
Do you tell people what I say?
We take your privacy very seriously and anything you say to us is kept confidential. We will ask for your permission if your information ever needs to be provided to other services, e.g. helping you access services with another organiation.
The only time we would talk to someone else without your permission is if we are concerned about your safety or the safety of others, or if we are required to by law. Keeping you and other people safe is our main concern.
Do I need my parent/guardian's permission for me to make an appointment?
We encourage young people to at least let a parent/guardian know that they are accessing support at headspace. However, we know that for some young people it isn't possible, practical or safe to do this.
If you are under the age of 18 and want to access headspace without your parent/guardian's knowledge or permission, you can contact our team to talk about why you don't want them to know and what we can do to support you.
Young people over the age of 18 do not need parental consent.
We require all young people accessing our services to provide contact details for an emergency contact who is a responsible adult.
Does a parent/guardian need to come with me?
A parent/guardian does not need to attend headspace with you. Although we feel it's great if parents can come and support you, we also understand this may be difficult sometimes for many reasons. You are welcome to bring someone else that you feel comfortable with, like a friend or relative, or you can attend by yourself.
Do I need to be referred to headspace by a doctor?
No, you don't need anyone to refer you to headspace for you to access support. If you are between 12-25 years old, you can "self-refer" just by calling or emailing us.
You can also ask a friend, teacher, relative, health worker or community agency to contact headspace for you.
No one can refer you to headspace without your permission.
Do I need a Mental Health Care Plan (MHCP)? How do I get one?
You do not need a Mental Health Care Plan to access our general services. However, if we feel you would benefit from the added support that a psychologist is able to provide - and you agree - we will ask you to get a Mental Health Care Plan from your GP.
To do this, request an extended appointment with your GP. At the appointment, ask for a mental health review, a Mental Health Care Plan and a referral to headspace Joondalup. You can request for the MHCP and referral form to be faxed, emailed or posted to headspace Joondalup and we will add it to your file. We are then able to link you in with a private psychologist here at headspace Joondalup.
Alternatively, we can help you link in with a private psychologist external to the centre. This is something you can discuss with the clinician that you see for your assessment.
Do I need a Medicare card?
You do not need a Medicare card to access support at headspace.
It would be useful for you to bring a Medicare card if you have one, or bring a copy of the details, as this may help you access additional services.
If you don't have a Medicare card we can help you to get one. For information on the Medicare card and for alternatives for young people who cannot access Medicare or other government funded healthcare programs please go to https://www.servicesaustralia.gov.au/
How do I get to headspace Joondalup?
We are located on the corner of Grand Boulevard and Reid Promenade, and you will find our main entrance at 22 Reid Promenade. Look out for our bright green sign. Varsity Burgers is next door, and the Joondalup Courthouse is across the street.
There is paid street parking available outside and a paid carpark on Reid Promenade and McLarty Avenue (next to the Police Station).
If you use public transport, the Joondalup Train Station is a 5-10 minute walk from us (you can walk through Lakeside Joondalup Shopping Centre). There are also multiple bus stops along Grand Boulevard.
headspace Joondalup is wheelchair accessible, and has an all-gender toilet.
What if I'm not ready to speak to someone in person?
It's not unusual to feel nervous about getting help for the first time. If you're going through a tough time and you're not ready to chat to someone in person, eheadspace provides free confidential online web-chat and telephone mental health support 7 days a week. To access eheadspace for the first time all you need to do is register at eheadspace.org.au or phone 1800 650 890.
What's an ehHAT?
Learn about the electronic headspace Holistic Treatment Tool in our info sheet.
Louise Shankly | Program Manager
Rajeswarri 'Jes' Vanugopal | Clinical Lead
| Triage Coordinator
Sarah Hall | Practice Intake Coordinator
Caito Smith | Outreach Youth Access Clinician
Erin Fitzgerald | Youth Access Clinician
Angel D'Souza | Youth Access Clinician
Linh Nguyen | Youth Access Clinician
Amy Moran | Youth Access Clinician
Rachael Yeo | MBS Practitioner
Marie Pragassa | Individual Placement & Support (IPS) Coordinator
Dante Pereira | IPS Vocational Specialist
Ryan Brown | IPS Vocational Specialist
Sandra Mirfield | Administration, Reception & Practice Support Officer
Lauren Buchanan | Administration, Reception & Practice Support Officer
Amelia Towell | Administration, Reception & Practice Support Officer
Keegan Morrison | Administration, Reception & Practice Support Officer
Natasha Metcalfe | Administration, Reception & Practice Support Officer
General Referrals to headspace Joondalup
General practitioners (GPs), allied health, school and other community-based professionals can refer young people using the headspace Joondalup Referral Form. Referrals should include as much information as possible and the young person must consent for the referral to proceed.
Please read our Referral Guidelines for Professionals here.

Our Referral Form is here.

Fax: 9301 0859
Email: info@headspacejoondalup.com.au
Referrals to headspace Early Psychosis
Please contact our Mobile Assessment Treatment Team (MATT):
Click here to complete the headspace Early Psychosis Referral Form the completed form can be faxed, emailed or posted using the below contact information.
Phone: (08) 9301 8900
Fax: (08) 9301 0859
Please note the referral form is not mandatory and referrals can be made in the form of letters, emails or self-referrals.
Once the client's details have been recorded, a friendly Duty Officer from MATT will make contact within 24 hours.
About the headspace Early Psychosis Team
headspace Early Psychosis at Joondalup is a continuing care team of multidisciplinary professionals who provide recovery orientated, early intervention services to young people aged 12-25 who are experiencing a First Episode of Psychosis or at Ultra-High risk of experiencing Psychosis. Our service is based on EPPIC (Early Psychosis Prevention and Intervention Centre) from Orygen Youth Health. Our practice and service provision are based on assertive outreach, family work, functional recovery and partnerships with other community organisations to enhance care.
headspace Early Psychosis Joondalup the 'Hub' of the program, with Midland and Osborne Park being the 'Spokes'. The Hub provides extended hours of service to clients accessing headspace Early Psychosis, as well as specialist services such as functional recovery groups and family therapy.
headspace Joondalup offers a range of free groups and workshops for young people and for their family and friends.
Group themes vary from life-skills to socialising to general support. Groups are a great way to connect with others, gain new perspectives and get practical information in a safe and inclusive space.
Click here to open our Groups Sign-Up form!
Upcoming groups for young people at headspace Joondalup:
hQ Space: Ages 12-25. LGBTQIA+ social group. 1-3pm, 1st and 3rd Saturday each month.
Empower Hour: Ages 12-25. Tips for self care, variety of topics. Thursdays, 4.30-6pm

9th February 2023: Communication
23rd February 2023: Mindfulness & Relaxation
9th March 2023: Understanding Moods
23rd March 2023: Worrying & problem Solving
6th April 2023: Body Image Understanding and Accepting Myself

SPARK!: Ages 12-17. Strength. Purpose. Adventure. Resilience. Knowledge. 8-week interactive program. Thursdays, 4.30-6pm starting 4th May running through till the 22nd June.
Groups for Family and Friends of young people:
If you are interested in the following groups for Family and Friends of young people, please let us know by completing our Groups Sign-Up Form. We hope to run these in future if there is enough interest.
The role of the Community and Youth Engagement Officer is to:
raise awareness of headspace services
educate about youth mental health, healthy coping strategies and help-seeking skills, and
challenge stigma that surrounds mental health and related youth issues.
We can deliver a range of community engagement activities to groups of young people, family and friends, and others who support young people, for example:
Presentations (in-person or online)
Panel discussions
Workshops
Expo stalls
Centre tours
Please give at least two weeks notice. A response to your request will generally be given in 5-10 working days. We try to support as many services and schools as possible, but we do not always have the capacity to accommodate every request.
We strongly preference requests that:
Involve our priority groups (Young people who are: Aboriginal and/or Torres Strait Islander, LGBTIQA+, Culturally and/or Linguistically Diverse, at risk of homelessness, at risk of alcohol and other drug misuse).
Demonstrate how young people in the group can identify what issues are relevant or important to them prior to the activity/event.
Demonstrate how young people participate in the planning and delivery of the activity/event.
We can also provide promotional materials such as posters, brochures, fact sheets and merchandise.
If you have any questions or concerns, feel free to call us on (08) 9301 8900 or email info@headspacejoondalup.com.au with subject line: Community Engagement
Make a donation
If you would like to make a donation to our service, you can click this link here. Note that this link is hosted on Black Swan Health's website, the local health organisation that delivers headspace Joondalup's services.
Fundraising with Entertainment
20% of every membership we sell goes directly to our Fundraising.
From dining to shopping, to travel, get more of what you love & give back to our service. Share in the good, with up to 50% off and 2-for-1 deals in Perth and across Australia and New Zealand.
Buy your Entertainment Membership online here: www.entbook.com.au/91z5879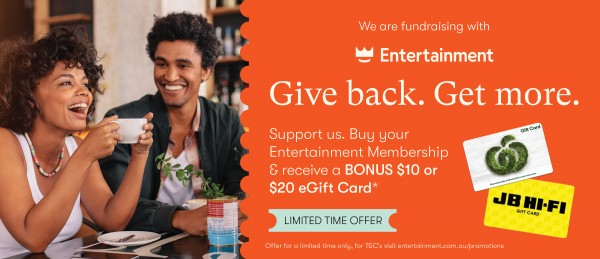 We appreciate all feedback (compliments, suggestions and complaints) about the services and care we provide to you. This feedback is used to make sure that you, and others like you, have the best possible experience.
We take all feedback seriously and will do our best to respond to your feedback quickly.
You can submit feedback online via this form*
*Please note that this feedback goes to Black Swan Health, the local health organisation that provides headspace Joondalup's services.
You and your family or friends can also provide feedback about your service experience in other ways including:
in person at our centre

speak with our friendly reception team, or
complete an anonymous feedback form, available in our reception area

by phone – (08) 9301 8900
by email – info@headspacejoondalup.com.au
Employment and Volunteering
headspace Joondalup is a service delivered by Black Swan Health Ltd.
Employment vacancies will be advertised at:
We contract allied mental health private practitioners (clinical or registered psychologists, social workers or occupational therapists) from time to time to work with clients and bulk bill under the Medicare Benefits Scheme (Better Access Initiative). Expressions of interest can be directed to the Program Manager at info@headspacejoondalup.com.au
Student Placements
Student placements will be considered on an annual basis and are usually brokered through the respective University.
Youth Reference Group (YRG)
About:
At headspace Joondalup we believe that youth participation is fundamental to the delivery of quality services for young people.
The purpose of the Youth Reference Group (YRG) is to ensure headspace Joondalup services are youth friendly and relevant to young people. The YRG provides direction and input into the development of the service. This ensures young people have a voice about current issues, youth participation activities and community awareness events.
Our YRG meets up once a month to discuss all that happens at headspace Joondalup and about youth mental health issues. Our dedicated members have the opportunity to come along to an array of community events to advocate for headspace.
YRG members are volunteers aged 16-25. They might live, work, study, or spend time in Joondalup or Perth's northern suburbs.
*We strongly encourage young people who identify as Aboriginal and/or Torres Strait Islander to apply!*
What you get:
Build confidence and be empowered – have your say on our headspace services
Practice professional skills, like teamwork, event planning, content creation and community education
Build connections with other young people who care about mental health and wellbeing
Training opportunities
$25 eGift card for each 2-hour monthly meeting you attend
Access to our staff Employee Assistance Program (EAP)
Volunteer experience and a potential professional reference
How to apply:
If you are interested in learning more about our YRG please contact headspace Joondalup on 08 9301 8900 or info@headspacejoondalup.com.au with "YRG" in the subject line.