fundraise for us
There are many ways you can fundraise and make a difference in the lives of young people
Supporting mental health initiatives for young people is a great cause to get behind, because nobody should feel alone or isolated, particularly those who are more at risk. Each year, one in four young Australians experience mental ill health. Your fundraising efforts will help us make a difference. Get stuck into fundraising now!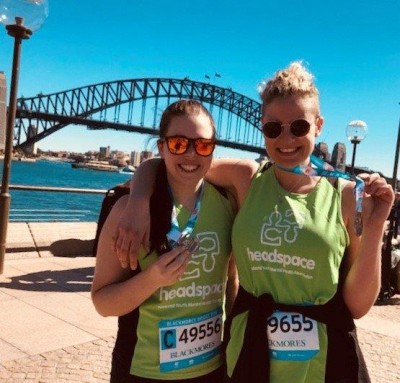 We couldn't do it without you
Thanks for being a #headspacehero and choosing to fundraise for us!
headspace works hard to make a difference by offering tools and resources to help young people, and their families, manage mental health more effectively. But we can't do it without your support!
While the Australian government provides us with funding for running mental health services in our headspace centres, additional donations allow us to achieve even more. Your fundraising efforts will help us provide promotion and support activities across Australia.
"It is so important Australian youth feel respected and supported by their own community and the nation as a whole."
- Nadia
Ways you can fundraise
Fundraising is a simple and fun way to connect with your local community while raising money for an important cause. There are a variety of activities you can organise to help fundraise for headspace – see just a few suggestions below!
The Push Up Challenge
Complete 3,318 push-ups over 25 days this June with The Push-Up Challenge. Each day you'll be challenged to complete a certain amount of push-ups, with the number of push-ups directly correlating to a mental health statistic. You can create a team and raise funds for headspace, all while raising awareness about mental health and challenging your own physical fitness.
Facebook & PayPal giving
Did you know that you can raise money for headspace on Facebook? For example, many of our supporters ask their family and friends to donate to headspace instead of giving them birthday gifts! Simply create a post on your homepage, and search for headspace
Day of Fun

Day of Fun is Funlab's national day to raise awareness and funds for headspace. You can visit your local Strike Bowling, Sky Zone or Holey Moley Golf Club and take part in fun two dollar activities, all day. All funds from the day go directly towards supporting headspace.
Fun Runs
Get active and boost your mental and physical health, all while raising money for headspace! There are plenty of sporting events across the nation every year and you can check out Running Calendar for a list of activities in your state.
Sign up for your chosen event, create an online fundraising page and start collecting donations from your friends, family and colleagues. headspace even provides an official sports singlet to each participant who raises $50 or more.
First things first, decide if you want to raise funds for the national work of headspace or for a specific headspace centre. If you want to support a specific centre, then you'll need to reach out to your local headspace centre directly.
If you wish to raise funds for our national work then you're in the right place! Follow the simple steps below to get your fundraising activity up and away.

Step 1: Decide on your activity
There are many different fundraising event ideas out there. You could host a trivia night, organise a 'headspace green' dress day, or participate in a fun run or physical challenge.
You might also consider getting your friends or colleagues together and fundraising as a team. This can be a great way to boost motivation and help you raise even more money.

Step 2: Read through our fundraising guidelines
Read up on your state's relevant fundraising laws and legislations of your state. You can find our guidelines here: ACT, NSW, NT, QLD, SA, TAS, VIC, WA

Step 3: Fill out a headspace fundraising application
The next step is to complete a headspace fundraising application. This will include a few questions about your event or activity.
Once you submit your application, it will go through the approvals process at headspace, which usually takes three business days.


Step 4: Set up your online fundraising page
One of the best ways to share your fundraising event with your friends and family is to set up an online fundraising page. You can use a platform that allows you to do this for free, such as Everyday Hero, Go Fundraise or My Cause.
When setting up the page you just need to select headspace National Youth Mental Health Foundation as your charity of choice. All funds raised through the page will then be transferred directly to headspace, which means you won't have to worry about the money collection.
It's a good idea to keep people updated on your progress by sharing regular pictures and updates along the way. This will keep them engaged and may inspire people to give more because of all the effort you're putting in.


Step 5: Get the word out there
Once your fundraising page is set up and you're ready to go, it's time to start promoting your fundraising efforts. A great way to do this is with posters and flyers around your local area. Social media sharing is also a great way to push your fundraiser out to the world. Be sure to tag @headspace_aus for further reach!
How should I collect donations?
There are a few different ways that you can collect donations. If you wish to collect donations through an online portal we recommend using Everyday Hero, Go Fundraise or My Cause. These are all easy, secure tools to use and a great way to promote your fundraiser online.
If you want to collect cash donations on the day of your fundraiser, we recommend collecting all of your donations and donating these funds in one lump sum to the headspace bank account, either through a direct transfer or a cheque donation.
How can I donate the funds to headspace?
You can donate via our online donation portal, by making a bank transfer, or by cheque. Find out more about how to donate to headspace.


Does headspace provide tax receipts for donations?
When your supporters donate directly through an online platform like Everyday Hero they will automatically receive a receipt from that platform. If your supporters are donating directly to you, ensure that they complete a Donor Receipt Form so that headspace can provide them with a receipt.

Does headspace have charitable status?
Yes, headspace National Youth Mental Health Foundation is a registered charity in Australia (ABN 26 137 533 843). We also hold Deductible Gifts Recipients (DGR) status.


Can I fundraise for a specific headspace centre?
Yes, you can absolutely raise funds for your local headspace centre. To organise this, contact your local centre and ask to speak with the centre Manager or the Community Awareness Worker.

What are some other tips for fundraising?
Get your school or workplace involved. Let your school or workplace know about your fundraiser and make it easy for them to get involved. Something as easy as selling baked goods for a gold coin donation can be really effective.


Ask local businesses for a donation. It may be something as simple as bread for your sausage sizzle, or a voucher for the raffle – every little bit helps. You'll be surprised at how supportive your community can be.


Set yourself a fundraising goal. Be ambitious! This will get people's attention and could inspire them to help you out.


Thank your supporters personally. Make this message personal, it could be a text, a Facebook or Instagram shout out, or a simple page mention. This public thank you could motivate others to also give.


How do I respond to someone seeking help?
Your fundraising efforts may inspire some people to open up to you about mental health concerns they may have about themselves or a loved one.
The best way to respond is to:


Listen


Validate their concerns


Encourage the person to seek professional support. A good place to start is their GP, eheadspace or their local headspace centre.


You can find some more information on our tips for a healthy headspace.
Need help with fundraising?
The headspace fundraising team is here to help you make the most of your fundraiser. Get in touch for tips, advice and assistance by emailing us at fundraising@headspace.org.au.
But please note, there are a few things we unfortunately can't help you with:
Sharing mailing lists to third party fundraisers for the purpose of additional solicitation of funds


Reimbursing fundraisers for expenses incurred to put on an event


Providing t-shirts for your event workers


Promoting your fundraiser in headspace publications, on our website or social media


Selling tickets to your event


Providing volunteers for your event


Guaranteeing headspace staff attendance at your event


Providing public liability insurance for your event


Assisting in the attainment of licencing, permits or permissions for your fundraising event (i.e. liquor or food preparation)


Guaranteeing contact with headspace Ambassadors or board members.