headspace


Armadale
40 Fourth Road, Armadale, Western Australia 6112

Phone (08) 9393 0300

Fax (08) 9393 0399
About
headspace offers free, confidential services for young people aged 12 - 25 who need support for their mental health, physical or sexual health, employment and study.
We are a 3 minute walk from the Armadale train station, turn right up Commerce Ave and turn left onto Fourth Road. From Byford bus 252 or 254, Canning Vale bus 519. Disability access is available.
Please click here for our client feedback survey.
Crisis Numbers and Support Services
Hours
Monday:

9:00am - 5:00pm

Tuesday:

9:00am - 5:00pm

Wednesday:

9:00am - 5:00pm

Thursday:

9:00am - 9:00pm

Friday:

9:00am - 5:00pm

Saturday:

Closed

Sunday:

Closed
headspace Armadale is operated by Arche Health Ltd. All headspace services are funded by the Australian Government Department of Health and Aged Care. Administration of funding is carried out by the headspace centre's local Primary Health Network, in this case, Perth South (WA Primary Health Alliance Ltd).
Mental health workers – which may include psychologists, psychiatrists, counsellors and other workers – that can help if you're just not feeling yourself.
Sexual health screenings on site or links to local services. 
Workers either on site or linked to the centre who can assist you with work or study opportunities. 
Centres have a range of programs and activities for young people. Just ask your centre what they have on. 
GPs can help with any physical health issues as well as issues related to sexual health, drug or alcohol use, relationship problems or feeling down or upset. Your centre may have a GP on site or links to one locally. 
Workers either on site or linked to the centre who can assist you with any alcohol or other drug concern.
A group of young people who help with events and some decision making at a centre. Ask your centre about getting involved.
"As soon as I sought help, I suddenly realised that my anxiety was very treatable and that I wasn't alone."
- Charlie
Jobs and volunteering
Positions currently available at headspace Armadale
headspace Armadale Youth Reference Group
• Must be aged between 16 and 25 years at the age of application
• Able to attend meetings on the last Thursday of every month
• Have an interest and passion in mental health and/or alcohol and other drug issues for young people
• The ability to think about the big picture
• Have something to say about mental health and alcohol and other drug issues
Benefits
• All members will be reimbursed at $25 per meeting
• Meet other young people passionate about youth mental health and well-being
• Receive training in mental health, alcohol and other drugs, media and relating to your specific interest area
• Develop a range of skills including working in groups, and representing the needs of your peers
• All reasonable travel costs to attend face to face events
• A reimbursement will be given for attendance at face to face meetings.
Other
Parental (or Guardian) consent will be needed for young people under 18 years of age
To register your interest please fill out the jotform link below
For more information contact:
Phone: (08) 9393 0300

Apply now
More information
Are you a young person aged between 12 and 25?
Call us on 08 9393 0300 Monday- Friday
Drop in and make an appointment Monday - Friday between 9:00 am and 5pm
Young people can refer themselves or family members, friends, schools, GP's and other organisations can refer with the young persons consent.
Are you a GP?
Are you a parent/organisation/school support staff referring a young person for support?
Our Sexual Health Nurse Practitioner, Donna offers FREE sexual health appointments from our office every Thursday from 2-4pm.
You can give us a ring on 9393 0300 to make an appointment, or simply walk in.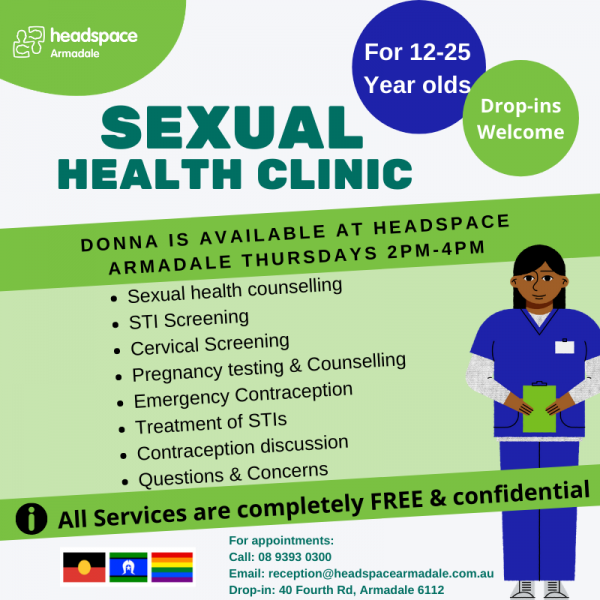 headspace Armadale hosts a regular drop-in space where young people aged 12-25 can feel free to be themselves.
At hQ space there is no pressure to say if you are queer or questioning, or how you identify. You also don't need to be a current or previous headspace client to attend.
We'll sort out the snacks, games and things to do – you just need to rock up! You can bring a friend too (if they are also 12-25)
To register please email reception@headspacearmadale.com.au or call us on 9393 0300
Upcoming Dates:
Thursday 3rd November 2022
Thursday 1st December 2022
Thursday 5th January 2023
Thursday 2nd February 2023
Monday - Friday 9:00am - 5:00pm
Late Night Thursday (By Appointment) 5:00pm - 9:00pm
Our recommended youth friendly GP, Dr Gibson operates out of:
headspace Armadale can provide support to book an appointment.
We have a team that is dedicated to supporting young people the best we can. We have a range of workers with different skills and experience to make sure young people that access Armadale get the help they are looking for.
headspace Armadale Management
Suellen - Centre Manager
Seb - Clinical Lead / Registered Psychologist
Clinical Team
Silvana - Psychologist
Lily - Youth Access Worker / Provisional Psychologist
Tessa - Youth Access Worker / Provisional Psychologist
Claire - Youth Access Worker / Provisional Psychologist
Gabbi - Youth Access Worker / Provisional Psychologist
Carter - Youth Access Worker / Provisional Psychologist
Donna - Sexual Health Nurse Practitioner
Administration & Community Engagement
Leshahn - CaLD Engagement Officer
Brody - Community Engagement Officer
Sam - Receptionist / Administration Officer
Sophie - Receptionist
headspace Armadale also supports the community through a range of educational activities. These include:
Presentations and workshops for young people aged 12-25 in schools, TAFE's, University and community programs
Meet headspace presentations for school staff, parents and services
headspace Information Station at
headspace presence & information booths at events, open days, health expos, forums and events
To request workshops, presentations or a headspace presence at an event please complete our online booking form here
Workshops and Presentations
headspace workshops and presentations usually go for approx. 45-55 minutes and include a range of practical evidence based content, interactive activities and videos.
Presentations and workshops can be tailored for young people from culturally and linguistically diverse backgrounds and Aboriginal and Torres Strait Islander young people. All of our presenters use safe and inclusive language and are happy to discuss any specific concerns or requests you may have when booking a presentation.
headspace workshops work best with groups of 5-30 so those participating can ask questions and get fully involved in activities. We are happy to consider bigger groups on a case-by-case basis.
Topics for young people currently include:
Meet headspace and Intro to Mental Health
Healthy headspace
Bullying
Exam Stress and Coping
Email reception@headspacearmadale or call 9393 0300 if you would like to speak to our Community Engagement team.
There is no cost associated with headspace attending or presenting at your event.
headspace Armadale operates with a range of community and consortium partners. We would like to acknowledge their valuable contribution to our service and clients.
Consortiums Partners:
Thanks to our donors and community partners:
St John of God Subiaco Hospital
Grill'd
Bean Thru Cafe
Foot Locker Armadale
Supre Armadale
Synergy - Workplace Giving program
K-Mart - gold coin donation
St Luke SHS
Sound of Life Outreach Ministry
Colliers International
Satterley Group
Uniting Church Byford
Arks Rugby Union Club
RugbyWA Juniors
2nd Chance Op Shop
Art vs Depression
Resilient Friends Club
Roleystone Community College
City of Armadale  
Commonwealth Bank Armadale 
Bankwest Armadale - Easy Grant recipient
Woolworths Armadale
Coles Armadale
Most of headspace Armadale's service do not require a medicare card.
In the case a medicare card is needed, we will support you in obtaining one.
If you don't have a Medicare card but think you might be eligible, you can apply on the Human Services page - https://www.humanservices.gov.au/customer/services/medicare/medicare-card
If you are ineligible to apply for a Medicare card, give us a call and we will direct you to alternative appropriate services for you, such as our fee-for-service options which range in price.
What is the Part A PHN Lead Site Project evaluation?
Part A of the PHN Lead Site Project evaluation assesses changes to Australian Government-funded mental health care delivered in the primary care setting that aim to achieve a more efficient, integrated and sustainable mental health system and to improve mental health services for Australians. The evaluation is funded by the Australian Government and is being conducted by researchers at the University of Melbourne.
The changes to mental health service delivery involve a regional (local) approach, led by PHNs, to planning, integration and commissioning mental health services at a local level, in partnership with relevant services and with a new flexible primary mental health care funding pool. All 31 PHNs across Australia have been funded to commission primary mental health services in six mental health priority areas: low intensity services; psychological therapies for underserviced populations; child and youth services; services for adults with severe and complex mental illness; Indigenous mental health services; and suicide prevention.
Ten PHNs have been selected to act as mental health reform leaders in the PHN Mental Health Reform Lead Site Project (Lead Site Project). These PHNs (Lead Sites) will provide enhanced services in nominated key focus areas (e.g., by fast-tracking their activity in these service areas, establishing different partnerships and funding arrangements for services, and/or trialling approaches that are innovative in terms of types and modes of commissioned services). The key focus areas are:
• Regional planning and service integration;
• Stepped care;
• Low intensity services; and
• Services for youth with, or at risk of, severe mental illness.
The Part A evaluation aims to address the following questions in relation to the above key focus areas:
• What approaches were undertaken by Lead Sites to the planning, commissioning, management and delivery of services in each of the focus areas?
• What activities and approaches were found by the Lead Sites to be effective in achieving objectives in each of the focus areas?
• What were the barriers and facilitators to achieving objectives in each of the focus areas?
• What are the implications for future activity by PHNs and primary health care reform more generally?
To download the full PDF on Part A PHN Mental Health Lead Site Project Evaluation click here