headspace Reconciliation Action Plan
Our vision for an equitable Australia
headspace launched its Reconciliation Action Plan (RAP) in June 2019, with a vision for an equitable Australia where the 60,000 year old cultures and continuing connection to Country of Aboriginal and Torres Strait Islander peoples are respected and celebrated.
The RAP outlines practical actions that will move headspace closer to reconciliation both internally and in the communities in which we work.
We're aiming to be aspirational and innovative in our actions, and are focusing on:
developing and strengthening relationships with Aboriginal and Torres Strait Islander peoples
engaging staff and stakeholders in reconciliation
developing and piloting innovative strategies to empower Aboriginal and Torres Strait Islander peoples.
See our Reconciliation Action Plan
Our RAP will help headspace to deepen our understanding of Aboriginal and Torres Strait Islander peoples and cultures; our shared history; and the policies that have significantly shaped the health and wellbeing inequalities of Aboriginal and Torres Strait Islander young people and their families today. We want to empower our staff to make an active contribution to reconciliation.
The headspace RAP finished on 30 June 2021. We are currently reviewing and evaluating the outcomes of our current RAP, and will commence planning our next steps. Keep an eye on this page for updates over the coming weeks.
headspace Reconciliation Action Plan artwork
This piece captures values from the headspace vision for reconciliation: Celebration, Country, Diversity, Culture, Healing, Respect and Equity.
These values are the underlying factors in what it takes to establish the central Reconciliation icon: a Yarning circle, belonging and echoing throughout time as a ripple effect.
Acknowledging our past, present and future with three spears. Wattle seed cornerstones support the piece to represent the importance of healing to reconciliation.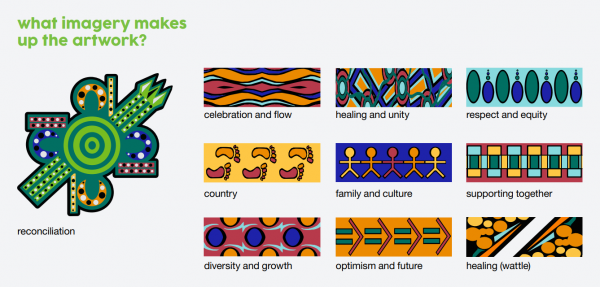 About artist Josh Muir
Josh Muir is a proud Yorta Yorta/Gunditjmara man who holds his culture strong and close to his heart; it gives him his voice and his identity. Muir's artworks echo his culture in a contemporary setting, and his practice reflects his journey.
Using bright colours and bold lines, he often draws together historical events and stories and presents them alongside current narratives in a distinctive graphic style.
Muir held his debut exhibition Don't Spit the Dummy in 2013 at the Koorie Heritage Trust. In 2016, Muir was commissioned as a major project artist by White Night Melbourne, and projected his work Still Here on the façade of the National Gallery of Victoria. In 2017, Muir designed Richmond Football Club's Guernsey for 'Dreamtime at the G' and produced Murrunghurk, a Melbourne Art Tram work as part of Melbourne Festival.
Muir has won numerous awards, including the Telstra National Aboriginal and Torres Strait Islander Art Award – Youth and the Hutchinson Scholarship. His work has been acquired by the Koorie Heritage Trust, National Gallery of Australia, Museum and Art Gallery of the Northern Territory, National Gallery of Victoria and by private collectors.