Depression is often associated with negativity and hopelessness, and I think this gets in the way of responding to depression in a helpful way that allows us to get on with our lives.
I was just sitting in class at Uni, looking at the word depression…It occurred to me then that when the letters were flipped around it presented a more helpful perspective - the concept of "pressing on" became apparent.

To me this is significant because it teaches us that depression can change. I wanted to share this concept with young people experiencing depression to give them hope that there is a way out of the darkness and this starts by pressing on.
- Jacqui, 22, Student

"When you Flip around the letters in the word "DEPRESSION", it actually says "I PRESSED ON""
- Jacqui, 23, Student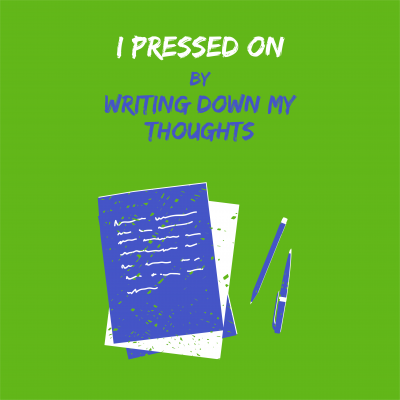 Why journal?
Taking the time to keep a journal can improve your headspace.
Keeping a journal can be good for organising your time and working things out. Research shows that 'journaling' can help us manage stress by understanding what's going on in our minds.
Journaling is a great way of focusing on your thoughts and feelings, and developing some proper structure around them. It can also help you notice your habits and patterns, set and achieve goals, and solve problems
Sometimes we feel anxious about things or we're feeling upset and sad. Writing something down can be a healthy and intimate way to deal with your emotions.
Here are some ways to start a journal to help improve your headspace.