headspace


Batemans Bay
1/11 Clyde Street , Batemans Bay, New South Wales 2536

Phone 1800 718 383

Fax (02) 9169 3478
About
We offer free, safe and confidential support for young people aged 12 to 25 across Batemans Bay, Moruya and Ulladulla.
headspace Batemans Bay can help with:
mental health
sexual health
work & study
alcohol & drug support
Want to make an appointment?
If you are a young person, parent or carer please use the form below
If you are an organisation or professional please use the form below
Have some feedback for us?
Hours
Monday:

9:00am - 5:00pm

Tuesday:

9:00am - 5:00pm

Wednesday:

9:00am - 5:00pm

Thursday:

10:00am - 6:00pm

Friday:

9:00am - 5:00pm

Saturday:

Closed

Sunday:

Closed
headspace Batemans Bay is operated by Relationships Australia Canberra & Region. All headspace services are funded by the Australian Government Department of Health and Aged Care. Administration of funding is carried out by the headspace centre's local Primary Health Network, in this case, South Eastern NSW Primary Health Network.
Nutrition screening, dietary assessment and education about food and lifestyle, also support around healthy eating strategies.
Services could include: provision of contraception and advice, testing, support, treatment and management of sexually transmissible infections(STI) HIV/AIDS and viral hepatitis vaccination for Hepatitis and HPV, pregnancy testing and referral.
Mental health workers – which may include psychologists, psychiatrists, counsellors and other workers – that can help if you're just not feeling yourself.
A group of young people who help with events and some decision making at a centre. Ask your centre about getting involved.
Get tips on how to prepare your resume and present for interviews. Find out about local employment opportunities (full time, part-time, or casual).
If you live near our headspace centre in a rural area but cannot travel in to see us, you can see our mental health workers online.
Workers either on site or linked to the centre who can assist you with any alcohol or other drug concern.
"As soon as I sought help, I suddenly realised that my anxiety was very treatable and that I wasn't alone."
- Charlie
Media gallery
Services you can access at headspace
Making an appointment at headspace
Attending an appointment at headspace
More information
In high school and want some help with homework or essay writing? headspace Batemans Bay is starting a homework & study group!
Come along to study in a chill environment with mentors available to assist you. Free WIFI and snacks included.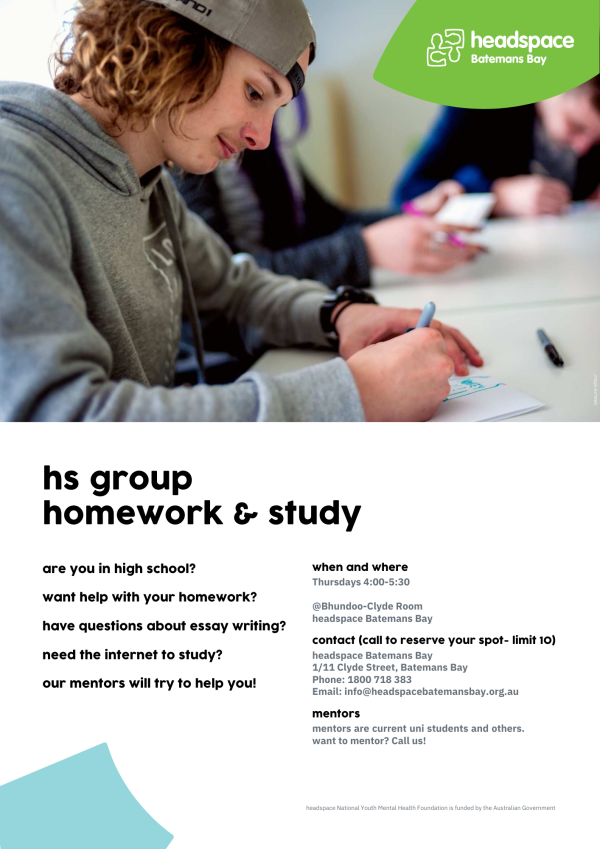 12-25 and identify as LGBTQIA+ or are questioning?
Want to hang out with other young people in a fun and supportive environment?
headspace Batemans Bay has a junior and senior rainbow group for LGBTQIA+ young people and their allies!
Are you aged between 12-25 and live in the Batemans Bay, Moruya or Ulladulla region?
The Batemans Bay Youth Reference Group is currently recruiting new volunteers!
Our Youth Reference Group is made up of young people who help provide guidance on our services, attend local events and promote positive mental health messaging. At headspace Batemans Bay we understand the importance of keeping things youth-focused.
Want to apply? Fill out our application form and send it to info@headspacebatemansbay.org.au
Youth Reference Group Application Form