young people encouraged to 'ditch the expectations' as survey reveals stigma still a barrier to seeking help
Key points
Two in five young people say they prefer to deal with mental health challenges on their own
Young people report they'd feel worse if they couldn't solve their mental health problems alone, and that other people's expectations were a reason they wouldn't reach out for help
Research coincides with new campaign launching for headspace day 2023 starring actor Zoe Terakes, encouraging young Australians to leave behind others' expectations and seek support
New research released today to mark headspace day[1] has found two in five young Australians prefer to deal with their emotional problems alone – many doing so because they're worried about what others might think.
The research coincides with the launch of a new campaign starring actor Zoe Terakes that encourages young Australians to leave unrealistic expectations behind and reach out for the support they need.
The headspace National Youth Mental Health Survey of 3,107 young people found 40 per cent of participants were likely to deal with personal or emotional problems on their own instead of speaking to someone else.
The survey also found:
More than two in five young people said they would feel worse about themselves if they could not solve their mental health problems on their own (42%), and
among young people who deal with personal or emotional problems on their own, a significant barrier to seeking help was feeling worried about what other people might think (39%).
The survey also explored young people's views on whether there is stigma around mental health and help-seeking.
Nearly six in 10 people surveyed indicated they feel that there is a stigma around mental illness in Australia (57%), with more than half (52%) revealing they felt there is stigma around seeking help for a mental illness.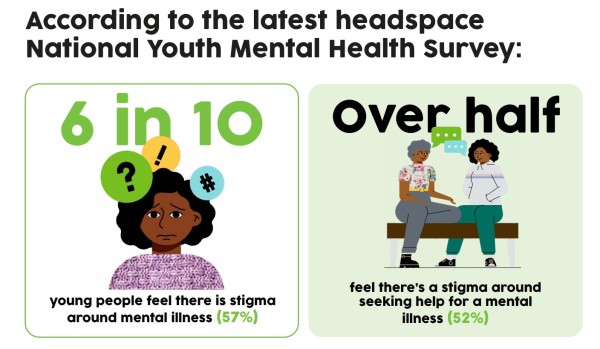 headspace CEO Jason Trethowan understood it can be confronting asking for support, but young people should know there is always a range of youth-friendly, confidential and low-cost supports available for their different needs.
"Young people today face expectations from many different directions – from their families, schools, workplaces, social media and from within themselves.
"Too many young people still feel they have to manage these expectations on their own.
"What's essential for young people is that they take the steps they need to succeed in life.
"For young people having a tough time, it's important they know there is support available, and that they should reach out for help.
"headspace day and the new campaign are timely reminders that headspace can support young people in a variety of ways, and for a range of concerns.
"If reaching out face-to-face feels too difficult right now, young people can explore the range of services available online.
"The young people I meet at headspace are amazing, with an enormous capacity for resilience – they just need some support on their journeys into adulthood."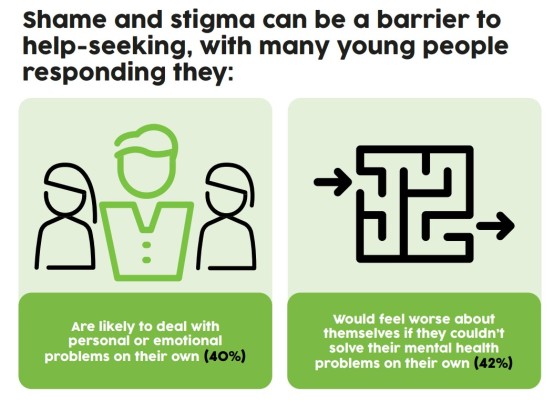 The headspace campaign features actor Zoe Terakes, who encourages young people to ditch others' expectations and focus on what's important to them.
"headspace reminds young people they don't have to do it all on their own, in fact, they shouldn't. It's so vital we reach for and depend on external support.
"I'm very grateful for the work headspace is doing to help people through the pointy bits of living."
With centres across regional and metropolitan Australia, online and phone counselling services, as well as a presence in schools, headspace strives to support all aspects of young people's wellbeing, including their mental health, physical health (including sexual health), providing alcohol and other drug services, as well as work and study support.
Watch headspace's new brand campaign.
View the full infographic on the latest findings.

We encourage any young person, family, or friends in need of support to visit their local headspace centre. Support is also available via phone and online counselling service eheadspace seven days a week between 9am–1am (AEST). The number is 1800 650 890.
If you're looking for someone to talk to immediately, Lifeline (13 11 14) and Kids Helpline (1800 55 1800) are available to talk 24/7.

[1] headspace Day is the national day of awareness for the mental health and wellbeing of young Australians and their families, as well as for the headspace services that are there to support them.