headspace


Wagga Wagga
2/185 Morgan Street, Wagga Wagga, New South Wales 2650

Phone 1800 856 572

Fax (02) 6937 9045
About
Welcome! Gawaymbanha!
headspace Wagga Wagga, located on Wiradjuri land, is a place where young people who are going through a tough time can get support.
We provide a safe and confidential environment for young people to access free services for:
mental health
physical health
alcohol and other drugs support
work and study assistance
Our core opening hours are Monday to Friday 9am to 5pm, however we have flexibility to offer appointments before and after these times.
To find out more about our centre please scroll down to the more information section.
Hours
Monday:

9:00am - 5:00pm

Tuesday:

9:00am - 5:00pm

Wednesday:

9:00am - 5:00pm

Thursday:

9:00am - 5:00pm

Friday:

9:00am - 5:00pm

Saturday:

Closed

Sunday:

Closed
headspace Wagga Wagga is operated by Relationships Australia Canberra & Region. All headspace services are funded by the Australian Government Department of Health and Aged Care. Administration of funding is carried out by the headspace centre's local Primary Health Network, in this case, Murrumbidgee Primary Health Network.
Get tips on how to prepare your resume and present for interviews. Find out about local employment opportunities (full time, part-time, or casual).
If you live near our headspace centre in a rural area but cannot travel in to see us, you can see our mental health workers online.
GPs can help with any physical health issues as well as issues related to sexual health, drug or alcohol use, relationship problems or feeling down or upset. Your centre may have a GP on site or links to one locally. 
Workers either on site or linked to the centre who can assist you with any alcohol or other drug concern.
A group of young people who help with events and some decision making at a centre. Ask your centre about getting involved.
Nutrition screening, dietary assessment and education about food and lifestyle, also support around healthy eating strategies.
Mental health workers – which may include psychologists, psychiatrists, counsellors and other workers – that can help if you're just not feeling yourself.
Sexual health screenings on site or links to local services. 
Workers either on site or linked to the centre who can assist you with work or study opportunities. 
"As soon as I sought help, I suddenly realised that my anxiety was very treatable and that I wasn't alone."
- Charlie
Support us
Support headspace Wagga Wagga by making a charitable donation today
Donate now
Media gallery
Services you can access at headspace
Making an appointment at headspace
Attending an appointment at headspace
Jobs and volunteering
Positions currently available at headspace Wagga Wagga
Private Practice Psychologists, Clinical Psychologists and Accredited Mental Health Social Workers
Multiple contracted positions available
headspace Wagga Wagga is looking for youth oriented private practitioners to work with young people aged 12-25 years and their families. You will work with a multidisciplinary team to provide early intervention and treatment for mental health issues. As a contracted practitioner you will receive referrals from the headspace team and we will provide full administration support for you. You will be making a major contribution to improving the mental health and wellbeing of young people and will be part of a very supportive team of clinicians and professionals.
What we can offer:
Flexible working hours and conditions (e.g onsite or from home, delivering in person and/or telehealth services)
Access to on-going referrals of young people who have been assessed and are ready to receive services under Better Access
The opportunity to be part of a well-established, multi-disciplinary team delivering evidence based, early intervention services for a variety of presenting problems
Full administration support including reception, billings and appointment bookings
Fully computerised software with IT support
The opportunity to work within our specialist Eating Disorders model providing CBT-E or FBT
Access to care co-ordination along with regular multi-disciplinary case reviews
Paid attendance at staff meetings and multi-disciplinary case reviews
Access to free clinical supervision – individual and group
Access to headspace online learning via Ourspace
Access to free organisation wide training
What we need from you:
A desire to work with young people
Full AHPRA registration (General or Clinical) or registration with AASW as an Accredited Mental Health Social Worker (AMHSW)
Eligibility to provide services under Medicare and be willing to Bulk Bill
High level clinical and communication skills
Ability to work in a multidisciplinary team environment
Available at least 1 day a week
An ABN
Personal Professional Indemnity Insurance
Working with Children Check
Federal Police Check
If you are interested in being part of a team where you feel valued, challenged and know that you are making a difference in the lives of young people, then we encourage you to submit your cover letter and resume.
Contact:
Kylie Hamblin,
Clinical Leader, headspace Wagga Wagga
OR
Shane Thomas
Manger, headspace Wagga Wagga
More information
Our staff are experts in their field, with a specific interest in the unique experiences and needs of young people. Meet the team:
Shane - Centre Manager
Kylie - Clinical Leader
Julie- Practice Manager
Laura - Clinical Educator & Senior Mental Health Clinician (headspace Young)
Julie & Steph - Reception
Lauren & Nathan - Youth Access Workers
Sophia- Senior Work and Study Specialist, headspace Work and Study
Justin & Sophie- Work and Study Specialists, headspace Work and Study
Alyssa, Ellen, Emmet, Grace, Helena, Jess, Kylie, Matt, Rosario, Shannon & Tara - Mental Health Clinicians
Duval- Alcohol and other Drug Counsellor
Dr Rachel Glasson- General Practitioner
Di - Dietitian
Dr Adeel - Psychiatrist
Cam - Community Engagement and Awareness Officer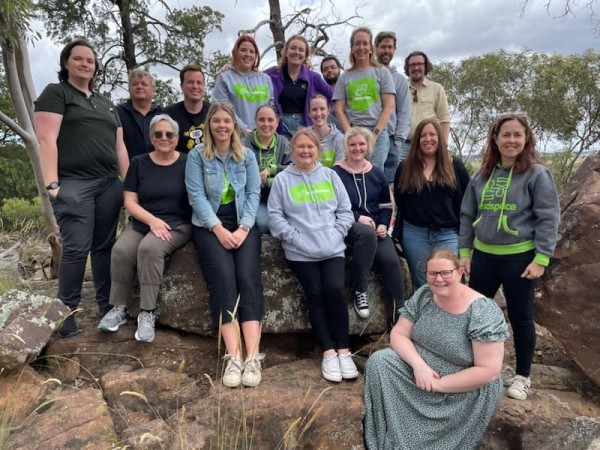 How to contact our staff:
To access counselling, GP or dietitian appointments:
Contact reception on (02) 6937 9000 - or see Referrals tab.
To contact our Centre Manager - Shane Thomas:
Contact Shane by phone on (02) 6937 9000, or email Shane.Thomas@headspacewagga.org.au
For all community engagement opportunities or enquiries:
Contact our Community Engagement Officer by phone on (02) 6937 9000, or email headspacemedia@headspacewagga.org.au
Making an appointment to come and see someone at headspace Wagga Wagga is easy!
Firstly, we need a referral for you which just contains some basic information about you. This can be made by yourself, a friend, a family member or a professional (GP or worker from another service).
To make a referral, you can:
Call us on 1800 856 572,
Drop into our centre at 2/185 Morgan Street (see the location section for a map),
Send us an email at myheadspace@headspacewagga.org.au
Fax us on (02) 6937 9045
Once your referral has been received we will arrange an appointment for you to have a chat about what is going on for you and to organise a plan with you about how we can best help you get back on track.
Please keep in mind that we are a voluntary service, so the young person that is being referred to us must know about and consent to the referral.
We have a "no wrong door" philosophy where no young person is turned away without connection to appropriate internal or external services in their local community.
Been referred to headspace Wagga Wagga and not sure what to expect for your first appointment? The welcome packs below should help answer your questions!
Welcome Book for Family and Friends
Our centre is located at 2/185 Morgan Street Wagga Wagga NSW 2650.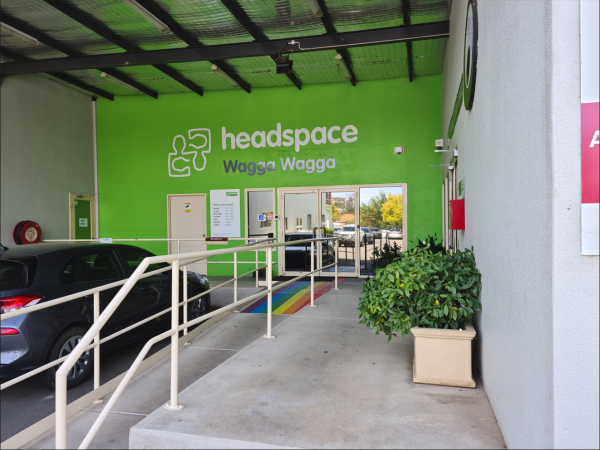 Parking
Parking can be difficult at headspace Wagga and we suggest allowing additional time for parking before your appointment
Limited parking available at the front of the centre
Limited two hour parking behind the centre in the South Wagga shopping area. There is a connecting walking to the centre.
All day parking on Morgan and Murray Streets
There are ways that we can support you to attend your appointments - if you cannot find transport to your appointment, please call us on (02) 6937 9000 to see if we can organise an alternative arrangement.
We also offer phone and zoom appointments.
Public Transport
Additionally, Busabout Wagga Wagga has a public transport network across Wagga Wagga which can get you to your appointment. View timetables and where the buses stop.
Accessibility
Our centre has disabled parking in the front car park and an accessible entrance. If you require support or assistance to access our centre please give us a call so we can best support you.
What if English is my second language?
Our services are provided in English. In some cases interpreters can be arranged in advance to support you or your family and friends to communicate with a headspace worker during a session.
For more information, please speak to a headspace worker or visit Mental Health in Multicultural Australia at mhima.org.au.
You can also access the headspace information flyer in 21 different languages here
headspace Wagga Wagga offers outreach to the following surrounding communities. To access services at these locations please follow the referral process for headspace Wagga.
Temora
Temora Community Centre
225 Hoskins Street, Temora
Every Tuesday
Tumut
Tumut TAFE Campus - Block A
Howick Street, Tumut
Every Wednesday
Cootamundra
Mission Australia Building
91 - 97 Wallendoon Street
Every Thursday
Young
Hilltop Hub
2 Campbell Street
Every Wednesday, Thursday and Friday
All our services at headspace Wagga Wagga are free via bulk billing with Medicare. All you require is access to a Medicare card.
You may be listed on your parent and guardians Medicare card. If you aren't, once you turn 15 years old, you are able to obtain your own Medicare card. Your own Medicare card allows you to access a range of medical and health services for free or at a lower cost.
If you don't think you'll be able to provide a Medicare card number, feel free to give our friendly receptionists a call on (02) 6937 9000 to discuss.
Read more about what a Medicare card allows and how to apply for one.
All services at headspace Wagga are voluntary - meaning no one can force you to attend headspace.
All our services are completely confidential. The information gathered by any headspace Wagga staff member is kept on your secure electronic file which can be accessed only by staff who are assisting with your care.
The information that you provide us, remains confidential and secure except where:
The information you provide indicates that you, or another person, may be at imminent risk
The information is subpoenaed by court;
Your prior consent has been obtained to provide verbal or written information to a person or an organisation.
Click here to access our collection and use of personal information info sheet
At headspace Wagga we want to work together with you to ensure that you receive all the support you need to reach your goals. We believe that to achieve this it is necessary to tell you what you can expect from us and what we may expect from you.
You have the right to:
• Be treated with respect at all times.
• Receive a high-quality, professional and non-judgemental service.
• Feel safe and supported to voice your thoughts, feelings and opinions and have them listened to.
• Work together with your team at headspace Wagga on goals and care plans with which you have agreed.
• Be involved in making decisions that affect your life.
• Provide feedback to us or to headspace National about the treatment you receive here.
• Ask for access to information we may have collected about you.
• Ask to receive support from a different headspace Wagga worker if you are not satisfied or comfortable with the worker who is allocated to you.
• Expect that no information about you will be given to anyone not involved in your support or treatment unless you choose to allow that information to be shared or unless the law requires us to disclose that information.
• Give us as much or as little information as you want.
Your responsibility is to:
• Treat the headspace Wagga team with respect and recognise that we are here to help.
• Not attend headspace Wagga when under the influence of alcohol, drugs, or other substances.
• Make every effort to contact us should you not be able to make your appointment.
• Respect the privacy of other people accessing the service.
• Respect the property and premise of headspace Wagga.
We believe that family and friends play an important role in the path to better wellbeing. We understand that there may be many different types of family and friends that are important. Research shows that involving family and friends in a young person's care can lead to better health outcomes.
Wherever possible, we support and create meaningful opportunities for family and friends to directly participate in our services, in ways that the young person is comfortable with, and that are likely to be beneficial to the young person's wellbeing.
All involvement of family and friends at headspace is done with the young person's privacy and confidentiality in mind.
Please see the resources below for further information
Family and Friends Welcome Book
Family Roles and Responsibilities
headspace welcomes feedback that helps us improve our services to young people and their families. If you have any suggestions about how we can improve our service, we'd love to hear from you.

• via our online form, available on our website
• in person at the centre
• by phone on 1800 856 572
• by email to myheadspace@headspacewagga.org.au


headspace Wagga Wagga welcomes feedback from young people and their friends and family and has a policy in place to address complaints. Feedback and complaints are taken through our lead agency, Relationships Australia Canberra & Region (RACR). If you would like to provide feedback on a service you have received at headspace Wagga Wagga, we invite you to complete a Feedback Form. The Feedback Form and further information can be accessed by following the link below:
We are a friendly group of young people from the local area, aged between 16 and 25 years old. We all strive to provide a safe and friendly group for people to join, have fun, and help work towards a common interest of promoting youth mental health. Being a member of the YRG is a voluntary role that offers you an opportunity to have your say and improve health services for young people in your community. YRG members gain valued skills and experience. Although we discuss important things, our meetings are casual and food is provided when we meet together.
As a group we aim to:
Provide input about things that matter to young people
Ensure that headspace Wagga Wagga is providing youth friendly services
Provide feedback and evaluations of the staff and services
Support the promotion of headspace programs and key messages
Be active in the community in raising awareness about youth mental health
Develop community events and promotions
Our Youth Reference Group currently meets fortnightly on Tuesdays from 5pm-7pm
If you are aged between 16- 25 years and interested to find out more, please contact us at the centre on (02) 6937 9000 or email myheadspace@headspacewagga.org.au
Please find the application form below:
PLEASE NOTE: The YRG has a maximum capacity of 15 young people.
headspace Wagga Wagga is proud to coordinate the Murrumbidgee Youth Mental Health Forum which is held annually in Wagga Wagga. This forum was originally implemented in the Murrumbidgee in 2012 and has been a huge success ever since! The forum is put together by a local Steering Committee comprising of education providers, mental health professionals and youth service representatives.
The 2022 Steering Committee comprised of representatives from headspace Wagga Wagga, NSW Department of Education, City of Wagga Wagga, Mission Australia, Karralika and School-Link - NSW Department of Health.
The forum invites students from each regional high school and a staff member to attend and find out about current youth mental health trends, ask those difficult questions and develop a project to improve mental health outcomes in their school community.
Our Community Engagement Officer in 2022 was Cam, who compiled a Post Event Report for the Youth Mental Health Forum which not only outlines the aims and objectives of the forum, but also demonstrates the incredible outcomes for school communities. To download and read the report, click on the pdf file below.
2022 Youth Mental Health Forum Report
We have a date for the 2023 Youth Mental Health Forum - 6th June 2023, Wagga Wagga. If your school would like to attend the forum, or your organisation would like to sit on the 2023 Steering Committee please contact headspace at myheadspace@headspacewagga.org.au