headspace


Nowra
96 Kinghorne Street, Nowra, New South Wales 2541

Phone (02) 4446 7300

Fax (02) 4446 7377
About
Headspace Nowra are committed to providing ongoing free services to young people.
All clients will be offered face to face, online video or phone appointments (telehealth). We will try and work out how best to support you.
headspace Nowra is accessible for all visitors via our street entrance, we have disability access to the building and access to appropriate disabled facilities inside the Centre
If you have any concerns please call us on 02 4446 7300 during business hours.
Hours
Monday:

8:30am - 5:00pm

Tuesday:

8:30am - 6:00pm

Wednesday:

8:30am - 6:00pm

Thursday:

8:30am - 5:00pm

Friday:

8:30am - 5:00pm

Saturday:

Closed

Sunday:

Closed
headspace Nowra is operated by Grand Pacific Health Ltd. All headspace services are funded by the Australian Government Department of Health and Aged Care. Administration of funding is carried out by the headspace centre's local Primary Health Network, in this case, South Eastern NSW (Coordinare Ltd).
Get tips on how to prepare your resume and present for interviews. Find out about local employment opportunities (full time, part-time, or casual).
Mental health workers – which may include psychologists, psychiatrists, counsellors and other workers – that can help if you're just not feeling yourself.
Workers either on site or linked to the centre who can assist you with work or study opportunities. 
Nutrition screening, dietary assessment and education about food and lifestyle, also support around healthy eating strategies.
Workers either on site or linked to the centre who can assist you with any alcohol or other drug concern.
A group of young people who help with events and some decision making at a centre. Ask your centre about getting involved.
"As soon as I sought help, I suddenly realised that my anxiety was very treatable and that I wasn't alone."
- Charlie
Media gallery
Services you can access at headspace
Making an appointment at headspace
Attending an appointment at headspace
Jobs and volunteering
Positions currently available at headspace Nowra
There is an exciting opportunity for a passionate Mental Health professional to join the multi-disciplinary team at headspace Nowra three days per week, providing high quality services to young people aged 12-25.
headspace Nowra is a comprehensive and free youth health service that provides physical and mental health support, information and services to young people aged 12-25 and their families. The team at headspace Nowra includes Social Workers, Youth Counsellors, Clinical and Registered Psychologists, Dietician, Community Engagement Officer, Vocational Specialists and Administration Staff. Headspace Mental Health Clinicians provide services under an early intervention/prevention framework for young people with mental disorders of mild/moderate severity.
The successful applicant will be an appropriately qualified and registered Mental Health Clinician (clinical/registered psychologist, mental health accredited social worker or mental health accredited occupational therapist) and will provide contractor services under the Medicare Benefits Scheme for three days per week. This is a fixed term position until 30 June 2020. They will be provided with ongoing referrals, extensive clinical and administrative support, be co-located with other health professionals within a youth friendly environment, and benefit from attractive attendance-rate-based rental agreement.
Interested applicants should be committed to delivering focused psychological services as part of a multidisciplinary team approach towards meeting the primary care, mental health, drug and alcohol, economic and social recovery needs of young people.
Please note: you must be eligible for a Medicare provider number.
How to apply: download the position description and selection criteria here which must be addressed and sent to jobs@gph.org.au. For further information contact David Wootton, Service Manager on dwootton@gph.org.au or call 02 4446 7300.
headspace, Nowra, Wollongong and Goulburn centres are currently looking to increase the number of GPs working out of the centres.
headspace centres offer free youth health services for young people aged 12-25 years. The centre employs a multidisciplinary team of psychologists, counsellors, youth workers, GPs and other staff to support the health and wellbeing of young people with a focus on mental health.
Working as a member of the headspace team offers GPs the opportunity to provide bulk-billed services to young people as part of a collaborative and holistic model of care, in an environment that encourages the development of ongoing and therapeutic relationships with clients and multidisciplinary case consultation.
Grand Pacific Health (GPH) is the lead agency for three headspace centres in Wollongong, Nowra and Goulburn, as well as operating two GP super clinics in Shell Cove and Nowra. As a member of the broader GPH team you will receive the support available as part of a large not for profit primary health organisation that operates across the Illawarra, Shoalhaven and Southern NSW region.
Job Description: A copy of the job description can be found here
Are you a GP interested in joining a multidisciplinary and supportive team with an interest in mental health and working with young people?
For more information contact:
Name: Jenny Valdivia (Manager, Youth Mental Health Services)
Phone: (02) 4220 7660

Apply now
Volunteer Role
Are you aged between 16 and 25 and live in the Shoalhaven area? Do you have something to say about youth mental health and wellbeing?
Are you willing to be involved in the YRG members for a 12 month term?
Who can apply?
We are looking for anyone aged between 16 and 25 who is interested in promoting youth mental health and wellbeing in the Shoalhaven area.
We want you to apply if:
You have had your own experiences of feeling depressed, anxious or another mental health issue.
You have a friend or family member who has/or had a mental illness or addiction.
You feel passionate about and are interested in mental health issues and young people's health and wellbeing in our community.
headspace Nowra is also keen to hear the voices of Indigenous young people, young people from different cultural and language backgrounds, young parents, young people from rural and remote areas, young people of diverse sexualities and genders, and young people who have been homeless.
What is the headspace Nowra Youth Reference Group?
headspace Nowra provides young people with the opportunity to be heard and be active around youth mental health and related issues through the Youth Reference Group (YRG).
There are a number of roles you can play in the YRG, including:
· Planning and organising special events
· Helping us to make our centre responsive to young people's needs
· Giving feedback about local youth and health services
· Fundraising for headspace Nowra
· Presentations and activities with high schools, TAFE and community organisations
· Accessing training and development opportunities
· Media promotions and interviews and publicity
· Sharing your experiences and encouraging early help seeking
By getting involved you will:
· Have the opportunity to have your say on local services
· Develop new skills
· Meet and work with other young people who are passionate about youth mental health
· Make a difference to youth mental health in your community.
The Youth Reference Group meets fortnightly on a Wednesday afternoon at headspace Nowra, and also provides regular feedback and input through an online forum.
We actively recruit for YRG each year from November to December, for an early February start. But if you're keen to get involved, get in touch no matter what time of year by emailing Maria!
If you have any other questions or wish to apply please contact us on 4446 7300 or email info@headspacenowra.org.au
Apply now
More information
headspace Nowra is a free, youth-friendly and confidential service for young people aged 12-25 years.
Led by Grand Pacific Health, headspace Nowra brings together a range of services to provide a holistic "one-stop-shop" for young people. Our services include:
Mental Health Support – Youth Counsellors, Youth Workers and other Mental Health Professionals
Drug and Alcohol Support
Education and Employment Support
Physical Health and Sexual Health Support (watch this space)
PLEASE NOTE:
headspace Nowra is not an acute mental health/crisis service. If you have any immediate concerns regarding the safety/wellbeing of a young person, please call: Mental Health Line on 1800 011 511; Lifeline on 13 11 14; or Kids Helpline on 1800 55 1800. In an emergency, contact 000 immediately.
HOW TO REFER:
We accept referrals from all sources and by any method.
Once a referral has been received, a confirmation of receipt will be sent, as well as information on the expected time it should take to hear from us about the referral. A follow-up will be sent after the referral has been reviewed.

Self-Referral: Young people are encouraged to make contact with headspace Nowra directly. Call (02) 4446 7300 within office hours or email info@headspacenowra.org.au . The best way to contact us is by calling.
Drop in: Young people can call into headspace Nowra (51 North Street) between 9am-5pm, Monday, Tuesday, Thursday Friday or 9.30-6pm on Wednesday (9am-5pm during Covid restrictions). Staff will endeavour to see the young person the same day, or the next available appointment will be offered.
Professional Referral: GP's, Allied Health Professionals, community-based agencies and educational institutions can all refer young people to headspace Nowra by phone. General Practitioners should include a mental health care plan (if appropriate) for the young person and send to info@headspacenowra.org.au or FAX 4421 0045
Family Referral: Families, carers or friends can refer a young person to headspace Nowra. The young person needs to be aware of and consent to the referral and be willing to meet with a member from the headspace Nowra team.
If you have any questions please call 4446 7300
Where to look for support while you're on waiting list at headspace Nowra
Waiting for your psychology, counselling or psychiatry appointment can take a long time.
If you've made it to this web page, chances are you've probably looked for support online already.
Here are some of our suggestions that you can use while you wait:
Have a look at our wellbeing starter pack – it is a collection of a few useful apps, services and resources you can turn to if you're looking for support while you wait.
Did you know headspace is also online not just at a centre?
You can get free online and telephone support and counselling for your mental health by creating a headspace account. There are group chats, online communities, and 1:1 direct support with eheadspace professionals. It also has support for your families and friends. Create your headspace account or call 1800 650 890
If you don't feel comfortable talking to anyone you know, you might feel better calling a helpline, joining a forum discussion or trying an online program.
The Beyond Blue forums are a supportive place to connect with people who are going through similar experiences to you. You can read other people's stories, ask for advice or share your own experience.
Reach Out Forums is a supportive, safe and anonymous space where people care about what's happening for you, because they've been there too.
The website has information and services to support young people through any problems – big or small.
Children of Parents with a Mental Illness (COPMI)
Having a parent with a mental illness can be tough. But COPMI have a lot of information and videos to help you get your head around it all.
Don't forget Your School:
It can be scary telling people that you are struggling but talking to your school can really help you. Chances are you aren't the only student who is struggling with their mental health, and the school probably already has some kind of internal support system. Speak to a teacher you trust, and they should be able to help you.
Want to know more about what to expect when attending headspace Nowra?

We have created welcome packs to introduce you to our service and direct you to where you can find further information and support:
Sometimes people don't show up for their appointments at headspace. We understand that life can be unpredictable and things can come up.
Here's how you can help us to help you...
headspace Nowra is home to a bunch of different people, who help people in different ways. Some of the main people you can see here are: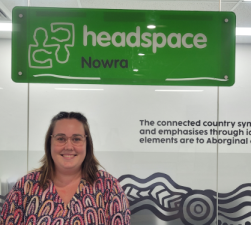 Courtney - Senior Administrative Coordinator
Courtney started working with Headspace Nowra only recently and is really enjoying meeting all our young people and their families. She has a combined 12 years experience in Medical Administration / Mental Health Coordination.
When Courtney is not at work you will find her spending time with her family & friends and taking her dog on adventures.
Courtney will more than likely be your first point of contact whenever you engage with Headspace Nowra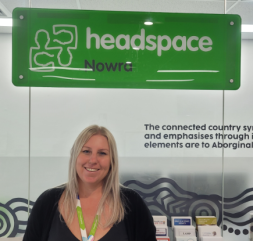 Emily - Service Manager
Emily is the service manager. She oversees the day to day running of centre.
She has come to us with a wealth of knowledge and has a long background in working with young people and supporting their mental health.
Psychologists - A psychologist is someone who has studied the way people think and behave. Our psychologists use different strategies or 'therapies' to help you understand yourself and develop the skills you need to cope with difficult situations.
Our psychology team include: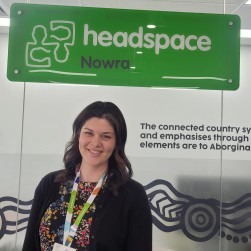 Alex - Clinical Lead/ Psychologist
Alex is a clinical psychologist, and the clinical supervisor of our staff and students. She also works with clients in our psychology stream. Alex has a background in Suicide Prevention and suicide attempt after care.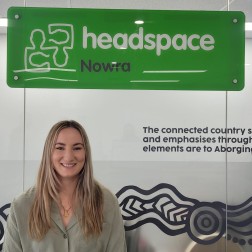 Erin - Psychologist
Erin is a Clinical Psychology Registrar at headspace, supporting young people aged 12-25 in the Shoalhaven. Erin started with headspace as a placement student whilst studying a Master of Psychology (clinical) and now is here part time time working in the mental health stream. When Erin is not at work, she spends her time taking her dogs to the beach, learning to skate or adventuring around the beautiful Shoalhaven area.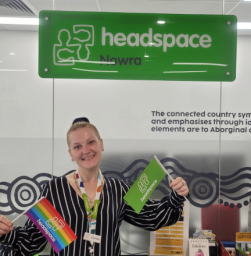 Courtney - Provisional Psychologist/ Intake worker
Courtney works part time as a Provisional psychologist. She has a passion for supporting young people from the LGBTQIA+ community. Working as a intake worker, Courtney might be one of the first people a young person talks to.
Youth Counsellors
Youth Counsellors can support you to deal with life's challenges and understand yourself using counselling strategies and "therapies" too. But they may not have the same training as our Psychologists. They support young people to manage difficult situations and develop coping skills, so things don't keeping getting tougher. Youth Counsellors are also intake workers so they may be the first people you chat to about what's going on for you.
Our Youth Counselling team are: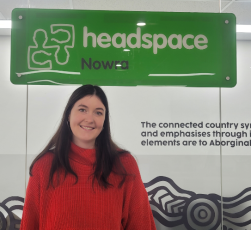 Sarah - Youth Counsellor
Sarah is completing her Master of Social Work and is working with us after completing her placement at headspace Nowra. She comes with an undergraduate degree in Psychology and hopes to become a Mental Health Social Worker.
When she's not at headspace Nowra, Sarah enjoys taking her dog Bart to the beach and baking sweet treats.
Youth Care Coordination- They can help with care coordination to young people and their families, provide practical assistance, such as helping with Centrelink, work closely with other members of headspace and external providers.
Our Youth Care Coordinator is: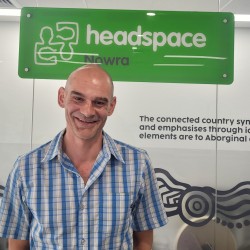 Alan - Youth Care Coordinator/Counsellor/Intake worker

Alan is a Youth Counsellor as well as the Youth Care Coordinator, which means he supports young people in a range of ways outside of counselling sessions. Working as a intake worker, Alan might be one of the first people a young person talks to.
Brief Interventions Counsellors
Brief Interventions Counsellors provide young people access to effective, brief, evidence-based treatment over the course of 6 weeks. They'll help build skills like problem solving, relaxation, confident communication, identifying thinking patterns, and improving self-esteem, sleep and activity levels.
Our Brief Interventions Team includes: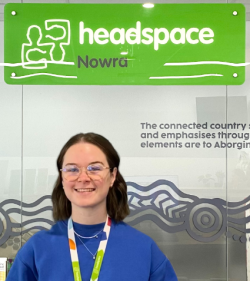 Maegan - BIS Coordinator/Intake Worker
Maegan works with headspace full time as the Brief Interventions Stream (BIS) Coordinator and an intake worker. Maegan has a background in Psychology, Counselling and Social Work. When Maegan is not at work, she spends her time reading and gardening.
Community Engagement Officer- Increase community awareness of headspace services, facilitate consumer participation, organise and deliver health promotion activities and special events. The community engagement officer also looks at preventive measures for young people and promotes the four core streams (mental health, Drug and alcohol, vocational and employments and physical health).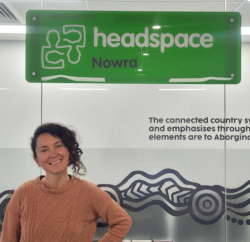 Maria - Community Engagement Officer
Maria works alongside Sammi in the community, thanks to ongoing bushfire funding. Maria has experience advocating for children and young people's rights, making youth participation important to her. She is passionate about caring for the people and land, so grows delicious and nutritious veggies. Music and dancing are her best companions, especially when Colombian rhythms start to play, reminding her of home.
Vocational Specialist - Work in Work and Study Support program to help young people reach their work and study goals whilst gaining support for their mental health and wellbeing. Vocational Specialist provide tailored and individualised one on one support.
Our Vocational Specialists are: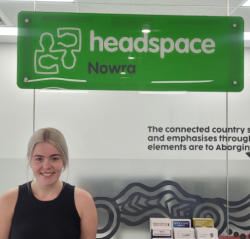 Tiana - Vocational Specialist
Tiana works full time in the Work and Study program and has a background in employment services and recruitment.
When Tiana is not at work you will find her at the beach, taking her dog for a walk and exploring the beautiful Shoalhaven.
Dieticians- Dieticians are university-qualified health professionals who translate food and nutrition science into practical advice. Make an appointment with our dietician for general healthy eating advice or for specific nutrition concerns or medical conditions.
Alycia - Dietician
Alicia works every second Tuesday afternoon from the headspace centre. If you would like to make an appointment, please talk to someone at reception.
headspace Nowra believes that family and friends play an important role in a young person's journey to better wellbeing.
We understand that there are many different types of family and friends that are important in a young person's life.
How you can be involved in supporting your young person will depend on many things – including the young person's age, life experience and their feelings about family involvement.
Wherever possible, we advocate for and provide meaningful opportunities for family and friends to directly participate in our services.
This pack will introduce you to our service and where you can find further information and support for you and your young person.
Family and Friends Welcome Pack
You can also find more information on how to support young people in the Explore Topics resource library.
Our Purple Pack is made up of a stack of useful resources we've found from many different groups and organisations to support transgender, gender diverse and sexually diverse young people.
It includes:
Information on pronouns, medical and social transitioning, coming out/inviting in, your legal rights, navigating relationships, sexuality and more.
Stories from other gender and sexually diverse young people.
Info on where to go to get more information and support online or in person.
The aim of this pack is to help you and your loved ones along your journey no matter what point you are at.
You can find a digital version here
Information for Young People:
How headspace can help
Gender Identity and Mental Health
TransHub (website)

ACON's digital information and resource platform for all trans and gender diverse (TGD) people in NSW, our loved ones, allies and health providers.

Rainbow Network Resources

A range of resources from help when coming out ot family and friends to setting up online social and support groups.

Minus18 - CHAMPIONS FOR LGBTQIA+ YOUTH

Through a preventative model of mental health support, we tackle social isolation by creating fun-filled spaces where LGBTQIA+ young people belong and are celebrated. Being visible, making friends and feeling supported are what our events are about.

Twenty10 -

A broad range of specialised services for young people 12-25 including housing, mental health, counselling and social support

Gender Centre -

Specialised services that enables the exploration of gender identity and assistance with the alleviation of gender dysphoria

LGBTIQ Health -

Supporting healthy lesbian, gay, bisexual, trans/transgender, intersex, queer and other sexuality, gender, and bodily diverse people and communities throughout Australia and the world, free from stigma and discrimination

QLife

Provides anonymous and free LGBTI peer support and referral for people in Australia wanting to talk about sexuality, identity, gender, bodies, feelings or relationships.

Rainbow Cultures

A directry of LGBTQIA+ multicultural community groups and services in NSW
Information for Families and Friends:
Most importantly, we want you to know that headspace Nowra is a safe place and we want to support you.
Call us on 4421 5300 if you would like to speak to someone. We're here to help.
Did you know you can get your own Medicare card when you are over a certain age!
Don't know how? To find out more check out these websites below:
Health NSW - Fact Sheet Medicare at 15
Our Youth Care Coordinator can help you fill out all the paperwork that is needed, we also have forms at reception you can fill out. Come into headspace Nowra to grab your copy today
headspace Nowra is accessible for all visitors, we have disability access to the building and access to appropriate disabled facilities inside the Centre.
Street parking is available around the centre with a 1hour parking limit between 8am and 6pm.
The closest 2 and 3 hour parking available off Stewart Place.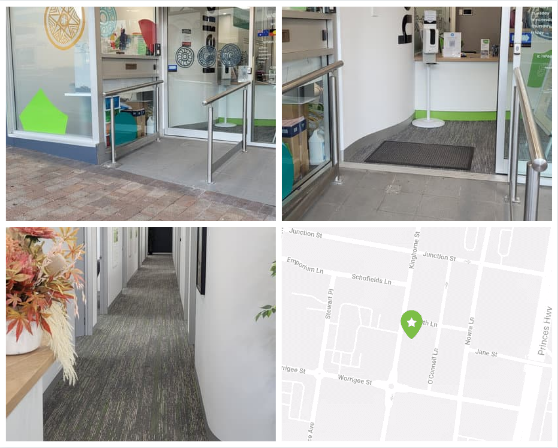 headspace Wollongong, Nowra, Bega and Goulburn now offer telehealth sessions via a special platform called "Attend Anywhere". We think it gives you the experience most like your normal face-to-face sessions with a clinician. It's encryption levels mean your conversations stay private, and it allows you to wait in a "waiting room", under the supervision of our admin team, until your clinician is ready to see you.
WHAT DO I NEED?
A good connection to the internet
If you can watch a video online (e.g. YouTube) you can make a video call
One of these:

Google Chrome web browser on a desktop or laptop, or on an Android tablet or smartphone
Safari web browser on an Apple iMac, MacBook, iPad or iPhone

Web-camera, speakers, and microphone already built into laptops or mobile devices
How much internet data will I use?
You don't use any data while waiting for a clinician to join you.
An Attend Anywhere video call uses a similar amount of data to Skype® or FaceTime®.
PRIVACY
You have your own private video room that only authorised clinicians can enter. Video calls are secure; your privacy is protected.
Your telehealth service will not be recorded by us. We ask you to also agree not to make recordings of our sessions and not to use materials from our sessions elsewhere.
WHAT IF I HAVE QUESTIONS?
Your clinician is available to answer all your questions and answer any concerns. Together, you will work out a plan that best suits you. If you wish to speak to someone else about your experience, please call your local headspace centre and ask to speak to the centre manager.
HOW DO I USE ATTEND ANYWHERE?
Go to gph.org.au/telehealth-online-video-conference a little before the prearranged time for your appointment and select the headspace waiting room (red armchair logo).
On this web page, click Start video call button and follow the instructions
Wait in your own private video room
Your clinician sees you arrive in the waiting area and joins you in your video room when they are ready
If you would like to know more, here's a short video: https://youtu.be/o-64JK4nLuE
WHAT IF MY CONNECTION DROPS OUT?
If you lose connection, firstly, wait 30 seconds and try to reconnect using the Refresh button.
If your video link drops out, or if you intentionally disconnect the videoconference, or leave the room where the videoconference hardware is set up, we will immediately contact you via your nominated contact number. If we cannot contact you, then we will activate your Contingency Plan.
What is my Contingency Plan?
At your first session, you and your clinician will work out a telehealth safety plan. This will be reviewed at the beginning of each session. Your plan will include nominated emergency contacts and/or local and emergency services.
HOW DO I PREPARE FOR MY SESSION?
It can be easy to think of your Telehealth session as a less formal "catch-up" and think it doesn't need much preparation. To get the best from your session, try to:
1) Find a quiet space. Put away your pets, find a room where you think you won't be overheard. Try using headphones with an in-built microphones, if you can. Most mobile phones come with these.
2) Bring a notepad and pen. Your clinician won't be able to give you a piece of paper to take home with you so you might need to jot some things down.
3) Have your phone close to you but turn it onto silent and close your email programs. It is important that your clinician can call you, if something should happen to your Telehealth connection, but it's also important to try to minimise distractions.
4) Give yourself permission to focus. In these busy times there are lots of things calling for our attention. Give yourself permission to be fully present with your clinician for your session.
5) Your telehealth session with your clinican will not take any longer than an in-person session at our centre would, except you don't have to spend time travelling to us.
Are you interested in fundraising for or making a donation to headspace Nowra?
Your generous support helps us to provide vital mental health and wellbeing support, information and services to young people and their families across the Shoalhaven.
Set up your own fundraising page:
Are you setting a personal challenge, entering a fundraising event or celebrating a special occasion?
If you would like to fundraise for headspace Nowra, head to GoFundraise to set up your fundraising page:
www.gofundraise.com.au/beneficiary/headspacenowra
Donate online:
Donate online using the secure platform of GiveNow: www.givenow.com.au/headspacenowra
Donate by direct deposit:
Account Name: Grand Pacific Health
Account number: 606303831 BSB: 082916
Bank: National Australia Bank
Donate by cheque:
Cheques can be made out to Grand Pacific Health and mailed to Attn: Finance, Grand Pacific Health, PO Box 1198, South Coast MC NSW 2521.
Please email info@headspacenowra.org.au to advise us of your contact details when making a donation by direct deposit or cheque, and include hsNowra as a message/reference with your donation.
Thank you for your support!
headspace Nowra is committed to maintaining your privacy. Please talk to one of our workers if you want more information about how we protect the right to privacy of the young people who use our service.
Grand Pacific Health - Privacy Statement