headspace


Mount Druitt
55 North Parade, Mount Druitt, New South Wales 2770

Phone 1800 683 784

Fax (02) 4720 8899
About
Overview

COVID -19 update: The health & wellbeing of young people and their families is our top priority. We are currently offering telehealth services where possible and are still open if you need to walk in to our service.
headspace Mt Druitt provides free information, support and services to young people, aged 12 - 25, and their families and friends. We can help with mental health, general health, alcohol and other drug services as well as work support. We also run the headspace Early Psychosis program.

Our site has full wheelchair accessibility.
Hours
Monday:

9:00am - 6:00pm

Tuesday:

9:00am - 6:00pm

Wednesday:

9:00am - 6:00pm

Thursday:

9:00am - 6:00pm

Friday:

9:00am - 5:00pm

Saturday:

Closed

Sunday:

Closed
headspace Mount Druitt is operated by Uniting NSW.ACT. All headspace services are funded by the Australian Government Department of Health. Administration of funding is carried out by the headspace centre's local Primary Health Network, in this case, Western Sydney (Wentwest Ltd).
Mental health workers – which may include psychologists, psychiatrists, counsellors and other workers – that can help if you're just not feeling yourself.
Workers either on site or linked to the centre who can assist you with any alcohol or other drug concern.
A headspace early intervention program to improve the lives of young people, and their families, who are affected by psychosis.
Centres have a range of programs and activities for young people. Just ask your centre what they have on. 
GPs can help with any physical health issues as well as issues related to sexual health, drug or alcohol use, relationship problems or feeling down or upset. Your centre may have a GP on site or links to one locally. 
Workers either on site or linked to the centre who can assist you with work or study opportunities. 
A group of young people who help with events and some decision making at a centre. Ask your centre about getting involved.
"As soon as I sought help, I suddenly realised that my anxiety was very treatable and that I wasn't alone."
- Charlie
Jobs and volunteering
Positions currently available at headspace Mount Druitt
More information
Our centre is located at 55 North Parade Mount Druitt. Parking can be found behind the centre via Jirrang Close. Our centre is wheelchair accessible at the back entrance.
headspace Mount Druitt has a 'no wrong door policy' which means no young person is turned away without connection to appropriate internal or external services. After hours appointments are also available upon request.
If you are having trouble locating the centre feel free to call on 1800 683 784 and we will guide to our building.
Our Centre:

Download our Service Information Kit here.

Download our Welcome Pack for Young People, Welcome Pack for Family and Friends and/or the headspace National Welcome Pack.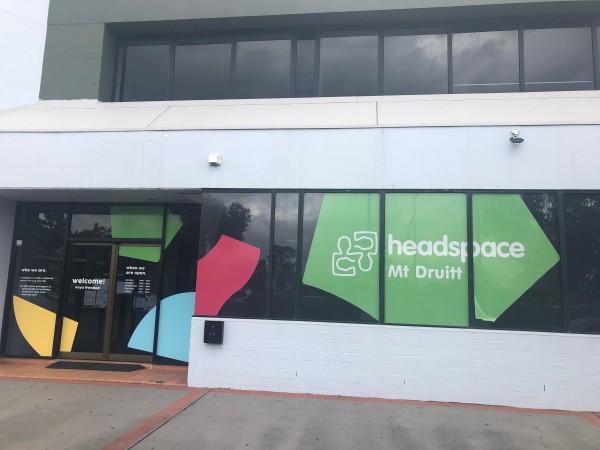 Mental Health Services:
Mental health workers, which may include psychologists, social workers, occupational therapists and mental health nurses (to name a few) are available to talk if you are not feeling yourself. The mental health workers will spend some time getting to know and understand your story and your goals before working with you (and your friends/family) to find the right way to get you back on track!
Drug and Alcohol Services:
At headspace Mt Druitt, we have partnered with the Salvation Army to deliver drug and alcohol services through 'headFYSRT' which means that we will have someone on iste to be able to support you with any alcohol or drug issue or questions, no matter how small they might be!
headspace Early Psychosis:
at headspace Mt Druitt, we have the headspace Early Psychosis team right on site who can provide a thorough assessment and treatment for up to 5 years for young people and their families who may be affected by psychosis. headspace Early Psychosis is a multidisciplinary program which is made up of 3 different teams - the Mobile Assessment and Treatment Team, the Functional Recovery Team and the Continuing Care Team. If you are a service provider and want to know more about this program - head here.
Youth Programs:
We run a number of groups and programs throughout the year for you to take part in. Please give us a call to find out what is happening right now!
GP:
GPs can help with any physical health issues as well as issues related to sexual health, drug or alcohol use, relationship problems or feeling down or upset. At headspace Mt Druitt, we can help you link in with a youth friendly GP conveniently located close to headspace Mt Druitt, or another location that might suit you better.

Work and Study Support:
At headspace Mt Druitt, we have a dedicated work and study worker on site one day a week who can assist you with your work and study opportunities. There are also a number of options that we can talk about to see what fits you best such as headspace Work and Study!

Youth Reference Group:
The youth reference group at headspace ensures that our headspace services are kept up to date and youth friendly! From time to time, the youth reference group may seek new participants to help with centre based events and activities and have input into how headspace works with the community.
If you are a service provider and you wish to refer a young person to headspace, simply download the Referral Form and return it via email to: headspacemtdruitt@uniting.org If you are unsure whether the young person meets referral criteria for the headspace Early Psychosis program, please click here for our referral checklist.
Please ensure that the young person whom you refer is willing to engage with headspace and is able to attend appointments.
We recommend that you follow up the emailed referral with a phone call, just to make sure we've received it.
Our intake phone number is: (02) 8881 2500
Is headspace Mt Druitt open?
Answer: We remain open if you need to walk in to our centre between 9.00AM - 5.00PM Monday to Friday. In addition, we are continuing to operate our services via telehealth (phone and online).
Can I have a face to face appointment?
Answer: For a first intake session yes. This can also take place over the phone. We are predominantly offering sessions via telehealth (online and phone) and appointments on site will be considered in consultation with your assigned worker and the team.
How long will a first intake session take and how soon will I be able to have a face to face or phone intake session?
Answer: Both face to face and phone intake sessions take roughly 30 minutes to complete. A face to face intake can be completed upon arrival at a headspace service after completing check in. A phone call intake can take place between two to five business days. If you have not heard from us in a week, give us a call.
Can I bring my parent/carer/support person to a face to face intake session?
Answer: Yes, but due to COVID-19 restrictions we request that this be limited to one person.
Can my parent/carer bring a smaller child with their older child who is completing a face to face intake session?
Answer: Yes. We appreciate all efforts to reduce the number of people on site but understand if you need to bring someone who is under your care and cannot be left with someone else.
Do I need to book?
Answer: No. An intake in person can be completed Monday-Friday during operating hours. The first intake session can take 30+ minutes so ideally if you can arrive before 4pm so we can give you as much time as needed before our 5pm closure time.
Do I need to wear a mask?
Answer: We ask that you wear a mask on site and follow all public health precautions such as staying home if you are sick (you can call us instead!), maintaining physical distancing, checking in with our QR code and using hand sanitizer. If you don't have a mask on you, we can supply you with one upon arrival.
If you still have any questions or are unsure if a pre-organised appointment with your headspace worker is going ahead face to face or online - please give us a call.
Your feedback is valuable to us - it helps us know what we are doing really well and also helps us to improve our service.
If you are a young person accessing our service, we would really appreciate your feedback. Let us know here - https://www.surveymonkey.com/r/PNRFLWK. This survey is confidential and won't impact on the service you are currently receiving.
Supporting a family member or friend? Please tell us what you think about headspace and the service you have received. Your feedback will help us improve the service for others. Find the survey here: https://bit.ly/3hkffSW
Uniting NSW.ACT provides care and support for people through all ages and stages of life, with a focus on people experiencing vulnerability and exclusion. As one of the largest not-for-profit (NFP) organisations in Australia we offer services across NSW and the ACT in the areas of aged care, retirement and independent living, early learning, disability, community, and mental health services. With our values: Compassionate, Respectful, Bold, and Imaginative we work to inspire people, enliven communities and confront injustice.
An initiative of the headspace Mount Druitt Youth Advisory Committee.
For more virtual tours and mental health related videos visit the headspace youtube page or our facebook page.
A key part of headspace Mount Druitt is our consortium support. These partnerships broaden young people's access to arrange of services.
Our valued consortium partners are as follows:
The Community Development Team are available to assist with a range of community activities and events.
To make a request, please complete the forms below and return to headspacecdt@uniting.org
Mental health event: The Community Development Team can participate in community events and engage in health and service promotion.
We can provide a pop-up stall to distribute a range of information around what mental health is, how to increase positive mental health, and how to link into our services whilst also including some engaging activities for the community.
To make a request, please complete this form.
Educational Workshops: we provide workshops for groups of young people, parents, family members, or carers of young people.
To make a request, please complete this form.
Student Engagements: The Community Development Team can provide tours and visits at our local headspace centres for interested students.
Throughout the in-service tour a member of our Community Development Team will provide you with an overview of the services, staff and resources on site at this centre.
To make a request, please complete this form.
Promotional material:
The Community Development Team can post out
promotional material
(e.g., posters and post cards).
To make a request, please complete this form.
Should you encounter any technical issues with these forms, please email your request to: headspacecdt@uniting.org
headspace  Mount Druitt is cost free. Some of our services may require you to have a Medicare card, however our primary care services do not.
Young people 15+ years old can get their own Medicare card by visiting their local Medicare office.
The below fact sheet and road map explain why young people may need their own Medicare card, and which option and pathway to take for getting their own Medicare card that will suit their needs under difference circumstances.
Thank you for considering raising funds for headspace Mount Druitt. We greatly appreciate all support from both individuals and organisations. Your support means that we can continue our work of providing mental health and wellbeing support, information and services to young people and their families across Greater Western Sydney. headspace's centres have a wide range of youth friendly health professionals who can help young people ages 12 to 25 with:
Mental health and counselling
General health
Alcohol and other drug services
Education, employment and other services
This document and the enclosed Terms and Conditions are designed to govern and support your fundraising event. Please ensure that you read them carefully and accept the Terms and Conditions at the time of submitting your Application to us at headspacecdt@parramattamission.org.au
headspace must approve your proposed fundraising event. Once your event has been approved by headspace, you may conduct a fundraising event on headspace's behalf.