Family & Friends Reference Group
headspace Kalgoorlie would like to invite family & friends to connect with other like-minded people and share their experiences of service engagement with the aim to drive positive change for young people.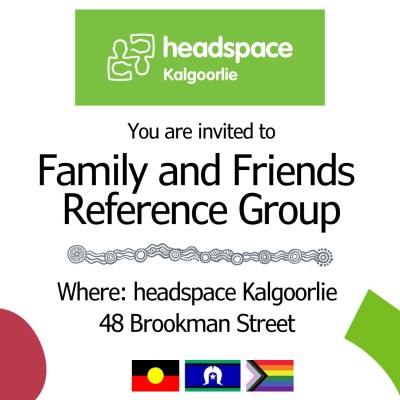 We recognise the important role of family and friends in the lives of young people and encourage your input to our service delivery.
Family & friends reference group is a monthly group, where friends & family come together and provide their valuable ideas and experiences in regard to the services being delivered at headspace Kalgoorlie.
When
Thursday 14th July 2022 @ 5.30PM
Thursday 18th August 2022 @ 5.30PM
Thursday 15th September @ 5.30PM
Thursday 20th October 2022 @ 5.30PM
Thursday 17th November 2022 @ 5.30PM
Thursday 15th December 2022 @ 5.30PM
Where
headspace Kalgoorlie (48 Brookman Street)
For More Info
Please contact us to register Headspace.kal@hopecs.org.au or phone (08) 90215599.
How useful was this page?