Welcome to Lulu (therapy dog) and Trudy!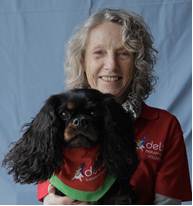 We are excited to be having a special visitor ... the rather gorgeous Cavalier King Charles Spaniel Lulu and her owner Trudy will be in the reception area from 3-5pm each Tuesday.
Lulu has previously worked in hospital settings with children, young people, and adults. We are trialing these visits, so would love any feedback. Call us on 0293668800 or email headspacebondijunction@health.nsw.gov.au.
With thanks to Delta Dogs.