On Thursday, 11 October 2018 people across Australia will come together to celebrate headspace day. A national day of support for the mental health and wellbeing of all young Australians.
With one in four young people in Australia experiencing a mental health issue each year, headspace Albany is inviting the local community to join them in embracing this important nation-wide event.
Add a little colour to your day with headspace Albany
Where: Boost Juice Albany Plaza
When: October 11th 3.30 pm – 5 pm
Cost: FREE!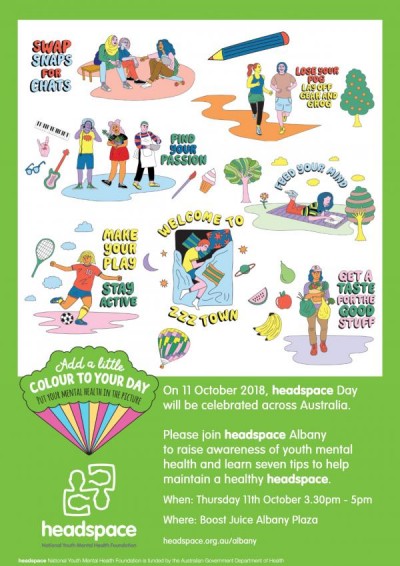 headspace Albany will be using a giant mindfulness colouring-in piece in Albany Plaza located beside Boost Juice. Young people who contribute to the colouring in will receive a FREE Boost juice of their choice. Across Australia, headspace centres are bringing the tips to life in communities all over Australia and encouraging people to share the small things they do to support their mental health.