Community partnership, getting L2P's on the road
The Swan Hill TAC L2P Program has a shiny new Toyota Yaris thanks to a community partnership formed between Swan Hill & Kerang Toyota, Murray Mallee Local Learning Employment Network (MMLLEN) and Headspace Swan Hill.
The TAC L2P Program assists learners under 21 years of age, who do not have access to a supervising driver or vehicle, to gain the 120 hours driving experience required to apply for a probationary licence.
L2P Program Officer Ross Palmer said the new partnership would make Swan Hill's TAC L2P program even stronger.
"The new vehicle will be a fantastic asset for young people in the Swan Hill area," Mr Palmer said.
Murray Mallee Local Learning Employment Network (MMLLEN) Executive Officer, Deborah Quin said MMLLEN had been an active supporter of the Swan Hill L2P program since its commencement in 2009.
"MMLLEN are represented on the Swan Hill TAC L2P steering group and we have staff actively mentoring in the program – we are delighted to extend our partnership further.
"The TAC L2P program is an important youth mentoring program and it provides many benefits other than people gaining their 120 hours of driving to allow them to gain their Probationary licence," Ms Quin said.
Swan Hill Headspace Manager, Ian Johansen said that the TAC L2P program opens new and exciting doors for young people and assists them to transition into education and employment pathways.
"The sense of achievement and independence that comes with having a driver's license also improves the mental health of individuals," Mr Johansen added.
Jeremy Kues-Sales said he had just gained his probationary licence, thanks to the TAC L2P program.
"The L2P program has given me so much freedom – I really appreciate it," Mr Kues-Sales said.
Mr Palmer said that last year the Swan Hill TAC L2P had 78 young people involved in the program.
"Despite major setbacks suspending the program for 140 days in 2020, we still managed to support 17 young people to get their P's," Mr Palmer said.
The TAC L2P Program is funded by TAC and managed by the Department of Transport.
For more information on the TAC L2P Learner Driver Program, or if you're interested in becoming a mentor, visit Council's website at www.swanhill.vic.gov.au or contact Ross Palmer on 50362380.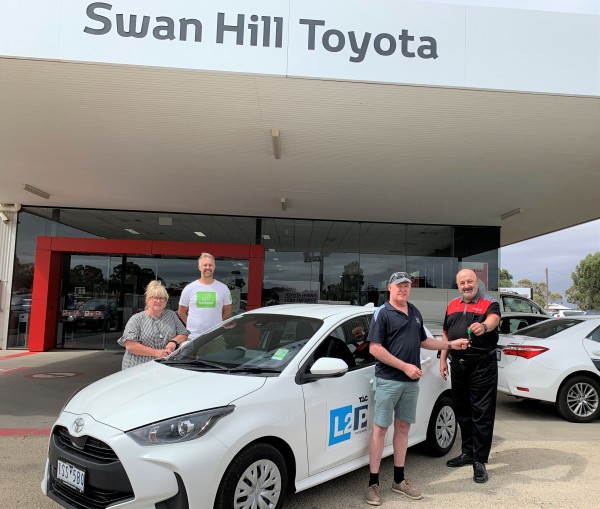 How useful was this page?