headspace Warrnambool & Portland Scholarship Program 2020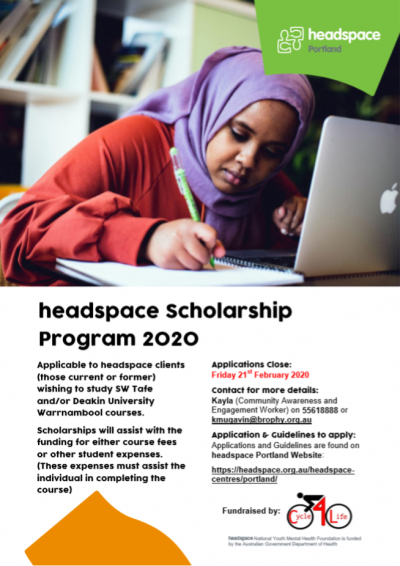 HEADSPACE WARRNAMBOOL & PORTLAND SCHOLARSHIP PROGRAM 2020:
Applicable to headspace clients (current and former) wishing to study SW Tafe and/or Deakin University Warrnambool courses.
There is a slight change this year, where scholarships can either assist with the funding for course fees or other student expenses. (These expenses must assist the individual in completing the course).
Applications Close: Friday 21st February 2020
Contact for more details: Kayla (Community Awareness and Engagement Worker) on 55618888 or kmugavin@brophy.org.au
Click here for scholarship guidelines
Click here for scholarship application
PLEASE READ GUIDELINES AND APPLICATION DETAILS CAREFULLY
How useful was this page?