WAUCHOPE COSPLAY FESTIVAL 2022 - That's a wrap!

headspace presents... the WAUCHOPE COSPLAY FESTIVAL - SAT AUG 6th 2022 - WAUCHOPE LIBRARY PRECINCT - 10am-4pm
The Wauchope Cosplay Festival is a FREE all ages, large-scale, inclusive pop-culture event that delivered a dynamic, one-of-a-kind opportunity for the flood-affected communities of Wauchope, Port Macquarie, Laurieton and their Hinterlands. Created in collaboration with the Hastings Community Drug Action Team and funded by the Office of Regional Youth (Holiday Break Program) the festival was a HUGE success.
Thank you to the volunteers, contributors, and all those that came along and supported the event.
There was something for everyone...
Youth Makers Market- Where young people aged 12-25yrs sold their homemade goods & creative wares.
Manga Art Show & Exhibition - All ages exhibit showasing some wonderful local up and coming artists.
Cosplay Parade (Main event)- Open to all ages and spread over 6 categories we had 110 partcipants enter the pararde. It was amazing to see the variety of both store bought and home made costumes- well done on all the winners and those who joined in the fun!
Box Head Workshop- 70 people attended this workshop & 7 entered the parade with their 'box head' creation.
Blackout Poetry, Zentangle, Affirmation Boxes & Steam-Punk Jewelry - Particpants learnt new skills while making new friends.
The day also brought some amazing talent to the area.. the Reverse Garbage crew traveled all the way up from Sydney to provide 'mask making' and 'super hero gadget' workshops that sparked the interest for the curious and eco-conscious.
We had the incredible Matt Lin as our resident artist helping to inspire and support those interested in Manga Art and illustration. More info about Matt here: www.matthewlin.com.au/
We had Action Reaction Entertainment's 'Spider Man Stunt Team showcasing live stunts & acrobatics - wowing the crowd with their skills.
We welcomed FREE Hair Cuts & Make-up by the Community Hair Project, who also supplied new clothing for those that needed it most!
If you thought that wasn't enough on offer.. we threw in FREE
Face painting
Lucky Door Prizes
BBQ lunch &
This day was one we can't forget. The memories made and experiences had by all were out of this world. It was so fun reconnecting and rebuilding through fun interactive activities that supported the mental health and wellbeing of the community.
Photo Library here: Sportive Media
Coverage of the event here: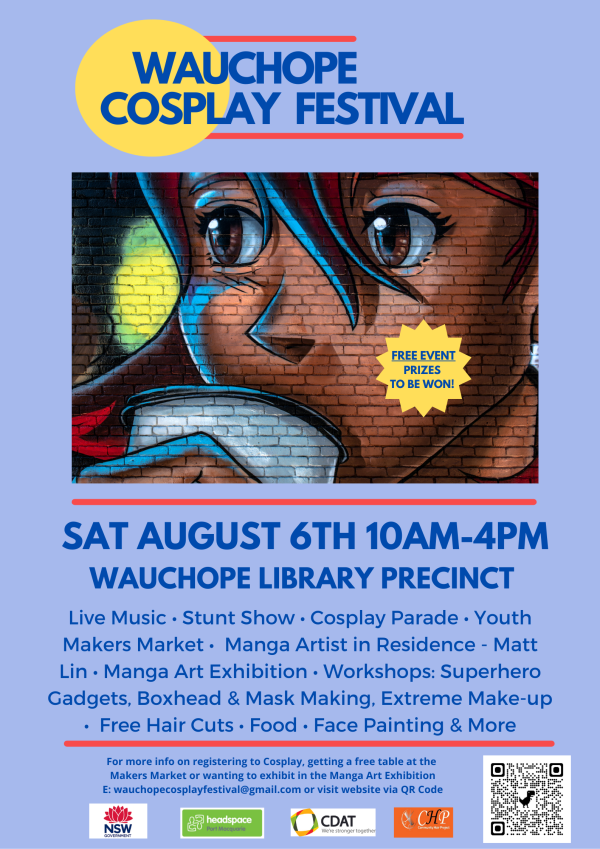 How useful was this page?