Parent, Carer, Family & Friends Events
Parent, Caregiver, Family & Friends - support for you and your family
At headspace we value and understand the important role parents, caregivers, family* and community play in a young person's mental health journey. We also recognise that it is not a straightforward or easy process and it can be distressing or worrisome. Therefore we have developed and compiled a suite of events and education sessions that ensure you can confidently support your young person, and yourself as together you navigate your way through headspace and other health and community services.
*At headspace, family is defined uniquely by each young person. Family is an integral part of a young person's circle of care. The term family may include parents, caregivers, siblings, partners, Elders, mentors and others who are viewed by youth as people who play a significant emotional, cultural or other role in their life. We acknowledge and respect the diversity of families across Australia.
1. FAMILY WELLBEING SUPPORT GROUP (FWSG)- FREE twice monthly catch ups
Join headspace Family & Friend Reference Group volunteers, fellow parents and carers as we connect and share our living/lived experience of supporting young people with a mental health condition.
Starting 2023, we will host one casual coffee catch up at a cafe every 2nd Friday of the month at 10:30am. Plus an evening session at Headspace every last Wednesday of the month at 5:30pm that offers a short wellbeing activity followed by an open discussion.
There will also be opportunities to participate in education, training and other events that welcome guest speakers and mental health experts.
So, if you or someone you know may be interested please come along. For more details or to register for this FREE group email Jules at: headspaceCE@each.com.au.
For group guidelines click here
For more info about our wonderful volunteers head to the 'Family & Friend Reference Group' section of our website here
PLEASE NOTE: This group is not in lieu of clinical or professional supports and services. Rather it is a complementary offering that connects like-minded parents and or family and friends of those that are experiencing a mental health condition.
For Facebook reminders, see FB Evening Event here & FB Morning Events here
Printable PDF of Flyer here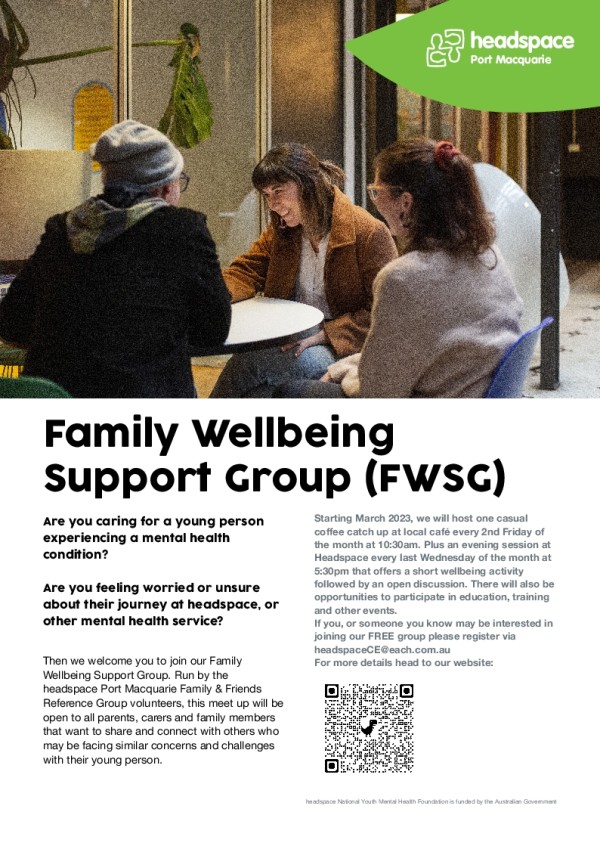 2. SINGLE SESSION FAMILY THERAPY - Free family counselling
Headspace Port Macquarie offers single session family consultation to any family accessing services at the centre. Family consultations are an appointment with a mental health clinician at headspace where you are able to identify key concerns currently impacting the family. Additionally, it is an opportunity to gain education on mental health disorders and symptoms, insight on strategies to better manage mental health issues within the family and develop new communication strategies within the family to reduce conflict and improve connection. A family is eligible for as many consultations as they feel is necessary for their concerns.
If you wish to gain further information about this, or wish to book a family consultation, please call reception on 6588 7300
3. New resources & tips on how to communicate with your young person when they are struggling.
4. HAS YOUR YOUNG PERSON USED HEADSPACE PORT MACQUARIE SERVICES?
We would love to get your feedback on your experience with us. You can do so anonymously here by filling out a brief survey specifically for parents, carers, family and friends.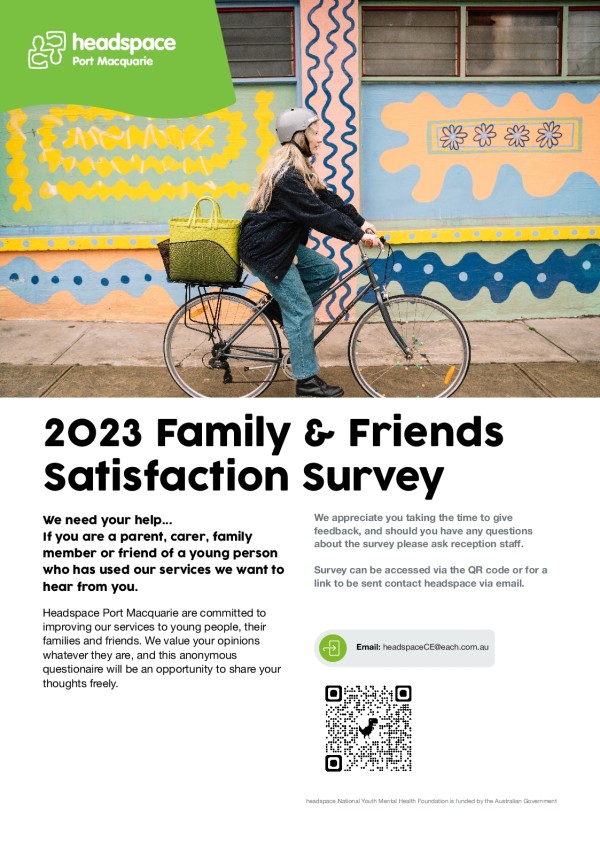 How useful was this page?