MAGIC CASTLE Fundraiser 2018 - That's a wrap!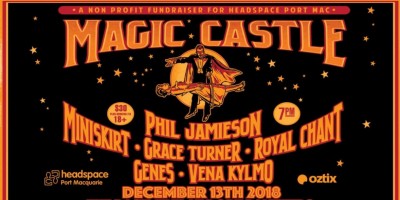 MAGIC CASTLE - THAT'S A WRAP!
A NON PROFIT FUNDRAISER FOR HEADSPACE PORT MACQUARIE
After four years in the wilderness, MAGIC CASTLE returned on Thursday the 13th of December to raise the roof off THE LOUNGE ROOM in PMAC and celebrate the 5th birthday of headspace Port Macquarie! All proceeds from the night raised not only much needed funds but awareness for headspace Port Macquarie .
COST: $30 + booking fees
NOTE: 18+ event, starts at 7pm
Purchase tickets here: https://magiccastle.oztix.com.au/
THE LINE UP:
PHIL JAMIESON: Phil is best known as the frontman of alternative band Grinspoon. The band was the first band ever unearthed by the ABC Youth Radio Network Triple J. The first single was called Sickfest, lifted off their EP Green. Grinspoon has been together for 18 years, and have just released their new album 'Black Rabbits' late 2012. He also co-wrote the Unwritten Law songs She Says and Because of you with Scott Russo.
Phil also made contribution to the song 'I heard the fire sing' for the dirty deeds soundtrack. In 2005 Phil also won best male performer in the Jack Awards and together with Grinspoon won their first ARIA.
In 2005, Phil was a guest vocalist on part three ("I'm Losing You") of supergroup The Wrights' cover of Stevie Wright's (lead singer of The Easybeats) classic Evie (Parts 1, 2 and 3). The first part was first performed at the 2004 ARIA awards. The supergroup features members of many other Australian rock bands.
Jamieson brought the sounds of Grinspoon to millions on the world stage in March 2006, playing live at the Melbourne Cricket Ground for the closing ceremony of the Melbourne 2006 XVIII Commonwealth Games.

MINI SKIRT: Coming out of the sun and surf of Byron Bay, Mini Skirt proudly represent the
scum and dirt of their scenic hometown's underbelly. Delivering raw and choppy pub punk
driven by relentless and direct lyrics, Mini Skirt cut the excess crap of modern rock,
simmering it down to the bare essentials and attitude. Not ones to settle for simply riding
the wave of the all too familiar 2018 garage punk sound, Mini Skirt deliver timeless straight
up punk rock with enough grit and attitude to make any listener think twice about how true
the peace-and-love reputation of Byron really is.
GRACE TURNER, a singer songwriter from Newcastle is renown for her emotionally-driven indie-folk songs, which are intensely personal. Turner has lived immersed with creative influences; her mother a visual artist and her father a poet. Falling somewhere between alt country and indie rock, her exquisite, smoky vocals coupled with her knack to write emotive, vulnerable songs is nothing short of addictive.
ROYAL CHANT are a three-piece fuzzy power-pop garage band from the sleepy coastal town
of Port Macquarie. After many lineup changes over their 8+ years the band currently
consists of American ex-pat and founding member Mark Spence on guitar & vox with Adam
Murray on bass and Wade Mobbs on drums. Play it loud. Tell a friend. Rinse. Repeat.
GENES. Brothers from the same mumma, Genes are a fun and energetic rock duo. Get
amongst their DNA!!!
VENA KLYMO is a 21 year old folk songstress living out of an 89' Toyota coaster bus playing
music in every nook and cranny on the East Coast. Her debut album "Motions & Potions"
launched August this year and saw the singer/songwriter hit the road for a national album
launch tour. Past years have seen the artist tour extensively as a support act to the likes of
Ian Moss (Cold Chisel) & James Reyne (Australian Crawl) while landing a spot at a string of
festivals like that of Festival of the Sun, Wingham Akoostik Festival & Mountain Sounds
Festival. Her performance is honest and songwriting true to her zeal for telling stories.