lounge room's got talent - that's a wrap!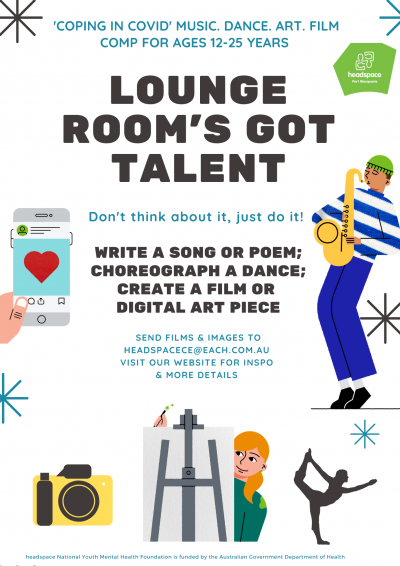 An the Winners are....
Head to our FB to view the live announcement here
What was Lounge Rooms Got Talent?
We called on all young people to get their creativity flowing while in lock down. With cash up for grabs and to have their song, dance, film or art piece showcased on our 'online gallery' applicants needed to enter online to win.
It didn't need to be perfect... we just wanted to know how young people were 'coping in covid' and this was a great opportunity to express oneself.
Applicants could video a dance they have choreographed, take a photo of a drawing they have done, write a new song they want to perform or combine any of these talents into either an image or short film (1-2mins).
To Enter they had to: Send image or film together with your name & age to: headspaceCE@each.com.au
Entries closed Friday 1st May 2020, with winners drawn that evening. Any questions directed to Jules at headspaceCE@each.com.au
Here were some examples/inspiration to get young people going:
Short Film: A day in the life of.. by Len
To view click here: IMG-0693.MOV
Art & Poem: 'Couch Covid' by Anon
How useful was this page?