WELCOME TO THE HEADSPACE PORT MACQUARIE LGBTQIA+ YOUTH COMMUNITY ________________________________________________________________________
Our LGBTQIA+ social groups have been supporting young people for over 8 years.
They are fun, relaxed and all about about embracing diversity in a safe place where you can be yourself.
We have two groups, one for our high schoolers and one for over 18s. Each session there are different activities, games, workshops with guest speakers and we are guided by the young people that attend the group. (check out flyers below)
So, if you identify as Lesbian, Gay, Bisexual, Transgender, Intersex or Questioning and you are keen to get involved then please come along to this FREE awesome group.
Facilitated by peer moderators and skilled social inclusion volunteers, these groups also welcome friends and allies.
Please note: This is not a drop in group. Young people MUST register as groups are capped at 12 per session, and U16s will need parental consent or they are unable to attend, and will be turned away. Consent form available here
To register or ask questions about the group call our centre on: 6588 7300 or email: headspacepm@each.com.au
Want more info on sexuality & LGBTIQ topics?
For young people click here
Qheadspace (online chats every Tuesday 6:15-10pm for 12-25yrs) Click here
Qheadspace, is an online peer support group chat for sexuality and gender diverse (SGD) young people (aged 12-25). Qheadspace is a safe place where SGD young people can seek support online from a young person who has lived experience and training in peer support.
Minus 18 LGBTIQ for under 18s (great for resources, info & online events) Click here
-For parents , family & friends wanting to know more. click here.
Over 18s LGBTQIA+ *new start time 4pm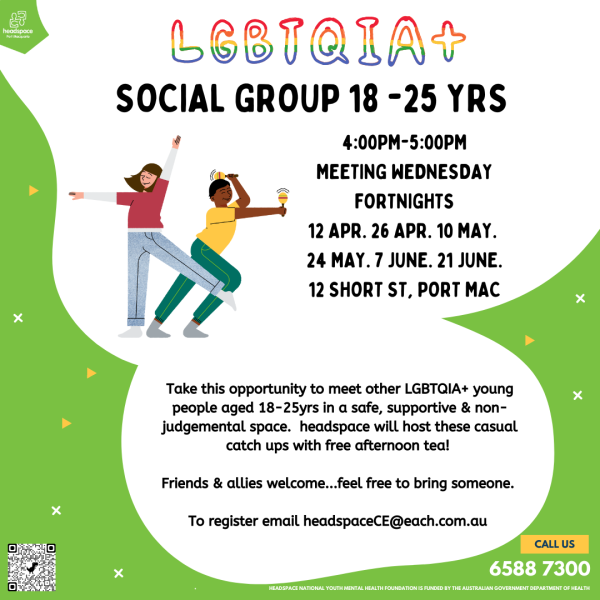 LGBTQIA+ Junior Group for ages 12-17yrs *New Time 4-5pm
How useful was this page?