ArtWalk 2020 - That's a wrap!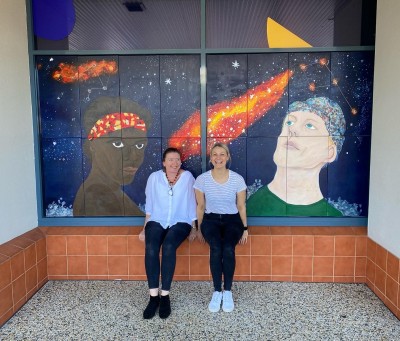 headspace were excited to be a part of Artwalk 2020 - The Longest Footpath Gallery in Port Macquarie, Wauchope & Laurieton CBD'S.
We submitted a 3.2m x 1.6m art piece for this street exhibition from 1st - 8th October 2020.
Over 2.5 months 22 young people contributed to what turned out to be a wonderful addition to our centre - 'Connected in Lights' is now permanently on display in our main meeting room.
More details about the art piece below.

'Connected in Lights'
headspace Youth Collaboration
headspace Port Macquarie runs a regular art program called ArtSPACE. It has been running for over 5 years and provides a safe, non-judgmental space for youth 12-25 years to express who they are through art.
This collaborative piece was specifically created for ArtWalk 2020, and showcases the talent of some of our local young people, in conjunction with Youth Workers from our centre.
Our window mural, 'Connected in Lights' is inspired by the night sky, the constellations within, and the diversity of cultures that live underneath it. We all live under one sky - this piece highlights the importance of looking up, looking in and embracing one another irrespective of race, age, gender or cultural background.
Mixed Media on canvas
2x Window Murals (160cm x160cm)
Made out of 16 (40cmx80cm ) Canvases
Artists: Ange Scarpias, Jules Jamieson, Julia Smith, Charlee Curtis, Jemima Powell, Lin Yang, Alexis Byrne, Chelsea Halliwell-Herbert, Caitlin Lloyd, Eve Slater, Riley Johnston, Maddison McGrath, Isabella Gosson, Matilda Shields, Lauren Jean, Evita Jamieson, Maddison Lakeman, Abbi Eades, Breana S, Johnathon C, Lucy Easton, Lacey Addsion.
How useful was this page?