Amazing Race for your Head Space 2019- That's a wrap!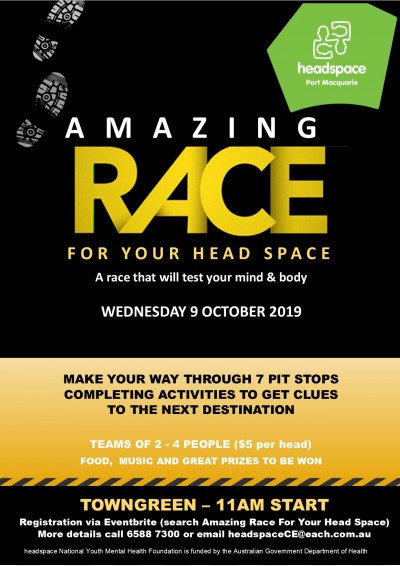 On WEDNESDAY 9th OCTOBER we held our first ever 'Amazing Race For Your Head Space' & what an amazing day we all had!
This challenging, family friendly race around town was a super success with over 40 teams participating!
As part of National headspace Day & in celebration of Mental Heath Month, teams made their way on foot through seven pit stops around Port Macquaries CBD, completing activities to then receive a clue to their next destination. These pit stops were supported by local businesses (Saltwater Wine, Dark Alley Records, Facade Escape Room, NSW Health, Spoiler Alert, Little Shack) & tied in with the 'Seven Tips for a Healthy headspace' promoting wellness and well being.
Every participant of the race got a free BBQ lunch and went into the draw to win some incredible prizes worth over $2500 (see below list). The winning team took home the glory of the being "Amazing Race For Your Head Space" champions, plus a Visa Gift Card each.
headspace Port Macquarie would like to thank all the local businesses, volunteers & supporters of this event- they were absolutely integral to making the day a success!
WE LOOK FORWARD TO MAKING THE 2020 RACE BIGGER & BETTER- STAY TUNED!
How useful was this page?