headspace


Pilbara
Port Hedland, South Hedland, Newman, Tom Price, Roebourne, Wickham, Onslow + Pannawonica, Western Australia

Phone 1800 290 626
About
headspace Pilbara have Youth Wellbeing Workers based in Newman, Karratha and Hedland with regular in-reach to Tom Price, Roebourne, Wickham, Onslow + Pannawonica.
We are here to answer any questions or concerns you have about your mental health, drug and alcohol issues, general health, sexual health and relationships.
Click here for our referral form. Once completed, please email to info@headspacepilbara.org.au
Further info about headspace Pilbara can be found in this Welcome Pack
Follow us on Facebook and Instagram!
For emergency or crisis support, please contact:
Emergency services:000 (police, fire, ambulance)
Lifeline: 13 11 14
Kids Helpline: 1800 551 800
Hours
Monday:

8:00am - 4:30pm

Tuesday:

8:00am - 4:30pm

Wednesday:

8:00am - 4:30pm

Thursday:

8:00am - 4:30pm

Friday:

8:00am - 4:30pm

Saturday:

Closed

Sunday:

Closed
headspace Pilbara is operated by Anglicare WA. All headspace services are funded by the Australian Government Department of Health and Aged Care. Administration of funding is carried out by the headspace centre's local Primary Health Network, in this case, Country WA PHN (WA Primary Health Alliance).
Get tips on how to prepare your resume and present for interviews. Find out about local employment opportunities (full time, part-time, or casual).
If you live near our headspace centre in a rural area but cannot travel in to see us, you can see our mental health workers online.
Sexual health screenings on site or links to local services. 
Your GP can refer you to see a specialist youth psychiatrist for bulk billed assessment and management advice for mental health issues.
Mental health workers – which may include psychologists, psychiatrists, counsellors and other workers – that can help if you're just not feeling yourself.
Workers either on site or linked to the centre who can assist you with any alcohol or other drug concern.
"I've learnt that I'm always one hard conversation away from a breakthrough"
- Jess
Request an appointment
Organise a time to visit headspace Pilbara and meet with us
Get in touch
Support us
Support headspace Pilbara by making a charitable donation today
Donate now
Media gallery
Services you can access at headspace
Making an appointment at headspace
Attending an appointment at headspace
More information
we are a free outreach service for young people 12-25 yrs seeking mental health motivation, advice, and education.
here are some examples of why you might see us:
problems with family and friends
feeling anxious
issues in romantic relationships
questions about sex
wondering about gender and who you are attracted to
bullying
anger
help with finding a job or getting into study
physical health (including sexual health) concerns
feeling down or depressed
just not feeling yourself
do you have a centre I can visit to get support?
headspace Pilbara is the very first centre, without a centre...we are a headspace 'without walls' which means we can meet with young people in a myriad of locations such as schools, recreation centres, cafes...even the beach!
what if I don't live in Newman, Hedland or Karratha and I still want help?
Whilst we don't have Youth Wellbeing Workers in every Pilbara town, just give us a call and we will try to connect you with someone who can assist you.
We also recommend eheadspace which is online and telephone counselling support and it's FREE and confidential (call charges may apply).
can I bring my friend or family member to the sessions I have with my headspace worker?
Whatever makes you most comfortable works for us.
how much does it cost to see a headspace worker?
Nothing. Nada. Naught. It's all FREE!
do my parents/carers need to know I am seeing a headspace worker?
Having family members aware of your support from headspace is a good thing because they can support you at home as well. Let us know if you want this to happen but aren't sure how to let them know. We've got your back!
Events: From Sexual Health Week to R U Ok Day, we co-ordinate many different activities throughout the year.
Workshops and Presentations: We love getting out and about! We can visit and deliver to schools, service providers, sport clubs, bus drivers...anyone who is part of the young person's journey.
Presentations we offer:
How to maintain a healthy headspace
Relationships- why they matter!
How to get more sleep
Exam Survival
What is S.A.D (stress, anxiety, depression) and how to manage it
Contact: If you would like headspace Pilbara to visit your site or you would like to partner with us on events, reach out on 1800 290 626 OR info@headspacepilbara.org.au
Socials: To keep up to date with what's happening, follow headspace Pilbara on Facebook and Instagram!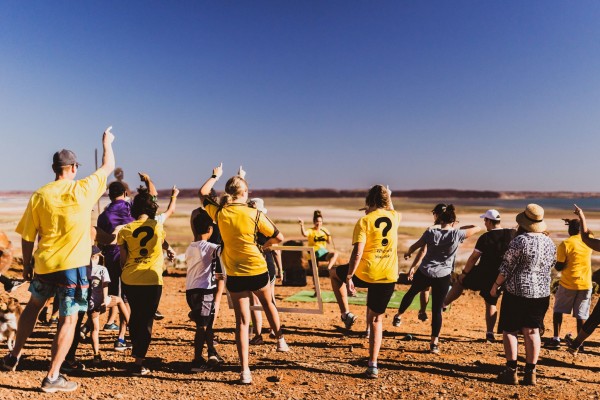 Do you know where to go for a free and confidential STI check?
Would you know how to respond to a young person with a mental health challenge?
Do you wish everything is in one spot, always updated, easy to access, and available to anyone that is committed to supporting young people in the Pilbara?
Introducing to you the headspace Pilbara Hub! A downloadable app that has:
directory of services that work to support young people in the Pilbara
training and learning opportunties to help support young people