Cronulla Sharks VS Penrith Panthers 50-50 Charity Raffle Event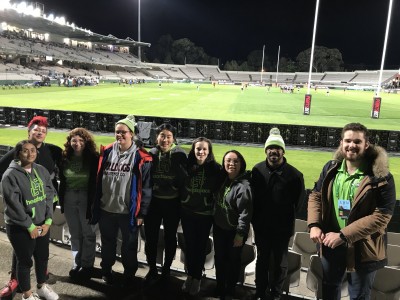 On Friday 11th June, headspace Miranda was thrilled to be featured as the charity for the 50-50 Charity raffle for the NRL game night of the Cronulla Sharks vs Penrith Panthers at the Netstrata Jubilee stadium, temporary home grounds of the Cronulla Sharks. The 50-50 Charity Raffle is a not-for-profit fundraising product operated by the 50-50 Foundation. The Foundation aims to raise significant funds for charities and good causes by partnering with sporting clubs and teams, event owners and charity partners to host fundraising raffles. 50 percent of the prize pool raised at each fundraising raffle goes to one lucky ticket holder who is drawn at random during the event. The remaining 50 percent goes directly towards charitable purposes.
It was a cold stiff night with a hard game for our local team Sharkies to beat but we were victorious in the end; just like our amazing YRG members who helped on the night. With a total of 6 Miranda YRG and a YRG member from Hurstville to help with the nights events, we managed to raise a whopping $3000 that night which resulted in $1500 for headspace Miranda. The YRG had lots of fun learning to cold sell raffle tickets and doing outreach work in the community, as well as presenting the winning cheque to the lucky winner. Our YRG member Rhiarn also did an amazing job being interviewed on live TV and picking up some on the spot media skills along the way.
Overall, it was a great night with money raised and footy enjoyed!
How useful was this page?