headspace


Inala
PCYC Inala, 37 Swallow Street, Inala, Queensland 4077

Phone (07) 3727 5000

Fax (07) 3279 8444
About
Free support for 12-25 year old's in Inala and surrounding areas.
We've supported over 8,000 young people over the last 10 years.
We are home to a bunch of different people who can all help in different ways. Our team includes psychologists, social workers, doctors, youth counsellors, alcohol and drug workers, employment specialists, occupational therapists and family therapists.
Hours
Monday:

9:00am - 5:00pm

Tuesday:

9:00am - 7:00pm

Wednesday:

9:00am - 5:00pm

Thursday:

9:00am - 7:00pm

Friday:

9:00am - 5:00pm

Saturday:

Closed

Sunday:

Closed
headspace Inala is operated by Accoras. All headspace services are funded by the Australian Government Department of Health and Aged Care. Administration of funding is carried out by the headspace centre's local Primary Health Network, in this case, Brisbane South (Brisbane South PHN).
Get tips on how to prepare your resume and present for interviews. Find out about local employment opportunities (full time, part-time, or casual).
GPs can help with any physical health issues as well as issues related to sexual health, drug or alcohol use, relationship problems or feeling down or upset. Your centre may have a GP on site or links to one locally. 
Workers either on site or linked to the centre who can assist you with work or study opportunities. 
Centres have a range of programs and activities for young people. Just ask your centre what they have on. 
Mental health workers – which may include psychologists, psychiatrists, counsellors and other workers – that can help if you're just not feeling yourself.
Workers either on site or linked to the centre who can assist you with any alcohol or other drug concern.
A group of young people who help with events and some decision making at a centre. Ask your centre about getting involved.
"I was connected to headspace for mental health. I was, and am still, going through a hard and confusing time in my life and I knew I needed assistance in my mental health and in my job searching. The team is so loving, supportive and considerate in every "
- HN
Request an appointment
Organise a time to visit headspace Inala and meet with us
Get in touch
Support us
Support headspace Inala by making a charitable donation today
Donate now
More information
COVID-19 response -
The health and safety of our team, clients and community is our number one priority. At headspace Inala we kindly ask that our visitors and team comply with covid-19 regulations, practice good hygiene and use hand sanitiser upon arrival. If you are unwell, please stay home, telehealth is always an option.
For more information visit: https://www.accoras.com.au/covid19
Centre Manager
Virginia
Clinical Services
Clinical Services Manager: Mark
Clinical Educator: Catherine
Intake Clinicians: Shrika, Caitlin & Steven
Early Career Graduate: Dani (Occupational Therapist)
Youth Engagement Clinician: Gen
Youth & Family Intervention Clinician: Chelsea
Youth Clinical Case Manager: Olivia
Mental Health Occupational Therapist: Megan
General Practitioner: Dr Camilla & Dr Nick
Alcohol and Other Drug Support: Helen
Psychologists: Courtney, Pam, Vivian, Cassie
Social Work & Occupational Therapy Students & Provisional Psychologists: new every semester!
Practice and Reception Team
Practice Manager: Tess
Customer Service and Reception: Shania & Annemiek
Youth Employment Support Team
Senior Vocational Specialist: Beau
Vocational Worker: Kyle
Lead Agency: Accoras
Accoras is a for-purpose organisation and registered charity working to strengthen the mental health, well-being and futures of people and communities.

Consortium Partners at headspace Inala:
PCYC Inala, Inala Youth Service, Youth Housing and Reintegration Service (Wesley Mission QLD), Relationships Australia Queensland, Noffs QLD, Zig Zag, and Cr Charles Strunk (Forest Lake Ward).

To talk to any of us, or to make an appointment, please call 07 3727 5000, email headspaceinala@accoras.org.au or visit the centre.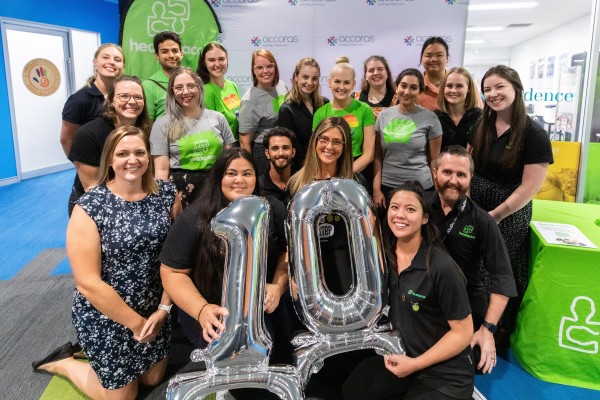 We understand that asking for help when you're not feeling yourself can sometimes be difficult or uncomfortable. Because of this, we have made our referral process as easy as possible.
If you are aged 12-25:
You can refer yourself
You can have a family member or friend refer you (with your consent)
Your GP can refer you
Your school, TAFE, University or other service providers can refer you or assist you in making an appointment
If you are under 16 years of age, we encourage you to bring along a parent, carer or support person for your first appointment.
To make an appointment:
Please note that our phone and email are only monitored during business hours. If you require urgent or after hours help please call KidsHelpLine 1800 55 1800, Lifeline 13 11 14 or visit eheadspace.
Privacy
At headspace Inala we take your privacy very seriously and anything shared with us is confidential. We keep all your information on a secure database which is only accessible by headspace Inala staff. The law stops us from sharing your information outside of our staff unless we have your permission. Sometimes you do not want us to share your information and we respect that, however there may be times when we need to talk to someone without your permission, including if you or someone else is at significant risk of harm or if the information required by law.
We welcome referrals from:
Service providers

Schools

Government departments

Friends and family
We also welcome self-referrals.
If you wish to refer someone to our centre at Inala please access our referral form.
Once the form is complete please return using one of the below:
Fax: 07

3279 8444

Postal address: PO Box 227, Inala, QLD 4077
headspace Inala aims to provide easy access to services for young people at little or no cost and in most cases your headspace visit will be provided free of charge, however there are some circumstances that may result in fees. Where fees apply, you will be advised in advance and payment options will be discussed.
| | |
| --- | --- |
| Service | Cost |
| Intake Assessment | Free |
| Alcohol and other drug support | Free |
| Vocational counselling | Free |
| Youth Employment Support (YES) | Free |
| Group programs | Free |
| GP (Doctor) | Free with Medicare Card |
| Psychology | Free for up to 10 sessions per calendar year with Medicare Card, referral letter and Mental Health Care Treatment Plan* |
*A Mental Health Treatment Plan and referral letter are provided by your doctor detailing why you need psychological help.
If you don't have a Medicare Card you may access sessions by paying fees aligned to the Medicare Benefits Schedule. Fees may be partly reimbursed if you have private health insurance. Please contact the Centre for more information about fees.
If you don't have a Medicare card but think you might be eligible, you can apply on the Services Australia website.
Parking
Free on-site parking available
Accessibility
Located inside PCYC Inala building (enter via main entry and see headspace Inala sign to the left)
Accessibility ramp is provided to the Centre's main entry
Interpreters available upon request 
Public Transport
Public transport is available via numerous train and bus services.
We are just a block away from the Inala Plaza and near lots of bus routes including the 100, 110 and 122

We are also about 3km from the Richlands Train Station which has a connecting bus to the Inala Plaza 
For the most up to date train and bus routes and schedules, please visit the Translink Journey Planner.
Have an impact on how we help young people! Join our Youth Advisory Group! 
The YAG meets monthly and does things like...
Share ideas about how to support young people

Guide us in how to communicate with young people

Help us keep things real and know what's going on for young people
Learn more about our YAG or put forward your interest to join: https://accoras.lpages.co/yag-recruitment/