The headspace website will be unavailable between 1am and 9am AEDT Saturday 1st April due to system maintenance. If you are in need of assistance during this time, please call 000 if it is an emergency, Lifeline on 13 11 14 or Kids Helpline on 1800 55 18 00. We apologise for the inconvenience.
headspace


Glenroy
2A, Hartington Street, Glenroy, Victoria 3046

Phone 1300 880 218

Fax (03) 9304 1033
About
headspace Glenroy offers support for young people aged 12-25, their families and friends.
Do you or someone you know:
feel down, stressed or worried?
want to talk about identity, or relationships?
want help to deal with study or work?
want to cut down drinking or other drug use?
Our services are free. For more info, give us a call on 9304 1011!

Hours
Monday:

9:00am - 5:00pm

Tuesday:

9:00am - 5:00pm

Wednesday:

9:00am - 7:00pm

Thursday:

9:00am - 7:00pm

Friday:

9:00am - 5:00pm

Saturday:

Closed

Sunday:

Closed
headspace Glenroy is operated by Orygen. All headspace services are funded by the Australian Government Department of Health and Aged Care. Administration of funding is carried out by the headspace centre's local Primary Health Network, in this case, North Western Melbourne (Melbourne Primary Care Network Ltd).
Mental health workers – which may include psychologists, psychiatrists, counsellors and other workers – that can help if you're just not feeling yourself.
Sexual health screenings on site or links to local services. 
Workers either on site or linked to the centre who can assist you with work or study opportunities. 
Centres have a range of programs and activities for young people. Just ask your centre what they have on. 
GPs can help with any physical health issues as well as issues related to sexual health, drug or alcohol use, relationship problems or feeling down or upset. Your centre may have a GP on site or links to one locally. 
Workers either on site or linked to the centre who can assist you with any alcohol or other drug concern.
A group of young people who help with events and some decision making at a centre. Ask your centre about getting involved.
"As soon as I sought help, I suddenly realised that my anxiety was very treatable and that I wasn't alone."
- Charlie
Jobs and volunteering
Positions currently available at headspace Glenroy
Salary: Funded through MBS/ATAPS
Allied health practitioners (contractors) headspace
We are seeking expressions of interest from Allied Health Practitioners including clinical psychologists, general psychologists, social workers and occupational therapists who are experienced in providing high quality, evidence-based interventions to young people aged 12-25 for our headspace centres. headspace centres are a 'one stop shop' with an enthusiastic and dedicated team of co-located service providers, offering comprehensive support to young people in the four core areas of: primary health, mental health, drug and alcohol services, and vocational/educational services.
Barnaby is one of our outstanding private providers
We are seeking expressions of interest from Allied health practitioners (AHPs) to provide private practice services and high quality, evidence-based interventions to young people aged 12-25. These roles are open to those eligible to use Medicare services including clinical psychologists, general psychologists, social workers and occupational therapists. Located in Craigieburn, Glenroy, Sunshine and Werribee, our headspace centres are a 'one stop shop' with an enthusiastic and dedicated team of co-located service providers, offering comprehensive support to young people in the four core areas of: primary/sexual health, mental health, drug and alcohol services, and vocational/educational services.
Role Description
AHP roles are key component of the mental health services provided within our centres. AHPs act as private practitioners with support from the local headspace team and other providers offering a range of specialist services, including: general/sexual health care, psycho-social support, family support, AOD counselling, vocational support, and a variety of therapeutic and recreational/social groups. AHPs have access to primary and secondary consultation and psychiatric review from the headspace clinical team, including our senior clinicians, psychiatric registrar and private consultant psychiatrists. Our own general practitioners can provide Mental Health Care Plans, general health care/advice, and medical monitoring.
The AHP private practice role comes with great flexibility of hours/days, including the options for after-hours and weekend work (Saturday mornings). Services are delivered under the Medicare Better Outcomes for Mental Health Initiative and Access to Allied Psychological Services (subject to eligibility and availability).
Reception and administrative support provides assistance with electronic billing, SMS reminders and appointment booking. The electronic medical record system Medical Director will be available for AHPs to directly enter all client contacts and notes.
AHPs are encouraged to attend a regular peer consultation session which offers a space for peer based learning and reflection on clinical practice. Along with contributing to CPD, the AHP is remunerated for their attendance. Throughout the year AHPs can also elect to attend a range of professional development opportunities offered through both Orygen, The National Centre of Excellence in Youth Mental health and headspace National Youth Mental Health Foundation.
Let us support you working in private practice within a skilled multidisciplinary team with access to peer consultation, professional development, excellent practice management and comfortable premises.
Selection Criteria
Approved tertiary qualifications in psychology, social work, occupational therapy and current registration with appropriate professional body.
Professional indemnity insurance.


Eligibility to provide Medicare Benefits Schedule services.


Minimum of two years of experience in the assessment, diagnosis and provision of evidence-based treatments of mental health disorders and preferably youth


Excellent skills in engaging and working with young people, their families and significant others.


Ability to work independently, with strong organisational and time management skills


Commitment to ongoing professional development.


Working with children check.


Willingness to undergo a police records check.
Salary: Voluntary
Deadline: 3 May 2023, 5:00 pm
Are you aged between 16 and 25? Do you have something to say about health, mental health and other issues impacting young people?
If so, the headspace Glenroy Youth Advocacy Group may be for you!
As a member of our Youth Advocacy Group, you will work collaboratively with headspace staff and other members of the team to plan and deliver community awareness events and programs, engage in public speaking advocacy, create social and professional networks, receive training about mental health and advocacy, and develop a range of skills including working in groups and representing your peers.
Some of the things we do in the YAG include:
plan and run youth events, workshops, school talks. community awareness headspace stalls at festivals and more
assist in the design and development of our centre - shaping the delivery of headspace services, including policy, staff recruitment and training, represent headspace at events for local organisations/services/schools
If this sounds like something you'd like to be part of, please complete the following expression of interest form, and we'll be in contact soon.
Apply now
More information
Due to COVID-19, our Youth Health Clinic has telehealth options. Please call us for more information.
The headspace Glenroy Youth Health Clinic is a FREE and CONFIDENTIAL service.
Don't have a doctor? Don't want to talk to your family doctor? Need something checked out? Come and see US!
Services we offer include:
Youth health screening and general check-ups
Sexual health
Sexuality & gender identity issues
Vaccinations
Tests including blood tests
Advice & referrals
To make an appointment, give us a call on 1300 880 218
For more information about our Youth Health Clinic, click HERE
Here at headspace Glenroy, we try our hardest to ensure appointment times are available for all young people that need them. This means that we do everything we can to get you the most appropriate appointment time.
There may be times when you are no longer able to attend an appointment and will need to cancel or reschedule. In accordance with our cancellation and rescheduling policy, we require 24 hours notice to be able to reschedule you.
Giving last minute notice or no notice at all, prevents us from offering someone else an appointment.
Please CLICK HERE to read through our policy.
If you are seeking individual support and would like to chat to a mental health professional one one one, headspace can support friends and partners of young people that are aged 12-25 with counselling support you can call headpsace Glenroy on 1300 880 218
When a young person comes to headspace Glenroy, they can speak to one of our incredible Access Team members, such as Adrian.
We asked him about whether a young man has to sit in a room and talk to a mental health professional, this is what he had to offer;
Generally, we invite young people into a room to have a chat however, there have been many times where I have taken young people for a walk or played board games whilst chatting about their situation. Personally, I think it's important to normalise mental health difficulties such as anxiety, anger and depression. I let the young person know that many people experience these difficulties however, they can learn to manage them well with a bit of support from a place like headspace.
What can a young person expect at their first appointment?
Young people are offered an initial assessment with an Access Clinician. The initial appointment will take the form of an informal meet and greet and will vary depending on the young person's circumstances. The main purpose of this initial session is to ascertain whether headspace is the most suitable service to support the young person. We may link the young person in with a more appropriate service if we deem that we are not best equipped to provide them with the care they require.
What happens next?
We will discuss the young persons circumstances as a team and decide how best to provide them with the support they need. The Access Team Clinician will keep in touch with the young person until they are linked in with either headspace or a more suitable service. Sometimes we will require additional information in order to make the most informed choice about the young person's care, in which case we will attempt to make contact with you.
Cancellation Policy
Due to high demand for appointments here at headspace Glenroy, it's really important that young people do their best to attend at the time made for them, or that they give us as much notice as possible, should they not be able to make it.
This ensures that all young people are able to be seen by a headspace staff member as soon as possible.
We will confirm most appointments by SMS two days prior and invite the young person to respond with a 'yes' only. If the young person is not able to attend, we require 24 hours notice of their cancellation via phone call. We encourage young people to confirm their appointments as soon as possible so as we can best accommodate all young people that seek support from our service.
If you are over the age of 25, you may like to look at the Australian Psychological Society's website for a list of Psychologists in your area that may be able to offer support. You can also visit your local GP for support with obtaining a Mental Care Plan or talking about your concerns.
~
Family and Friends
If you are a parent or family member or friend and worried about a young person and would like to support them with a referral to headspace Glenroy, please call us on 9304 1011 to chat to an Access Clinician about your concerns. Before making contact with headspace Glenroy about a young person you are worried about, we encourage you to chat to that young person and seek their consent before doing so.
headspace Glenroy offer a range of groups for young people aged 12-25! check them out below.
QSpace:
QSpace is currently not running, but there are plans to start the group mid-2023.
Our very own peer-led group for same-sex attracted and gender diverse young people in our community. This group offers a safe and social space for young people to speak freely and have a bite to eat, while getting to know one another. We love a good board game night, but we're even more interested in hearing what participants want to do in the group.
artspace:
This social art group is run by young people, for young people. Anyone and everyone aged 12-25 can join to learn from our amazing youth facilitators, Chloe and Talia! Meet other young people with similar interests, work on a project or bring something you've been working on at home. Running fortnightly Fridays from 3:45pm-5:00pm.
If any of these groups interest you, or you would like to hear more please contact reception on 9304 1011.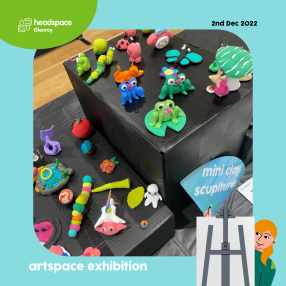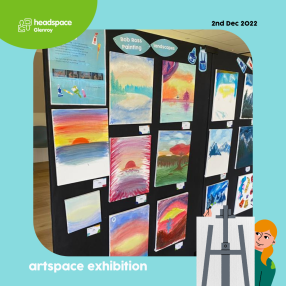 What is the Youth Advocacy Group?
The Youth Advocacy Group or YAG is a group of young people aged 16-25 who advocate on behalf of young people in our local community for better informed services at our centre and who are also very passionate about mental health and well-being.
The headspace Glenroy YAG help to shape our service to ensure that it is as youth friendly and relevant as possible, while also engaging with our wider community to deliver workshops, attend events and raise awareness about headspace and youth mental health.
Thank you to our YAG who have produced an incredibly thoughtful and entertaining series of blogs and images, all beautifully bundled together in our very first eNewsletter!
Meet Chloe, A YAG member who shares her thoughts about the role...
Chloe, tell us a bit about yourself and what you do at headspace Glenroy?
I am a Youth Advisory Group member at headspace Glenroy. I represent a voice for young people in the community, advocating for the importance of mental health and well-being. I do this by attending events, running workshops and guiding activities within and outside of the centre. I am also an artspace facilitator. This is a youth-lead art group where we make artwork, chill out and be creative together, all at our centre.
Why are you passionate about youth Mental Health?
I became passionate about Mental Health because I could see that it was not thought of as such an important part of everyday life and, was surrounded by stigma in our community. Many of the people around me weren't paying attention to how their thoughts and feelings were affecting their general health. I believe that speaking openly about Mental Health will help others feel less scared and seek help when they need it.
Why do you feel some young people find it hard to talk with one another about how they feel and to ask for help when things aren't going so well?
Mental health and feelings are very personal topics and you may find it hard to talk openly about it. Small steps are a good start, such as finding people that you are comfortable talking to or even contacting a telephone service like kids helpline or lifeline to build confidence in sharing your thoughts and feelings.
What would you say to a young person who is worried about a friend? How could they support their friend through a rough time?
A good way of supporting your friends through a hard time is to let them know that they can talk to you. Showing concern for your friends well-being and trying to understand or even simply being there for them will make a difference. Also, ask them if it would be better to speak to a parent or health professional about what is going on.
Tell us one fun fact about yourself that not many people would know?
A fun fact about me is that I am allergic to most pets but suffer the consequences because I love animals so much.
Youth Law is a free service that supports young people with any questions or concerns they may have about the law and how it impacts them. Our superstar lawyer and can be accessed on the first Thursday of every week.
Drug and Alcohol Support can be arranged by a youth-friendly AOD Counsellor from Uniting Regen, who works here at the centre. They can work with you to manage and reduce your alcohol and other drug use, plus a range of other things that
School and Study support is also available. Please reach out to our friendly reception team or speak with your clinician for more info.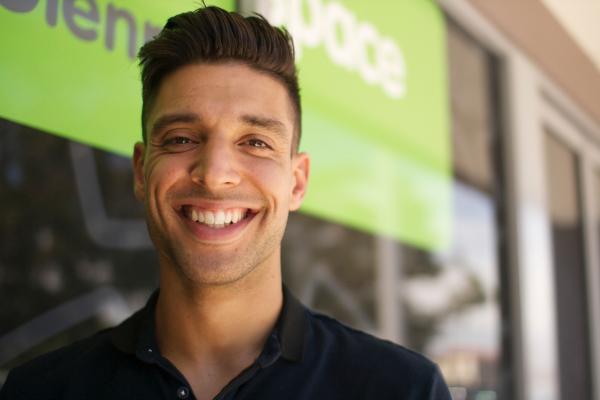 Adrian can you tell us a bit about yourself and what you do at headspace Glenroy?
I have studied a Master of Psychology course at university and I play soccer at a semi-professional level which I really enjoy. I also love staying fit and healthy and spending time with friends and family.
At headspace Glenroy my main role is to welcome young people into the centre, learn about what difficulties they are facing, and help ensure that they are linked in with the right support person or service. To do this I speak to young people, their friends and family, school counsellors, teachers, and many other services. I also run groups at headspace and go out to schools to talk about mental health which I really enjoy.
Why are you passionate about young men's mental health?
I think I am particularly passionate about mental health in young men because in general, men tend to find it more difficult to seek support. Whether it be because they find it harder to talk about their difficulties or that they are less aware of mental health concerns, I would love to see more males come into headspace.
Was there a defining moment for you that inspired you to want to make a difference in their lives?
I don't think there has been a defining moment in particular, however being a young male myself, I have experienced the highs and lows of mental and physical health throughout school and university. I have learnt that many different factors impact on mental health in males, including social connection, family relationships, school pressure, dating, drugs, alcohol, learning about yourself, sport, music and many other things. I love being able to make a difference in the lives of young males having been through similar situations myself.
Outside of headspace you also play and coach soccer. Do you find that sport is a good way to engage young men in talking about their mental health?
Yes of course. I think that mental health difficulties can affect the way you get along with your teammates and influence your ability to achieve your sporting goals. Being able to talk about mental health difficulties with your friends, teammates, coaches, or other people within a club environment may be a useful way to obtain support.
I think it would also be a good place to discuss mental health difficulties that are common among young men, so that we as sportsman become more accepting and understanding of these difficulties.
When a young man comes to headspace does he have to sit in a room and chat to someone one on one, or are there other options?
Generally we invite young people into a room to have a chat, however there have been many times where I have taken young people for a walk or played board games whilst chatting about their situation.
What would you say to all the fathers, brothers, teachers and uncles out there who might be struggling to have challenging conversations with a young man they are worried about?
Personally, I think it's important to normalise mental health difficulties such as anxiety, anger and depression. Let the young person know that many people experience these difficulties, however they can learn to manage them well with a bit of support from a place like headspace.
Also to maintain their role as a father, grandfather, uncle, brother, in being a caring and understanding figure in the life of the young man. It is often really helpful for young men to have you listen to what they need to say and how they are feeling, as well as allow them to have a say in the plan moving forward.
headspace wants to let young people know when, how and where in the community to seek help for mental health problems… so we undertake community awareness activities to help increase the knowledge of how to do so for young people, their friends, families and the broader community.
headspace aims to
improve the mental, social and emotional wellbeing of young people
increase the level of mental health literacy available
help people to understand, identify and respond to mental health needs of young people
support and encourage active youth and carer participation through reference groups
We also create partnerships with local organisations, networks and educational settings to work toward reducing levels of stigma and discrimination associated with seeking help for mental health problems.
If you have a festival or event that you want headspace to attend, a newsletter we can contribute to, or want us to come and speak with your group, please contact us on 9304 1011 or via info-headspaceGlenroy@orygen.org.au
headspace Glenroy is a health service that offers support to young people aged 12 to 25, their families and friends.
 How do you access our services?
·         You can call us on 1300 880 218 and speak with an Access Team Clinician
·         You can ask a parent, carer, teacher, doctor or the youth service you use to
          refer you
Are the services free?
All of the services provided at headspace Glenroy are free of charge and/or bulk-billed with a Medicare Card. You will need a Medicare card to access support from our GP's and Private Practitioners.
If you can't access Medicare or other government funded healthcare programs, you can still access support from our Access Team Clinicians, Peer Worker, Drug and Alcohol Counsellor, Work and Study Support Worker, Group Programs, and a Youth Lawyer.
How can I get a Medicare Card?
When you turn 15 years of age, you can apply for your own Medicare card. To do this you have to do some paper work and have some identification. (You need to complete a "Medicare copy or transfer" application form and submit it at your local Medicare service centre). You'll need to provide identification, such as a student card or birth certificate, as well as details about the card you are transferring from.
For more information, have a chat to our Access Team or have a look at the human services website about becoming independent. https://www.humanservices.gov.au/customer/subjects/young-people-becoming-independent
How do you get to headspace Glenroy?
Click here for a map! https://bit.ly/2DkdtNc
What services are available at headspace Glenroy?
·         Counselling
·         General Practitioners from our Youth Health Clinic
·         Drug and alcohol counselling
·         Work and study support
·         Peer work
·         Group Programs
·         Legal advice from Youth Law
headspace Glenroy is NOT a CRISIS service
If a young person requires assertive follow up or CRISIS support contact:
·         Kids Helpline 1800 55 1800
·         Lifeline 13 11 44
·         Suicide Call Back Service 1300 659 467
·         Or you can attend your closest Emergency Department or call 000
What does confidentiality mean for you at headspace?
In Australia, laws protect young peoples' rights to have information they share with doctors (and other people who provide health services) be kept private.
These laws mean that what you tell people during a health care appointment must remain private between you and that person or service, except in particular situations.
When you talk to any of the staff at headspace Glenroy you can be confident that what you talk about is not shared with people outside of the service without your knowledge. headspace Glenroy helps you access services that are sometimes provided by other agencies outside of headspace. Please talk with anyone on our Access Team about how this relates to your private information.
headspace Glenroy, and its leads agency Orygen is committed to the health, safety and wellbeing of all children.  We play an important role in ensuring the health and wellbeing of children and do not tolerate child abuse.  All allegations and safety concerns will be treated very seriously, reported and investigated. Orygen is committed to listening respectfully at all times to children and advocating for their right to feel and be safe, valued and protected. 
All children and young people who are supported by Orygen have the right to feel and be safe.  Orygen is committed to the principles of cultural safety and inclusion of children from diverse backgrounds and to the safety and inclusion of children with disability, and we recognise that these principles support the safety of all children.
Every person involved at Orygen has a responsibility to understand the important and specific role they play individually and collectively to ensure that the wellbeing and safety of all children and young people is at the forefront of all they do.  We aim to create a culture of child safety that reduces opportunity for harm and provides our staff with a clear process to follow when child safety concerns are raised.