Get Your Team Ready for The Push Up Challenge!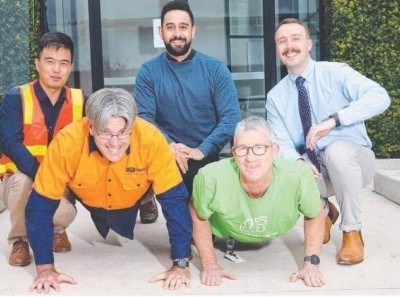 Physical and mental health go hand in hand.
This is one of the reasons why headspace Geelong is asking the community to join them to complete 3318 push ups in June.
The Push Up Challenge runs from June 1-25.
You can sign up to be part of the challenge here
Over the course of 25 days participants will be challenged to complete 3318 push ups in total, representing the number of lives lost in Australia to suicide in 2019.
People can take on the whole 3318 push ups themselves or team up with others to take on the feat as a team challenge.
Each day there will be a different number of push ups to complete, which can be tracked on the Push-Up Challenge website or app, the tracker also send through daily tips and info about mental health which helps support important discussions amonst teams.
It's all about getting fit, having fun and pushing for better mental health. Fundraising is an optional part of the challenge.
Many local businesses, schools and community groups are getting involved, and fundraising for our youth mental health services along the way, and headspace Geelong would love to see more join in.
Engineering, management and development consultancy SMEC (pictured) has participated in the challenge for the last two years and their local Geelong team is ready to again take on this year's challenge.
"The significant physical challenge of completing over 3,000 push-ups in 25 days first drew a few of our team to the fundraiser," said Stephen Thomas, a surveyor at SMEC. "But once we started preparing for and completing the event as a team and raising money for Headspace, it took it to a whole new level."
Stephen said it created a lot of energy and focus that spread throughout the whole office.
"All of the daily push-up totals are related in some way to mental health issues and that provides some really useful and sometimes challenging information, too."
With 10 to 15 team members participating, SMEC is hoping to raise $2,000 for Headspace Geelong this year.
The challenge provides a great opportunity for workplaces, teams and schools to bring mental health to the forefront, with participating teams last year reporting that it started conversations about mental health as well as providing a team goal that everyone was motivated to achieve.
Since 2017, The Push-Up Challenge has raised $7.52 million for mental health and suicide prevention.
Participants can choose to fundraise directly for their local headspace centre, meaning funds go directly to supporting young people in the local community.
In 2020, the Geelong community raised over $20,000 for headspace Geelong services through the challenge. These funds have provided a valuable boost to the mental health resources available to local young people in the Geelong region.
headspace Geelong operations manager Grant Gibson encouraged people to get involved.
"The Push Up Challenge is an opportunity to start the conversation about the heartbreaking number of Australian lives lost to suicide each year," he said.
"Our goal is to help reduce the number of lives affected by suicide by increasing awareness of mental health in the community and raising money for headspace. Together we can make a significant impact, and improve the lives of young people in the Barwon region."
Sign up to push for better health at www.thepushupchallenge.com.au/beneficiary/headspace-Geelong
Thank you to The Geelong Advertiser for featuring this story on the 19/05/2021
How useful was this page?