headspace


Devonport
Level 1, 35 Oldaker Street, Devonport, Tasmania 7310

Phone (03) 6424 2144

Fax (03) 6424 6102
About
All our services are still available; our mental health workers are still working and you can still make appointments. Our mental health support is via online and phone, contact us at the centre to find out more – 64242144.
The centre has wheelchair access throughout and all services at headspace are free to Australian citizens or permanent residents through Medicare ( click here for further information ), and to anyone else through arrangement with our Lead Agent, Cornerstone Youth Services. Contact us at the centre to find out more.
Hours
Monday:

9:00am - 5:00pm

Tuesday:

9:00am - 5:00pm

Wednesday:

9:00am - 5:00pm

Thursday:

9:00am - 5:00pm

Friday:

9:00am - 5:00pm

Saturday:

Closed

Sunday:

Closed
headspace Devonport is operated by Cornerstone Youth Services. All headspace services are funded by the Australian Government Department of Health. Administration of funding is carried out by the headspace centre's local Primary Health Network, in this case, Tasmania (Primary Health Tasmania).
Support and assistance finding accommodation or related support services.
Services could include: provision of contraception and advice, testing, support, treatment and management of sexually transmissible infections(STI) HIV/AIDS and viral hepatitis vaccination for Hepatitis and HPV, pregnancy testing and referral.
Mental health workers – which may include psychologists, psychiatrists, counsellors and other workers – that can help if you're just not feeling yourself.
Sexual health screenings on site or links to local services. 
Workers either on site or linked to the centre who can assist you with work or study opportunities. 
Get tips on how to prepare your resume and present for interviews. Find out about local employment opportunities (full time, part-time, or casual).
If you live near our headspace centre in a rural area but cannot travel in to see us, you can see our mental health workers online.
GPs can help with any physical health issues as well as issues related to sexual health, drug or alcohol use, relationship problems or feeling down or upset. Your centre may have a GP on site or links to one locally. 
Workers either on site or linked to the centre who can assist you with any alcohol or other drug issue. 
A group of young people who help with events and some decision making at a centre. Ask your centre about getting involved.
"As soon as I sought help, I suddenly realised that my anxiety was very treatable and that I wasn't alone."
- Charlie
More information
How to refer
Online referrals can be made online via Cornerstone Youth Services website, just click the following link
Or alternatively complete one of the referral forms below so the worker contacting you has a bit of an idea what kind of assistance you need.
Download and print a copy of the registration form below and complete. Email the form back to us at devonport@csys.com.au

Once the form is received, we will phone you within 2 working days.
The person calling you will be a mental health professional from our access team and will discuss what's happening for you at the moment. If headspace is the right service for you, we'll arrange a time to meet you in person at the centre. This is a chance to ask more questions and get a good idea of what we provide. You're welcome to bring in a support person - family, friend - anyone you'd like to have with you.
SELF REFERRAL FORM - For yourself or family members
PROFESSIONAL REFERRAL FORM - For schools and other services
Once the form has been completed it can be emailed to devonport@csys.com.au or mailed to headspace Devonport, PO BOX 27, Devonport, Tasmania, 7310 and we will be in touch with you to arrange an appointment.
In a nutshell: Youth Reference Group is a group of young people (aged 15-25) who meet monthly to discuss headspace in their local area, review the service and design and run activities to promote the service and provide education on early intervention and prevention for health and wellbeing.
If you would like to know more please contact Community Awareness Officer Claire at the Devonport office on 64242144 or email: cstucas@csys.com.au or complete the application form below
Application form can be downloaded HERE
headspace Devonport IPS Program
What is it?
IPS is a program dedicated to helping young people who have mental health concerns, to access jobs that they are interested in and passionate about.
It's about finding a job you want, and where you can work with an employer who respects where you're at in terms of your recovery. We also assist you to get into training and study that will help you get to where you want to be.
headspace Devonport is excited to offer this unique service to young people.
What do we do?
Talk about your work and training interests
Help you find and work towards something you're passionate about
Develop your resume
Prepare you for interviews and talking with employers
Help build your confidence in finding a job


Who can join?
IPS is available to young people aged between 12 to 25, who are interested in work, and who have some mental health concerns. You don't need to be referred by a doctor or have a mental health diagnosis.
If you want to get into work, and you're experiencing some mental health concerns ,then we're keen to hear from you!
How do I get started?
Contact us at headspace Devonport on (03) 6424 2144
Meet the team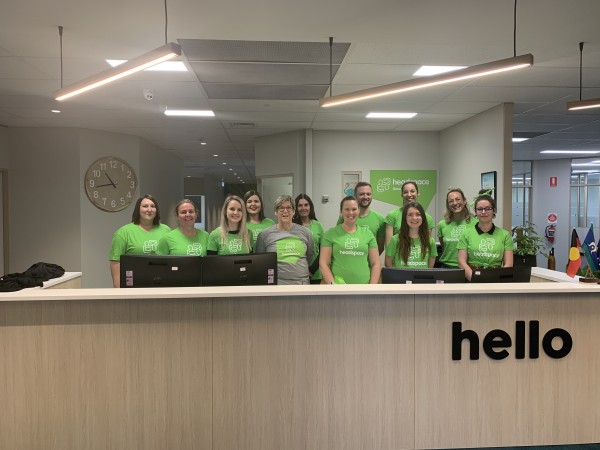 Left to right: Alex Murphy, Tania Overend, Lenate van Heerden, Madeline Keep, Deirdre Brown, Diana Horrex, Claire Stucas, Dean Saunders, Emma Brown, Bronte Matthews, Daisy Grodzki and Kim Prunster