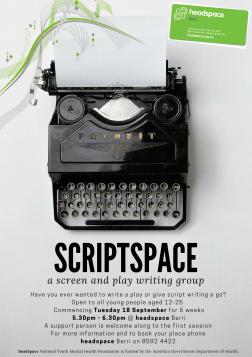 We are offering young people aged 12-25 to be a part of a screen and play writing group, scriptspace.
When: Starting Tuesday 18th September, 2018 (each Tuesday for 6 weeks)
Where: headspace Berri - 3 Riverview Drive, Berri
Time: 5.30pm - 6.30pm
Who: Anyone aged between 12-25 years old
The group will commence on Tuesday 18 September and will run for 6 weeks. It is hoped at the end of this time the participants will then look to select a play written and then form a group to next perform it.
For more information or to register please give Wes or Prue a call at headspace in Berri on 8582 4422.