Applications for the headspace Werribee Youth Advocacy Group are Now Open!
Are you aged between 16 and 25? Do you have something to say about health, mental health and drug and alcohol issues? If so, the headspace Werribee Youth Advocacy Group (YAG) may be right for you!
We're on the look out for young people who live, work, study or play in the Wyndham and Hobsons Bay areas to volunteer with our YAG in 2019!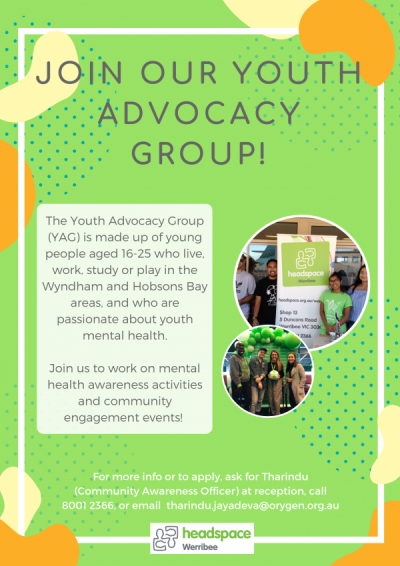 The headspace Werribee YAG work on a range of projects, including:
Providing feedback to guide services provided by headspace Werribee and Orygen National Research Centre


Promoting headspace Werribee to other young people and within the local community


Organising events to raise awareness of youth mental health and to engage the community


Developing resources for headspace Werribee to promote and support our services


Taking part in training to develop personal and professional skills


What we're looking for:
Young people aged between 16-25 who live, work, study or play in the Wyndham or Hobsons Bay areas


Young people who have a passion and interest in youth mental health and would like to volunteer with headspace Werribee


Young people who have the capacity to join the YAG for the duration of 2019


Check out the Position Description for more information, and fill out the application form to apply! If you would like a hard copy of the application form, feel free to pop into the centre and grab one from our friendly reception team.
For more information, contact Tharindu Jayadeva (Community Awareness Officer) by calling us on 8001 2366, or by emailing tharindu.jayadeva@orygen.org.au.