Join our 2023/2024 Family & Friends Reference Group!
Are you a friend or family member of a young person going through a hard time?
Are you a community member with an interest or passion for mental health and other youth related issues?
Then we want you to join our FAMILY & FRIENDS REFERENCE GROUP (FFRG)
Our FFRG meet quarterly to discuss all things youth mental health and how we can best support our youth community and their families. As a collective: we listen, we learn and provide advice that guides the continuous development of headspace Port Macquarie services.
As part of the Family and Friends Reference group you will:
Engage and work with families and friends • Help with projects and events that support parents, families and friends
Have input into strategies and campaigns that target family and friends
Develop new skills
Meet and work with other people who are passionate about youth mental health
Attend consortium meetings
Make a difference to youth mental health through media and promotion.
Commitment: We appreciate that everyone lives busy lives so official meetings are limited to 4 times per year. We do however communicate regularly via monthly emails, and through our private FFRG FaceBook page/messenger group. Training will be provided, and development opportunities offered.
For more details or questions please contact our Family & Friends Group Coordinator Lauren: julie.jamieson@each.com.au
To apply for the Family & Friends Reference Group fill out an online application here
To learn more about FFRG read this recent article from Brilliant Online (June 2022): A headspace for Youth Mental Health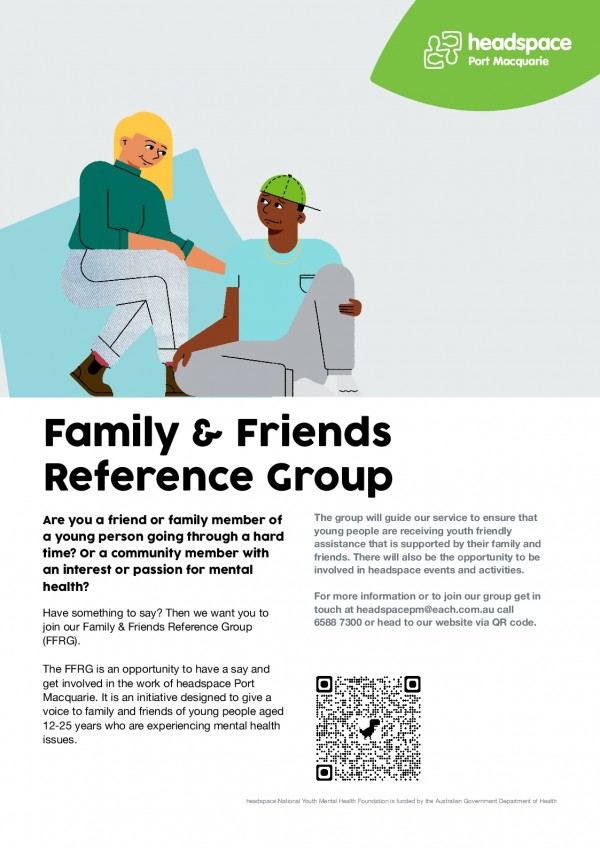 Family and Friends Reference Group 2023 Recap