headspace Day 2023 - Ditching Impossible Expectations this headspace Day

headspace Port Macquarie is encouraging young people to shake off the unrealistic expectations that impact their mental health this headspace Day.


What is headspace Day?
headspace Day on October 4th is an annual national day of awareness that focuses on the mental health and wellbeing of young people, and the ways their family and friends can support them. This day aims to remind us all about the importance of keeping a healthy headspace and to highlight how we can take a break, connect and come together as a community to promote mental health.
2023 headspace Theme

This year's focus is all about 'Ditching Impossible Expectations' placed on young people to better equip them for life's ups and downs. We're uniting to breakdown the stigmas, debunk societal expectations and promote positive mental health. This theme encourages young people to drop the unrealistic standards that bombard their lives and to acknowledge the strength they have shown through the adversities they have experienced in recent times.


How are we celebrating?

You're Invited - headspace Open Day
To highlight this day, headspace Port Macquarie will be opening its centre doors (12 Short St) to welcome in the community for a free lunchtime BBQ. The team will be offering fun school holidays activities, giveaways, and of course yummy cake to top it off. The opportunity for creativity will be on the cards with local artist Brad Collins dropping by to provide a mural art workshop. The centre's resident ArtSpace room will also be open for some crafty fun focusing on making take home keepsakes.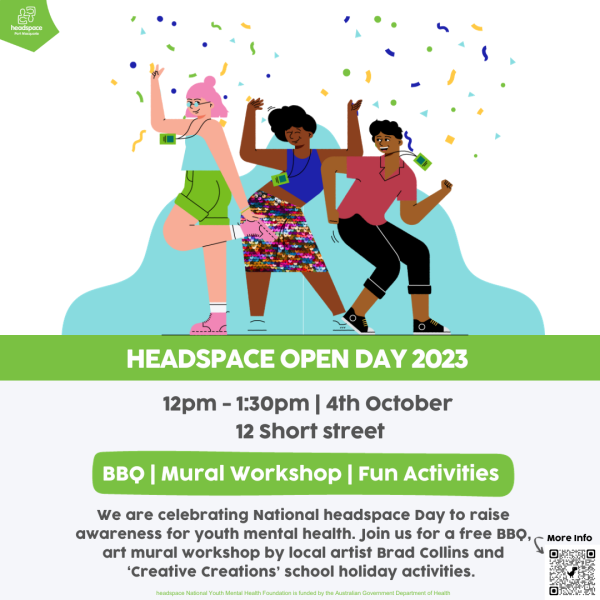 Mural Art Workshop by Brad Collins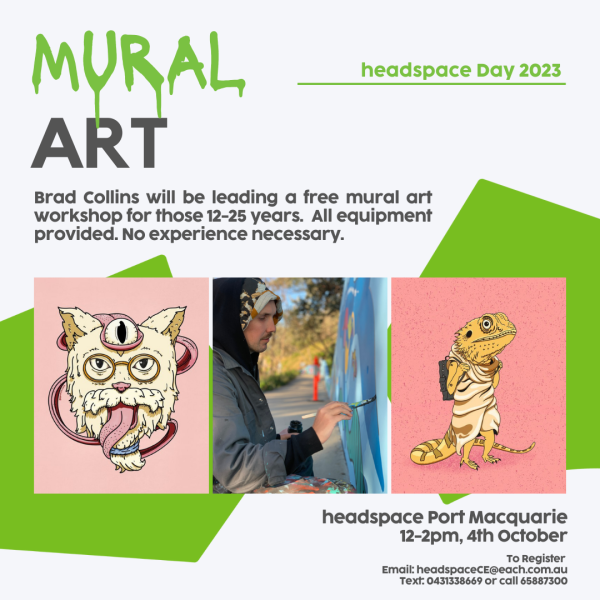 Why is National headspace Day important?
Headspace Port Macquarie Community Engagement Officer, Emily Lawson says this is an important date for in the community but particularly young people and those with young people in their lives.

"In the past number of years, events where young people can connect, have fun and relax have been limited due to COVID and a host of natural disasters in our region. This event will allow community to come together and connect with each other in a positive and fun way".
headspace CEO Jason Trethowan said many young people in Australia have experienced a number of challenges over the past couple of years, including Covid-19, lockdowns and natural disaster. Connection and inclusion are all parts of headspace's strategic plan to support the growth and wellbeing of young people.
This plan also focuses on supporting young people to be mentally healthy and engaged in their communities, "as the immediate past has shown, the future can lack predictability and the increasing uncertainty can weigh down on us all."
headspace Open Day welcomes everyone to pop by the headspace Port Macquarie office from 12pm to get involved with activities that support your health and wellbeing.
For more event information and to register click here
For more information please contact: Emily.lawson@each.com.au