Free Training for Mentors of Young Men in the Hume City region
This training supports community mentors of young men to better engage and check in with the young men they work with.
Register here (places are limited): https://www.eventbrite.com.au/e/the-man-cave-mentors-training-check-in-training-rescheduled-tickets-331658117357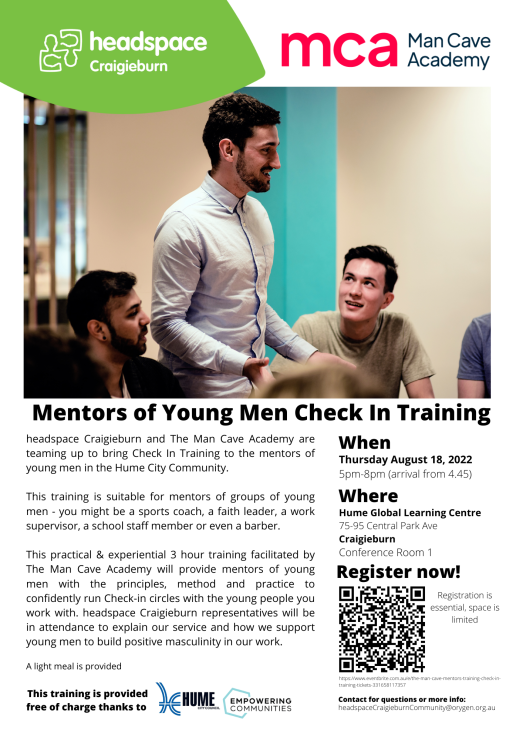 About this event
This training is ideal for people who mentor young men in community roles, for example, faith leaders, sports coaches, work supervisors and managers. If you're not sure if this training is for you, please email headspaceCraigieburnCommunity@orygen.org.au for more information.
This practical & experiential 3 hour training facilitated by The Man Cave Academy will provide mentors of young men with the principles, method and practice to confidently run Check-in circles with the young people you work with. headspace Craigieburn representatives will be in attendance to explain our service and how we support young men to build positive masculinity in our work.
After working with over 20,000 boys across Australia, we have used the Check-In as a powerful tool in providing the space for teenage boys to lower their mask and share with each other what's really going on.
Man Cave Academy provides this unique training opportunity to assist you in being able to use this powerful tool within your own context.