Cyber Safety Resource for Parents
headspace Geelong and the Geelong Cats have been delivering the CyberCats program to year 7s in the Geelong region for many years. Through the CyberCats program we empower young people to make decisions online that support their safety and well-being. This year, with our partners at Deakin University, we have created an online program to empower parents to support their young people in the ever changing online world.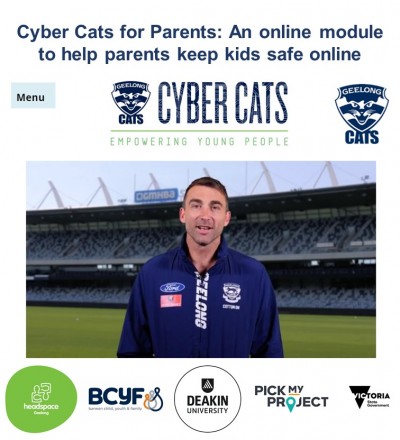 Online Parent Module
headspace Geelong, the Geelong Cats and Deakin University have created an online resource to assist parents to navigate the online world with their young people.
Online challenges are hard to navigate for young people and their parents. We have developed this resource to help guide you through different aspects of supporting your child online.
Voiced by Cats legend Corey Enright and players Jordan Ivey and Josh Jenkins this online module takes you through 5 key actions to keep your young people safe online as well as information on the topics of; Cyberbullying, Sexting, Online Porn, Time Online, Online Gaming and Grooming and Predators. The information delivered in these modules has put together by the School of Psychology at Deakin University based on the best available evidence.
headspace Geelong and the Geelong Cats have been delivering the Cyber Cars Program to year 7s in the Geelong Region for the past 9 years. The aim of the CyberCats program is to increase young people's awareness of the online world and encourage them to be good cyber citizens. You can find an evalutation of the program, from Deakin University, here.
If you are interested in the CyberCats program for your school please email Keith Gregory, headspace Geelong/BCYF.
How useful was this page?