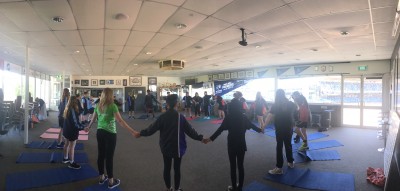 On Monday the 22nd of October headspace Geelong took part in the Geelong Cats Cyber Cats XP, an event to mark Mental Health Month.
One Hundred students from Western Heights College, North Geelong Secondary College and Northern Bay College participated in the event which aimed to promote mental health and reduce cyber bullying.
headspace Geelong has been a part of the Cyber Cats program since its inception in 2012 assisting the Cats in the development and delivery of the program which hopes to empower young people to be positive cyber citizens and promote help-seeking.
"We are really proud to be a part of this program which builds young people's capacity to deal with cyber bullying in this rapidly changing world" hG Manager, Malcolm Scott, said.
AFLW player Rocky Cranston, who joined the Cyber Cats program this year, ran the physical health component of the XP highlighting the strong connection between physical and mental health.
Students also participated in a mindfulness session, a performing arts session and an educational session on cyber bullying.
"Today, students participated in activities that focused on a range of issues including bystander messages and behaviour, confidence building, physical health and mindfulness," Geelong's General Manager of Community Sarah Albon.
"We are proud of the way in which, with the help of our program partners, Cyber Cats educates and empowers our youth."
The Cyber cats program is proudly sponsored by Telstra and is offered to all schools in the Barwon region free of charge. Any enquires to schools@geelongcats.com.au