headspace


Dandenong
211 Thomas Street, Dandenong, Victoria 3175

Phone 1800 367 968

Fax (03) 8789 6908
About
headspace Dandenong offers FREE support to young people aged 12-25, who are going through a tough time
We assist in four key areas: physical health, including sexual health, mental health, alcohol & other drugs and work & study support
To make first appointment for yourself or a young person in your care click here
If you are a professional & would like to refer a young person click here
To book appointment with our GPs click here
If you'd prefer to speak to someone call 1800367968
Can I have an interpreter?
Yes, interpreters are free. Call 131450 & ask them to call us for the service you require
Please note we are open every second Saturday 10 am–2 pm
In case of emergency call 000
If you need to speak to someone urgently, call Lifeline 131114
Hours
Monday:

9:00am - 5:00pm

Tuesday:

10:00am - 6:00pm

Wednesday:

10:00am - 6:00pm

Thursday:

10:00am - 6:00pm

Friday:

10:00am - 6:00pm

Saturday:

10:00am - 2:00pm

Sunday:

Closed
headspace Dandenong is operated by EACH. All headspace services are funded by the Australian Government Department of Health and Aged Care. Administration of funding is carried out by the headspace centre's local Primary Health Network, in this case, South Eastern Melbourne (South East Melbourne PHN).
Mental health workers – which may include psychologists, psychiatrists, counsellors and other workers – that can help if you're just not feeling yourself.
Sexual health screenings on site or links to local services. 
Workers either on site or linked to the centre who can assist you with work or study opportunities. 
A group of young people who help with events and some decision making at a centre. Ask your centre about getting involved.
GPs can help with any physical health issues as well as issues related to sexual health, drug or alcohol use, relationship problems or feeling down or upset. Your centre may have a GP on site or links to one locally. 
Workers either on site or linked to the centre who can assist you with any alcohol or other drug concern.
A headspace early intervention program to improve the lives of young people, and their families, who are affected by psychosis.
Centres have a range of programs and activities for young people. Just ask your centre what they have on. 
"As soon as I sought help, I suddenly realised that my anxiety was very treatable and that I wasn't alone."
- Charlie
Support us
Support headspace Dandenong by making a charitable donation today
Donate now
Jobs and volunteering
Positions currently available at headspace Dandenong
Salary: Medicare Benefits Scheme
Want to work for headspace Dandenong and Narre Warren? Join our Allied Health Workforce!
headspace Dandenong and Narre Warren are currently looking for qualified allied health providers registered with Medicare, to work with young people aged 12 to 25 from our Narre Warren and Dandenong Centre.
Benefits of working for headspace Narre Warren and headspace Dandenong:
Flexible work days and hours scheduled around your commitments
Administrative support, including billing and appointment bookings;
Work alongside a friendly and experienced multi-disciplinary team;
Receive support from senior clinicians; and
Work in a new and modern facility
headspace Narre Warren and Dandenong opening hours:
Mon                             9:30am – 4:30pm
Tue to Fri                      10:00am – 6:00pm
Sat                                9:00am – 2:30pm
Want to know more?
For more information contact:
More information
Welcome to headspace Dandenong
Discover our Welcome Pack, designed for young people and families. Inside, you'll find:
How to reach headspace centre and book appointment.
Services we offer to young people and families.
How to access our services.
Online support services like eheadspace and headspace resources.
Information about our youth and families reference groups.
Access your Welcome Pack here. We're here to support your mental health journey.
To subscribe to the headspace Dandenong Newsletter and receive updates on activities and mindful practices, please follow the steps below:
Use the newsletter subscription form on the website CLICK HERE
Enter your email address in the designated field provided on the form.
Check the box or select the option indicating your interest in receiving updates on activities and mindful practices.
Click on "Submit" to confirm your subscription request.
Once you've completed these steps, you will be added to the headspace Dandenong Newsletter mailing list. From then on, you can expect to receive newsletters filled with information about the latest activities, workshops, and mindful practices offered by headspace Dandenong.
headspace Dandenong is easily accessible with one hour parking directly out the front of the building and all day parking further up the street.
Disabled parking bays are available in the multideck carparks in Thomas Street and Walker Street.
For more information on parking fees and locations please visit Parking in Greater Dandenong.
The centre is located close to the Refugee Resource Hub and near the City of Greater Dandenong Civic Centre in Dandenong.
The closest bus stop Walker St/Lonsdale Street is 250 metres from the centre. Bus timetables and fares can be downloaded from the Public Transport Victoria.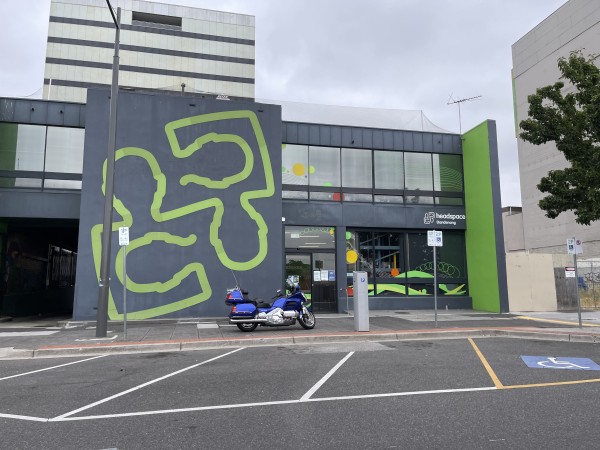 What is telehealth? How does it work?
A telehealth appointment is like a face to face medical appointment, except you will be speaking to your Doctor or Nurse remotely.
Telehealth medical appointments can be done by phone or video call. If you need support, don't have the correct technology or require certain medical care, you can still request an in-person medical appointment at headspace Youth Health Clinic Dandenong or Narre Warren.
Please click the below button and read "Before first telehealth video call" to prepare you for your first telehealth session:
Do you have a phone appointment?
You don't have to do anything! Wait for the Doctor or Nurse to ring you. Please note the Doctor or Nurse may be running late and your phone will indicate No Caller ID (i.e. a blocked number).
Do you have an online video appointment?
Please click 'Test call' and test your equipment at least one day before your appointment:
Video Call appointment – the day of your appointment


10 minutes before your appointment is scheduled open a new tab in Google Chrome or Safari and paste in the link that was sent to you or click below.


CLICK on the 'Start your video call' button below (very important as this is how you start your video call) > You will be taken to our VIRTUAL waiting room. You will need to enter some details and answer a few questions before reaching our virtual waiting room.


Please note: You can use telehealth on most laptops, desktop computers, tablets, or smartphones (e.g. iPhone or Samsung).
What does headspace work & Study Support Look Like?
Identifying career or study goals based on a young person's prefences & strengths.
Working alongside the young person in a safe, non-judgemental way, by being that sounding board for any potential idea.
Preparing for a job interview through mock interviews.
Understanding workplace rights and how & when to disclose mental health with employers.
Balancing a young person's mental health and well-being with work or study, through integration with clinicians.
Am I eligible?
Are you looking for employment or thinking about studying?
Are you a headspace client aged 12-25?
If you would like more information about Work & Study Support, then talk to headspace Dandenong today.
COVID-19 Announcement for Youth Health Clinic Patients:
Do you have any cold/flu symptoms including sore throat, dry cough, shortness of breath, tiredness, fever or runny nose?
Does anyone else in your home have cold/flu symptoms?
Have you, or anyone you live with returned from overseas recently?
Have you, or anyone you live with been in contact with anyone that is a confirmed case of COVID-19?


If you have answered YES to any of these questions DO NOT attend the clinic.
Please call the COVID-19 information line 1800 675 398 (24 hours/7 days per week) for further advice.
To learn more about what our centre is doing in response to coronavirus (COVID-19), please click here.
Youth Health Clinic
headspace Dandenong and Narre Warren offer FREE access to a youth friendly Nurse and Doctors (GPs) to support ANY young person aged between 12 and 25 years help with things such as:
Sexual health || Pregnancy testing || Counselling || Lifestyle || Mental health || Immunisations || Smoking cessation


Information about our Youth Health Clinic: CLICK HERE
Information about our immunisation services: CLICK HERE
Information about our Sexual Health Clinic: CLICK HERE
Practice Information
Opening hours – See practice information sheet for details.


Billing policy – We bulk bill all patients with a valid Medicare card.

Privacy – Your privacy means everything to us. All staff have signed confidentiality agreements and are aware of the importance of securely maintaining your medical record. headspace Youth Health Clinic adheres to the Commonwealth Privacy Act – Privacy Amendment (Private Sector) Act 2000.


Home visits – Are possible in exceptional circumstances.


When you call us - If you need to speak with a doctor or nurse straight away, we will try to get them to speak with you but this is not always possible. If it is not urgent and the doctor or nurse you need to speak to is busy, we will get them to call you back.


Getting in touch with you (results, reminders or recalls) - When you first come to headspace we will ask for a phone number and home address. We use these to get in touch with you to let you know about:



Test results we need to meet with you about. If there are urgent results a doctor or nurse will contact you to make an earlier appointment
Health programs that you might like to be a part of (e.g. Immunisation or cervical screening reminder)
If you would like us not to do this, please tell your doctor or nurse.



Interpreters - headspace Youth Health Clinic uses Auslan and the National TIS interpreting services to help patients with their consultation if required. Please speak to reception or medical staff if you would like us to book an interpreter for your appointment. For further information please see our practice information sheet.


Did you know... we are AGPAL Accredited?
headspace Dandenong & Narre Warren Youth Health Clinics undertook RACGP Standards for General Practice in 2018 & surpassed all requirements! Watch this video to find out what it means to attend an RACGP accredited practice.
| Click here |
Our staff at headspace Dandenong loves to engage with our local community. Take a look below to see what engagement options we have available:
headspace Presentations:
If you would like to request a presentation for your school, club, or organisation, please send a request through this link or request.headspacedh@each.com.au to discuss this with one of our Community Engagement staff. We are happy to discuss our options and what would be best suited to your group.


headspace Dandenong Site Tour (15 mins)
A site tour and overview of our services and how to access them. Suitable for groups of 5-15 people.
Supervised event table (1-4 hours) - A headspace-staffed table, involving handouts, games, headspace merch, and some great conversation! Suitable for school, health, education, and employment-centered events.
Resource packs - Includes a variety of headspace fact sheets, posters, and brochures. Suitable for schools, TAFEs, universities, and sports clubs.
To submit a headspace Dandenong community engagement request, please e-mail us at request.headspacedh@each.com.au or complete our Online Request Form.
Are you a young person aged 16-25?
Are you passionate about raising awareness about mental health issues and making a difference in your local community?
If so, consider joining 3D Youth, the Youth Reference Group at headspace Dandenong! We currently have 12 active and engaged members and would welcome more applicants.
At headspace, we believe that youth participation is the key to delivering quality services for young people. We aim to provide young people with meaningful opportunities to directly participate and contribute to our services.
Being involved with the 3D Youth Group will give you the opportunity to be involved in:
Planning and attending local events and promoting the headspace

Dandenong

services
Encouraging the voice of young people to be heard and acted upon
Becoming community spokespeople for youth mental health and wellbeing
Website and social media consultation and development
Research and evaluation of headspace services
Consultation around resource development like factsheets, brochures, and promotional material
Becoming a media spokesperson
If you want to:
Make new friends
Develop new skills
Give advice and feedback
Get involved in local projects and events
Use your creative skills
Gain professional experience
Represent headspace

Dandenong
Then the headspace Dandenong Youth Reference Group is for you!
If you would like more information or to express your interest, contact Hanish our Community Engagement Coordinator on hanish.poonia@headspacedandeong.com.au
The headspace Dandenong Family and Friends Reference Group is made up of members with lived experience of supporting a young person through headspace services.
Participation of young people's family and friends in service delivery is recognised internationally in mental health care as fundamental to ensuring an effective and responsive service system and essential component of quality assurance. The Family and Friends Reference Group is made up of a diverse group of volunteers of varying ages, genders, cultural backgrounds, and family types. Along with the Youth Reference Group (3D Youth), the Family and Friends Reference Group assist with guiding the direction of headspace Dandenong.
The aim of the Family and Friends Reference Group is to give those that support and care for young people in the community the opportunity to provide feedback and input into the strategic direction of headspace Dandenong. The Family and Friends Reference Group will be involved in the development of projects in the local community and within headspace to make our service more family-friendly. Family and Friends Reference Group members will be appointed for 12 months.
The Family and Friends Reference Group will consult with headspace on a variety of topics and issues and will be involved in a number of projects. This will be achieved by:
Participate in quarterly meetings

Being open and willing to be part of

teleconferences, email, and online discussions regularly

Provide advice and feedback around the strategic direction and development of headspace services

Be involved in the improvement and evaluation.

Be involved in the development and delivery of community awareness projects and campaigns focused on reducing stigma and increasing mental health literacy in the local community

Advocate for improved services to address the needs of family and friends in the local community

Represent and advocate for the needs of family and friends in headspace leadership meetings, team meetings, and consortium/partnership meetings

Undertake training about headspace, youth mental health, and other associated topics

Completing a wellness plan and actively looking after all aspects of your health.
If you have an interest and passion in youth mental health and the role of family and friends in a young person's support and recovery and the ability to work in a team to participate in group discussions as well as work independently.
Join our Family and Friends Reference Group CLICK HERE
Please contact Hanish, the Community Engagement Coordinator at hanish.poonia@headspacedandenong.com.au
Creating a safe space is crucial for young people navigating their identities, particularly when exploring gender identity and sexuality. Such journeys can be overwhelming and uncomfortable, making it essential to find an environment where you can be completely authentic. Surrounding yourself with accepting individuals who understand your experiences can significantly improve your mental well-being. Additionally, listening to the stories of fellow LGBTIQA+ individuals who have faced similar challenges can be empowering and uplifting. It is important to remember that you are not alone and that a vibrant LGBTIQA+ community is ready to embrace and support you. If you're looking for a safe space in the Dandenong area, consider seeking support from headspace Dandenong, where you can find understanding professionals and resources tailored to your needs.
Click to REGISTER NOW.
For more information email: request.headspaceDH@each.com.au or call us at 1800 367 968.
Introduction to headspace Dandenong
Supporting Family or Friend Resources
Translated Resources
LGBTIQA+ Resources
Aboriginal and Torres Strait Islander Resources
Local Online Youth Service Directory
Contact our Community Engagement Team for any questions call us on 1800 367 968 or email us at request.headspaceDH@each.com.au
Frequently asked questions about headspace Dandenong
1. Who are we?
headspace is a youth mental health foundation that provides early intervention mental health services to 12 - 25 year olds, along with assistance in promoting young people's wellbeing over 4 core areas: mental health, physical health, work and study support and alcohol and other drug services. headspace is a safe, youth friendly and confidential service, and we aim to help give people the skills to manage their symptoms so that they can live a happy and healthy life.
2. What can headspace Dandenong help me with?
headspace Dandenong has a number of professionals here to help support you in the best way possible. Young people can come to Dandenong headspace and see counsellors, mental health social workers and occupational therapists, psychologists, doctors, nurses and more! We can support you in a number of ways and for all sorts of problems including (but not limited to) if:
You are having trouble at home
You are feeling down or upset
You are feeling anxious or worried
You are feeling nervous all the time
You are having trouble managing your anger
You are questioning your gender or sexuality
You are having trouble with friends and/or relationships
You are being bullied at school
You are looking for employment
You are having trouble with your medication
3. How much does headspace cost?
headspace Dandenong is a FREE service. If we don't have a service available at our centre, we will help you look for other free services or services that are low cost. headspace is covered by Medicare and we only require you to bring your Medicare card to your first appointment. Don't worry if you are unable to access this card! We will sort this out upon your initial visit to headspace.
4. Do I need to make an appointment?
Most young people will make an appointment before coming into headspace, however at headspace Dandenong you can also drop in without an appointment. One of our friendly intake workers will see you if they are available. headspace Dandenong will usually have one intake worker available each day, on each site, so that you can get the support you need at the right time. You can also call us to make an appointment on 1800 367 968. Other people can also make an appointment for you on your behalf if you are not comfortable to do so yourself. Some of these people can be a family member, friend, GP or school counsellor. Our opening hours are as follows:
Monday: 9:00am - 5:00pm
Tuesday: 10:00am - 6:00pm
Wednesday: 10:00am - 6:00pm
Thursday: 10:00am - 6:00pm
Friday: 10:00am - 6:00pm
Saturday: 10:00am - 2:00pm (every second Saturday)
If you are not ready to come into our centre for an appointment, our free and confidential online support may be of benefit to you. eheadspace is a free online service for young people where you can talk to a trained professional on anything that is going on for you. This is a really great first step to accessing support if you are not ready to see a counsellor in our centre. eheadspace offers free web chat, email or phone conversations to young people and their family between 9am - 1am.
5. What do I do if I need help in an emergency?
At headspace Dandenong, we understand that things can happen for young people that may be distressing. This could include thoughts of wanting to hurt yourself, or thoughts of suicide. If this is going on for you - attend the nearest emergency department which are located at:
Dandenong Emergency

Department - 135 David St, Dandenong VIC 3175

Casey Hospital Emergency

Department - Casey Hospital, 62-70 Kangan Dr, Berwick VIC 3806
Or call the Psychiatric Triage Service on 1300 369 012 for 24 hour mental health emergency support.
6. Your confidentiality.
When you talk to someone at headspace, what you say is kept confidential. This means that nothing you say can be passed on to anyone else without your permission. We also won't tell your parents or carers any information about you accessing our service unless you want us to. However there are a couple of exceptions. If we are seriously worried about your safety or the safety of others, we - by law- try to keep everyone safe. This means that we might have to share these concerns with someone else and break this confidentiality to help keep you or others safe.
7. Do I need a referral to come to headspace?
You don't need a referral to see one of our intake workers. The intake worker will speak to you regarding the services we can offer based on what you need. A mental health treatment plan may need to be created so you can access our ongoing counselling services.
8. What is a mental health treatment plan?
A mental health treatment plan provides the community with up to 10 counselling services under the "Better Access Mental Health" initiative. A MHTP is developed between yourself and your doctor. Our intake clinician will give you step- by- step instructions on how to get one. If you don't have a doctor, our intake clinician will speak to you regarding other options. At headspace Dandenong, all your MHTP counselling sessions are FREE.
9. What happens in my first appointment with an intake worker?
When you first visit our centre, you will have a chat with an intake worker about what is happening in your life. The intake worker will ask you some questions about what has been going on and will try to work out a plan that will best support your needs moving forward. We encourage you to also be a part of the planning process so that you feel comfortable with the decisions being made for your care.
10. Is headspace a LGBTQIA+ friendly place?
Absolutely! We support many young people with various gender identities and sexual preferences. Everyone is welcome at headspace regardless of gender, race or sexuality.
11. Do you have supports for my family as well as myself?
We sure do! We have lots of resources for families and friends at our centre. Contact us to find out more.
12. If I'm not connecting with my clinician is it okay if I see someone else?
Absolutely. If you are finding that you are not connecting with your clinician you are more than welcome to see someone else at our centre. You can do this by either asking an intake worker to link you with another clinician, you can see our friendly peer support workers who can also help link you with another clinician, or you can ask reception to book you in with someone else. There are many options on how this can be done. Don't be afraid to ask!! Our most important priority is that you are seeing someone you feel comfortable with and who will be the best person to help support you through your journey.
13. Why do I need to fill in an iPad survey when I come to headspace?
Each survey you fill out goes to the clinician you are seeing so that they have an idea of how you have been feeling before seeing you in session. Filling out the survey also helps us with our funding so that we can keep providing a free service to the community that supports young people.
14. I cannot make it to my appointment or I do not want to come to my appointment.
That's okay! We would love it if you could call us on 1800 367 968 and let us know in advance! We can also help you rebook your appointment at the same time.
15. Can I bring a friend with me to my appointment?
If you feel more comfortable with a friend, parent or carer in the room, this is okay! Whatever makes you feel comfortable is what we will support.
16. If I have feedback who do I speak to?
We always love getting feedback from our clients, parents or carers. Both the good and the bad as this is what helps to make our service the best that it can be for young people. We have feedback forms on the table in our waiting room. This can be completed and put in our confidential box at reception. You are also welcome to ask our reception staff for a feedback form if there is none available to you. Our peer support workers have also created a story space template to help capture young people's stories during their time at headspace. This is another great resource you can use to help capture any feedback you may have for our service.
17. I would like help but I am not ready to come in yet. What can I do?
If you are not ready to come into our centre, you can access our online counselling support at eheadspace. This website offers free web chat, email or phone conversations to young people and their family between 9am - 1am AEST.
18. What is a peer support worker?
A peer support worker is a young person with a lived experience of a mental health challenge, who uses their experience to help support others going through a tough time. We have 1 peer support worker at our centre who can help support you during your time at headspace.
Peer support workers can help answer any questions you may have about headspace.
You can see a peer support worker one on one at headspace while you are linked in with one of our clinicians.
Peer support workers will attend your sessions with you if needed and will be an advocate for your health and well-being.
A peer support worker offers non-clinical support, whereby they can help you work on goals and support you through the challenges you may be facing.
Thank you to headspace National and headspace Campbelltown for their support in the development of this document.
headspace Dandenong has an outpost located in Hastings. You can expect the same welcoming, youth-friendly vibe from our team in Hastings. All services are free, for all young people aged 12 to 25 years. You can get in touch with our Hastings team if you're having a tough time or would like to improve your health and wellbeing. You can also make contact if you're not sure what's going on, or feel like you need someone to talk to. headspace Hastings is co-located at Atticus Health Medical Clinic Hastings.
COVID-19 UPDATE: headspace Hastings is providing a combination of online and phone services.
Location
2104/2106 Frankston - Flinders Rd, Hastings VIC 3915
Phone:
1800 367 968
Fax:
(03) 8888 9953
Opening Hours:
Monday: Closed
Tuesday: 9:30 AM- 5:30 PM
Wednesday: 9:30 AM- 5:30 PM
Thursday: 9:30 AM- 5:30 PM
Friday: 9:00 AM- 5:00 PM
Saturday: Closed
Sunday: Closed
All headspace Hastings services are by appointment only. Please call 1800 367 968 to enquire or make a referral for the first appointment for yourself or a young person in your care click here.
If you are a professional & would like to refer a young person click here.
Hello there!
At headspace Dandenong, we always strive to provide the best possible experience to young people and their families. We are dedicated to ensuring that everyone has a seamless and enjoyable experience while using our services.
We understand that sometimes things may not go as expected, and that's why we want to hear from you. Whether you have a complaint, compliment, or concern, we would love to hear from you. Your feedback helps us to continuously improve our services and make sure we are meeting your needs.
We have a dedicated feedback and complaints form that you can access through this link CLICK HERE. When you complete this form it goes to our headspace Centre Manager. All your concerns and complaints are kept confidential. Making a complaint will not affect access to any of our services.
Thank you and we look forward to hearing from you.
Did you enjoy your experience with us? Let us know by leaving a review on Google.
Are you supporting a young person who is currently receiving support at a headspace centre? If so, we would love to hear from you! If you have a few minutes to spare, please complete our survey.