headspace is still here for you during COVID-19
You can seek support from us through our headspace centres, through our online and phone services, or through online chats. Below we've collated some additional resources, tools, useful links and information to help you during this time.
With all that's happening in the world with coronavirus (COVID-19), there is a lot of uncertainty. If you're feeling overwhelmed or stressed by what you're hearing and seeing, it's OK to feel this way.
It's important to check in with yourself and it's helpful to practice self-care. Using our resources below might help you during this unusual time and give you a sense of control.
tips to get back into life during COVID-19
Life has changed for all of us due to COVID-19 restrictions. Some people have enjoyed these changes, others have found it challenging and many of us will have experienced a mixture of these things.
headspace centres
While things are changing with COVID-19, we want you to know that your local headspace centre is still here for you. Some of our centres are operating a combination of in-person, online and phone services. If you need help please get in touch with your local centre directly.
headspace online and phone services
(T

elehealth)

In response to COVID-19, some headspace centres are adjusting their service delivery to incorporate online and phone counselling (telehealth).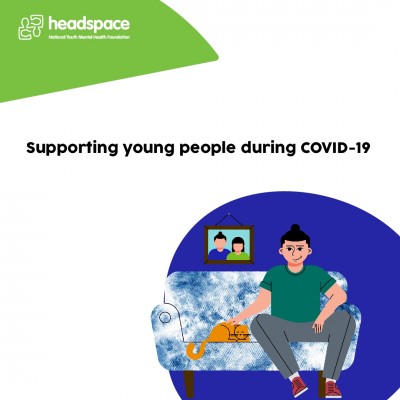 Parent and carer webinar: supporting young people in NSW impacted by COVID-19
All Australians have had to adapt to major changes in the way we live, study and work due to coronavirus (COVID-19) which has challenged the mental health and wellbeing for many. As a parent and carer, it can be difficult to understand how to support your young person through this period of change and uncertainty whilst maintaining good mental health.
headspace centres in NSW, partnership with headspace National, are hosting a series of webinars for parents and carers supporting young people impacted by COVID-19.
Information provided in the webinar will:
Strengthen your understanding of mental health and the impacts of COVID-19
Build skills and strategies to support the mental health of your young person, including their transition to work and study
Build awareness of local, state and national supports available to young people
Showcase your local headspace centre community resources
Discover headspace digital services
If you don't have a centre nearby, you can get support for your mental health by creating a headspace account. Here, you can access lots of great mental health resources including group chats, online communities, interactive resources and 1:1 direct support with professionals. Watch the video to learn more about this, or click the link below to create your own private account.
Online chats
Our safe and moderated group chats bring young people together to explore topics that are important to them. There are also chats run by our professional clinicians who explore topics and provide resources, strategies and advice to help build your skills
Tips for a healthy headspace
Taking steps to maintain your mental health and wellbeing, helps you live your life in a positive and meaningful way, and also supports you to bounce back when times get tough.
For support with how you're feeling visit:
---
The headspace Clinical Reference Group oversee and approve clinical resources made available on this website.
30 March 2020