elvis talks about getting in a healthy headspace
I guess what defines me is what I've been through. I rarely hide away - I wear my scars with pride. Throughout my life I've gone through many hardships. I've been knocked down time and time again, but perseverance has a way of shining through.
I had a hard time growing up as I was quite overweight during school, and I didn't have a solid father-figure in my life. That being said, my mother and sister were my strength. I couldn't have asked for a better family unit.
When I was 18 I suffered a major spinal injury, which left me having to go through intense physiotherapy to help me walk properly again. This was followed by other injuries, such as herniated discs and debilitating pain.
I had an awful time at high school and not getting into university, I went from job to job, without much direction and poor mental health. Then, I began pursuing fitness to help with my back and weight-loss, and fell in love with it and how it changed me.
At 21, I decided it had career potential and did a Certificate 4 in fitness, followed shortly by a Diploma of Fitness. Through this I met Elle and the team at Goodlife Shelley St (now Fitness First Shelley St). I'm still there and don't want to leave!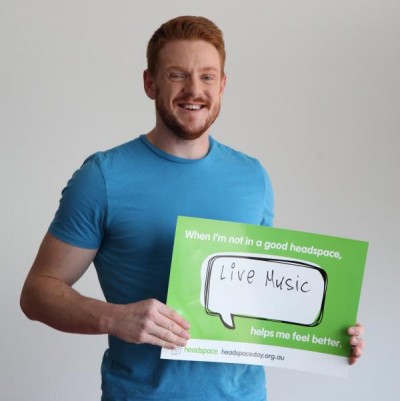 Even though I loved my job, I always dreamt of going to university. After the loss of my grandfather the thought of going to uni wouldn't leave my mind. My grandfather was always admired my thirst for knowledge, and I wanted to do him proud. After many failures I finally enrolled at UNSW.
2017 was my defining year. A true test of my mettle.
After getting into university I decided to face many of my mental demons, which had plagued me for as long as I can remember. I experienced anxiety because I had a hard time balancing the workload and concentrating.
My psychologist had diagnosed me with generalised anxiety disorder and panic disorder but I was soon to be diagnosed with something called Cerebellar Ataxia by a neurologist. Basically the part of my brain responsible for coordination wasn't doing its job! This was also really hard, but through patience and practice, it's getting better.
My girlfriend actually recommended I check out headspace Bondi Junction to help with my mental health issues. The team at the centre have been awesome. I was invited to apply to, and eventually join, the Youth Reference Group (YRG) at the centre and was able to start giving back. My work with the YRG has helped me grow stronger – from helping out at Supanova (I'm a comic book nerd) to being involved with NAIDOC week – I've learnt things no classroom can teach.
headspace was also there for me when my mother found out she was sick. They were able to help me and in-turn, help her. I'm thankful for all the support headspace has given me and I'm truly who I am today thanks for them and what I've gone through.
If I could tell my younger self anything, it would be to love yourself. There's no point being your own worst enemy. I would say "Elvis, you are destined for greatness, and your real friends will help you make it there."
My 3 tips for a healthy headspace:
Go to music gigs, even if it costs you an arm and a leg

Exercise. Whatever it may be. Move and have fun

Tell someone they look great. It makes them have an awesome day and you will feel nice!
Thanks for reading,
Elvis, 24
Published 2 October 2017
How useful was this page?