connor, 20, embraces his queer identity
Growing up with the idea that you might be queer in the back of your mind is never easy. The social pressures and fears associated opens your psyche up to a multitude of other mental health issues, resulting in so many queer youth suffering from anxiety and depression as I did, and still do to this day.
My queer identity was obvious to me from the age of thirteen, but it was something I suppressed; something I refused to acknowledge. I began to realise I was depressed and unsatisfied with my current lifestyle.
By the age of sixteen, things became unbearable. I forced myself into the school psychologist's office who offered me support and comfort. Eventually I was able to speak the words, "I'm gay" to her, which was the first hurdle I had managed to jump. From there, I slowly came out to my friends, and then my family.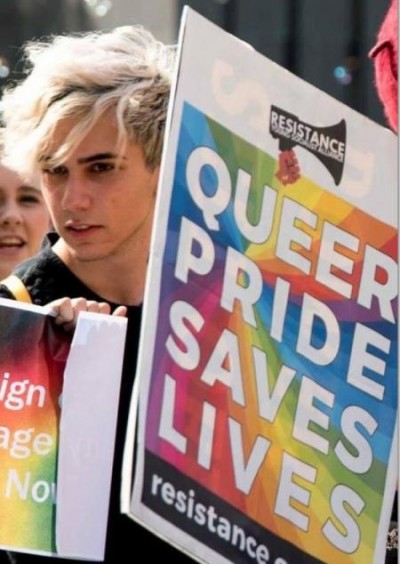 It certainly wasn't an easy task though, and this was the hardest year of my life. I developed severe depression, anxiety, and an eating disorder – every day became a struggle. I would wake up shaking in my bed, for what felt like no real reason, which was another hurdle I'd have to eventually jump.
I decided to seek professional help, with a referral to a psychologist, then a psychiatrist, who diagnosed me with a multitude of labels, most interestingly was derealisation – an illness I'd never heard of prior to my diagnosis. The diagnosis was beneficial to me, as it finally felt like I wasn't alone in this dilemma and that others shared my struggle.
I found comfort in online communities and worked together with my psychologist to overcome feelings of derealisation and fight the existential dread that had accompanied severe depression and anxiety. It took me some time to reach out to headspace, but eventually I did due to financial struggles.
The team at headspace Camperdown were extremely dedicated to getting me the appropriate therapy and medication I needed. I still see the lovely people at headspace who taught me that gradually things will get better, and I have learnt there is no shame in taking medication for mental health issues.
Inspired by headspace, I joined the Youth Advocacy Group, working with other youth members to advocate for mental health awareness and promote headspace as a helpful, revolutionary organisation.
To overcome my mental illnesses, I have realised that contributing to the community is the greatest reward. In the past year, I have involved myself in queer activism and mental health awareness, trying to change the world one day at a time.
By embracing my queer identity and normalising my mental illnesses, I hope to have paved the way for a future where I can be satisfied with who I am. If the world can become a better place, then perhaps I can become a better, healthier person too. Mental illness doesn't cure itself overnight. It can often be a tough road, but it's about finding something that makes you wake up in the morning, that makes life worthwhile. Everyday is a day towards making my life amazing again.
Thanks for reading,
Connor, 20
Published 14 August 2017
How useful was this page?